May 10, 2021
THE BOSTON POPS' ALL-VIRTUAL 2021 SPRING CELEBRATION PRESENTS TWO ICONIC CONCERT VIDEOS FROM THE ORCHESTRA'S ARCHIVAL TREASURE TROVE
BOSTON POPS IN LOVE, A FEBRUARY 2021 PERFORMANCE OF MUSIC AND DANCE ON THEMES OF ROMANCE, IS AVAILABLE AGAIN AS A CONCERT STREAM ON THURSDAY, MAY 13 AT NOON; EXQUISITE ELLA, A LEGENDARY 1976 POPS COLLABORATION BY ELLA FITZGERALD, ARTHUR FIEDLER, AND GBH, IS AVAILABLE THURSDAY, MAY 27 AT NOON
BOTH CONCERT STREAMS TO BE ACCESSIBLE AT WWW.BSO.ORG/NOW
Click here to listen to a short excerpt of Ella Fitzgerald singing "'S Wonderful" with Arthur Fiedler and the Boston Pops, originally recorded in 1976

BOSTON POPS SPRING CELEBRATION 2021: TWO ARCHIVAL POPS CONCERT STREAMS TO BE RELEASED THIS MONTH ON THURSDAY AT NOON; AVAILABLE AT WWW.BSO.ORG/NOW; EACH VIDEO STREAM IS AVAILABLE FOR 30 DAYS BEYOND ITS ORIGINAL RELEASE DATE
• Thursday, May 13, at noon; available through June 12: Originally presented as a BSO NOW livestream on February 12, 2021 (the first livestream in BSO NOW history), this encore presentation of Boston Pops in Love features classic musical selections inspired by love and romance—Tchaikovsky's Romeo and Juliet Overture-Fantasy along with Broadway favorites and John Williams' film music led by Keith Lockhart—as well as dance performances from the inventive Boston-based companies Hybridmotion, Lakaï Dance Theatre, and Subject:Matter and a virtual performance by the Melody in Motion Ensemble from Boston Arts Academy
• Thursday, May 27, at noon; available through June
26: Filmed at Symphony Hall in July 1976 as part of GBH's Evening at Pops series, the archival stream Exquisite Ella includes the incomparable Ella Fitzgerald singing tunes by Gershwin, Porter, and Ellington, accompanied by conductor Arthur Fiedlerand the Pops, who also perform an opening medley from the Broadway musical Guys and Dolls
BOSTON POPS SPRING CELEBRATION 2021: THREE NEW POPS CONCERT STREAMS TO BE RELEASED ON THURSDAYS AT NOON; AVAILABLE AT WWW.BSO.ORG/NOW; EACH VIDEO STREAM IS AVAILABLE FOR 30 DAYS BEYOND ITS ORIGINAL RELEASE DATE

• Thursday, May 20, at noon; available through June 19: A Tribute to John Williams stars the Pops and Keith Lockhart exploring the breadth of cinematic music composed by the Boston Pops Conductor Laureate—from iconic (Star Wars) to rarities ("Stargazers" from E.T.)—accompanied by exclusive video interviews with Williams telling the stories behind his music and career  
• Thursday, June 3, at noon; available through July 3: An Evening with Chris Thile and the Stars of Tomorrow stars the multiple Grammy-winning mandolinist and MacArthur Fellow in his Boston Pops debut and sharing the stage with the winners of the 11th annual Fidelity Investments Young Artists Competition, chosen by audition from high school students throughout the Commonwealth. Keith Lockhart also leads the Pops in audience favorites drawn from acclaimed Pops recordings of the last 25 years
• Thursday, June 10, at noon; available through July 10: The Roots of Jazz: American Voicessurveys the music of Black American innovators Scott Joplin, W.C. Handy, Duke Ellington, and James P. Johnson, alongside works by George Gershwin, Benny Goodman, and Dave Brubeck, through performances by Keith Lockhart and the Pops of this quintessentially American music; in a nod to the "Roaring Twenties," pianist David Coleman plays James P. Johnson's most famous work, "The Charleston"


Keith Lockhart, David Coleman, Chris Thile, John Williams

BSO NOW STREAMS PREVIOUSLY RELEASED IN APRIL AND MAY, INCLUDING THREE BOSTON SYMPHONY ORCHESTRA ONLINE PERFORMANCES THEMED "PATHWAYS OF ROMANTICISM" AND ONE BOSTON POPS 2021 SPRING CELEBRATION CONCERT STREAM ARE STILL AVAILABLE AT WWW.BSO.ORG/NOW
• Available for viewing through May 15: BSO Music Director Andris Nelsons conducts the BSO in Brahms' Serenade No. 2 in A, Op. 16, and Schumann's Symphony No. 4 in D minor, Op. 120; chamber music performance features Marti Epstein's Komorebi, with BSO musicians John Ferrillo, oboe; William R. Hudgins, clarinet; and Elita Kang, violin
• Available for viewing through May 22: Andris Nelsons leads a program of Mendelssohn's String Symphony No. 10 in B minor; Weber's Concertino in E-flat for clarinet and orchestra, with BSO Principal Clarinet William R. Hudgins as soloist; and Schumann's Concert Piece for four horns and orchestra, with the BSO's Richard Sebring, Michael Winter, Rachel Childers, and Jason Snideras soloists; chamber music performance featuring Still's Suite for violin and piano, with BSO violinist Victor Romanul and pianist Randall Hodgkinson
• Available for viewing through May 29: Andris Nelsons leads an all-Strauss program, including Serenade in E-flat for Thirteen Wind Instruments and four Interludes from the opera Intermezzo; chamber music performance features Jennifer Higdon's Autumn Music for wind quintet, with BSO musicians Cynthia Meyers, flute; Robert Sheena, oboe; Thomas Martin, clarinet; Richard Ranti, bassoon; and Rachel Childers, horn
• Available for viewing through June 5: The Boston Pops Celebrates Mother's Day: Honoring Women with Keith Lockhart leading the Boston Pops in music by and about women, featuring composers Clara Schumann, Joan Tower, Carole King, and Rachel Bruerville, as well as William Grant Still, Ravel, and ABBA; soloists include pianist Tanya Gabrielian performing the first movement of Clara Schumann's Piano Concerto and Boston Pops violinist Ala Jojatu and her daughter, violinist Maria Jojatu, performing the final movement of J.S. Bach's Concerto for Two Violins, as well as an appearance by the Quincy-based Dropkick Murphys


Tanya Gabrielian, Ala and Maria Jojatu, Joan Tower

CLICK HERE FOR DETAILS ABOUT THE FIRST-EVER STREAMING BSO YOUTH CONCERT (RELEASED MARCH 5) AND ARCHIVAL BSO FAMILY CONCERT VIDEOS (RELEASED APRIL 30)—BOTH FEATURING THOMAS WILKINS—AS WELL AS INFORMATION ABOUT A NEW PARTNERSHIP BETWEEN THE BSO AND BOSTON PUBLIC SCHOOLS
BSO FAMILY CONCERT STREAM TO BE RELEASED TO GENERAL PUBLIC FREE OF CHARGE ON MAY 13, AVAILABLE ON-DEMAND THROUGH JUNE 30 AT WWW.BSO.ORG/NOW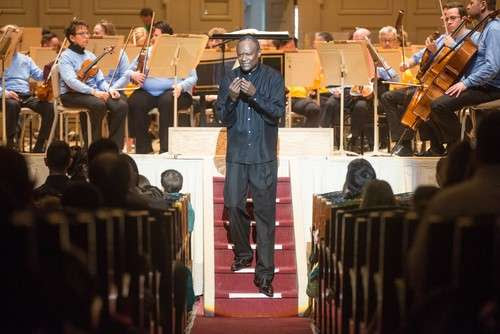 Thomas Wilkins speaking at a Family Concert (photo credit: Hilary Scott)

ACCESS TO THE SPRING POPS 2021 SEASON AVAILABLE FOR PURCHASE AT WWW.BSO.ORG/NOW
• WITH THE LAUNCH OF THE ONLINE SPRING POPS 2021 SEASON, THE BSO INTRODUCES A NEW SUBSCRIPTION MODEL FOR BSO NOW
• BEGINNING MAY 6, PATRONS CAN PURCHASE A 7-DAY PASS FOR $9, A 30-DAY PASS FOR $25, OR A SEASON PASS FOR $100, WHICH INCLUDES ONLINE ACCESS—MAY 6 THROUGH THE END OF SEPTEMBER—TO THE SIX SPRING POPS CONCERTS, SELECT BOSTON SYMPHONY AND TANGLEWOOD MUSIC CENTER ORCHESTRA CONCERTS TAKING PLACE DURING THE 2021 TANGLEWOOD SEASON, AND OTHER RELEASES TO BE ANNOUNCED AT A LATER DATE
• DETAILS ABOUT THE ESSENTIAL WORKERS ACCESS PROGRAM AND COMPLIMENTARY ACCESS FOR CORPORATE PARTNERS ARE AVAILABLE THROUGH WWW.BSO.ORG/NOW

FURTHER DETAILS ABOUT BOSTON POPS SPRING 2021 ARCHIVAL PROGRAMMING, AVAILABLE AT WWW.BSO.ORG/NOW
In May, the BSO NOW streaming platform will feature two iconic archival Pops performances as part of the all-virtual 2021 Boston Pops Spring Celebration (May 6-June 10).

Performers from Hybridmotion, Jun Kuribayashi, McKersin, performers from Subject:Matter
Originally presented as a BSO NOW livestream on February 12, 2021 (the first livestream in BSO NOWhistory), this encore presentation of Boston Pops in Love, a performance of music and dance on themes of romance, is available again as a concert stream on May 13. The concert features performances from three exciting Boston-based dance companies: dancers from Hybridmotion perform a pandemic-inspired tango, choreographed by Jun Kuribayashi and Mia Dalglish, to Gade's "Jalousie"; Lakaï Dance Theatre with choreography by its artistic director, McKersin, performs to selections from Bizet's Carmen and de Falla's El Amor brujo; and dancers from Subject:Matter bring their style, inspired by the history and tradition of tap in Boston, to the music of Fats Waller, with choreography by Ian Berg. Boston Arts Academy's Melody in Motion Ensemble features in a virtual choral performance, with director Molly Jo Rivelli and an instrumental ensemble of BAA faculty. Other highlights of this wide-ranging program include Duke Ellington's "Sophisticated Lady," Puccini's "Che gelida manina" (from La Bohème), and Tchaikovsky's Romeo and Juliet Overture-Fantasy, as well as love themes from the scores of John Williams; a medley of romantic songs by Gershwin; and an archival performance accompanied by a new film by Susan Dangel and Dick Bartlett.

Click here to view an excerpt from Boston Pops in Love: dancers from Hybridmotion perform a pandemic-inspired tango, choreographed by Jun Kuribayashi and Mia Dalglish, to Gade's "Jalousie"
Beginning on May 27 at bso.org/now, the Boston Pops is delighted to share with a national and international audience for the first time in decades Exquisite Ella, a treasure from the Symphony Hall archives. Originally presented in June 1976 as part of GBH's Evening with Pops, the performance features the legendary Ella Fitzgerald in her prime. From the moment she appeared on stage at Symphony Hall—to a standing ovation no less—she continued to hold the Pops audience in the palm of her hand with exquisitely sung interpretations of tunes by Gershwin ("'S Wonderful" and "Our Love is Here to Stay"), Porter, and Ellington. Arthur Fiedler and the Pops accompany Fitzgerald following their performance of a boisterous medley from Guys and Dolls.


Ella Fitzgerald with Arthur Fiedler and the Pops
For the first time in its 136-year history, the Boston Pops, under the direction of Keith Lockhart, presents an all-online spring season in lieu of its traditional live concerts at Symphony Hall, beginning on May 6 with the first of six weekly concert streams distributed through the streaming platform BSO NOW. The BSO NOW concert streaming platform launched in November 2020 and was created in response to the live performance hiatus in place since March 2020, due to the restrictions around the COVID-19 pandemic. In total, the Boston Pops will present six concert streams, releasing each Thursday at noon through June 10 at www.bso.org/now. They consist of four newly recorded performance streams, led by Maestro Lockhart, and two concert videos from the orchestra's archival treasure trove.
Now celebrating his 27th year with the Boston Pops, Keith Lockhart is the Julian and Eunice Cohen Boston Pops Conductor; click here for a recent biography. John Williams is the George and Roberta Berry Boston Pops Conductor Laureate. The director for the newly recorded portions of the BSO NOW series is Habib Azar; click here for a recent biography.

WEEKLY ENCORE BSO CONCERT BROADCASTS ON CRB CLASSICAL 99.5 FM AND WWW.CLASSICALWCRB.ORG
CRB Classical 99.5 FM and www.classicalwcrb.org continue to feature encore Boston Symphony Orchestra concerts on Saturday evenings at 8 p.m. In the program for Saturday, May 15, BSO Music Director Andris Nelsons leads the BSO in Haydn's "Drumroll" Symphony and the colossal Symphony No. 1 by Mahler. This performance originally took place on September 23, 2017.

INFORMATION ON THE NEW STREAMING PLATFORM, BSO NOW
On November 19, the Boston Symphony Orchestra launched BSO NOW, an expanded online presence with newly recorded hour-long video streams by the Boston Symphony Orchestra, under the direction of Andris Nelsons and guest conductors; the Boston Pops, under the direction of Keith Lockhart; and BSO musicians in chamber music, as well as BSO Youth and Family Concerts, under the direction of Thomas Wilkins, and special projects featuring the orchestra's educational and community partnerships. Most BSO NOW video streams feature a magazine-type segment, with behind-the-scenes storytelling with conductors, composers, and musicians, plus much more. All BSO NOW newly recorded programs are released on select Thursdays at noon at www.bso.org/now, with each program remaining available for 30 days after its initial posting. The BSO, Pops, and youth-focused video performances are recorded from the stage of Symphony Hall—widely considered one of the top three acoustic concert halls in the world—which is featured for all its beautiful detail and historic significance.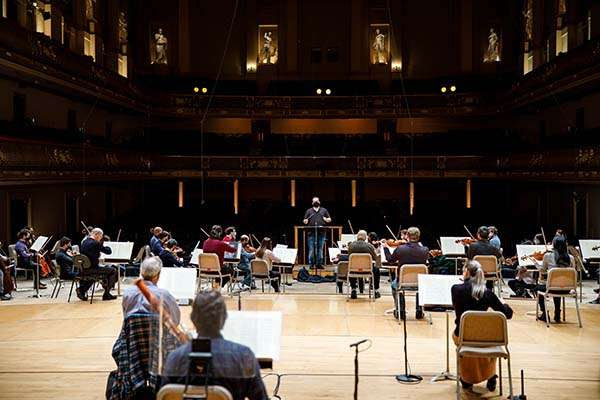 On January 6, 2021, Andris Nelsons returned for the first time to Symphony Hall in nearly a year. (Photo credit: Aram Boghosian)

INFORMATION ABOUT ONLINE PROGRAMMING CREATED IN RESPONSE TO COVID-19 CONCERT CANCELLATIONS
BSO NOW—the BSO's expanded digital content series recorded at Symphony Hall and made available through bso.org/now beginning on November 19—is part of the BSO's continuing series of online offerings created in response to the live performance hiatus imposed by regulations around the COVID-19 pandemic and ensuing health crisis. In response to this hiatus from live performances, the BSO launched its expanded digital offerings on March 26, 2020 with BSO at Home and BSO HomeSchool, followed by Boston Pops at Home (all available at www.bso.org), the Tanglewood 2020 Online Festival (www.tanglewood.org), and Encore BSO Recitals (www.bso.org). The success of these programs, which have generated millions of interactions—both directly with the actual online content and indirectly through posts on the orchestra's social media channels about that content—has been an inspiration for the orchestra to continue to explore new ways of reaching its music community and beyond with new, innovative, and compelling programming during the COVID-19 pandemic.
As of March 13, 2020, the orchestra has been forced to cancel the remainder of its 2019-20 BSO Youth Concert Series and 2019-20 BSO season and the entire 2020 Boston Pops, 2020 Tanglewood, 2020 Holiday Pops, and 2020-21 BSO and Boston Pops seasons. The series of announcements detailing the full slate of cancellations by the Boston Symphony Orchestra, beginning on March 13, 2020, can be found here. The 2021 Tanglewood season will proceed with a six-week schedule of live concerts, from July 9 through August 16; click here for more information about the 2021 Tanglewood season.

INFORMATION ON THE BSO'S REOPENING STRATEGY FOR ITS BSO NOWONLINE RECORDING SCHEDULE AT SYMPHONY HALL
Working with 9Foundations, Inc., the BSO's reopening strategy for its BSO NOW online recording schedule at Symphony Hall includes a robust testing schedule, two layers of daily screening, social distancing, universal masking, engineering controls, and enhanced cleaning and disinfection protocols. (Click here for additional details.) In addition, BSO musicians sit on a 35.5-foot stage extension—more than doubling the size of the stage—especially built to accommodate official social distancing requirements between orchestra members.
With the health and safety of everyone involved the highest priority, the BSO will continually monitor updates from the Centers for Disease Control, the Commonwealth of Massachusetts, and the City of Boston, as well as its own team of experts, to determine when it can gradually start inviting audiences back to Symphony Hall and its other venues. All official Boston Symphony Orchestra updates will be announced through press releases and postings on www.bso.org.

SPONSORSHIPS
The 2021 Spring Pops season is sponsored by Fidelity Investments. For over 50 years, Fidelity Investments and the Boston Pops have proudly worked together to bring wonderful performances to local audiences. The Arbella Insurance Foundation is proud to be the Music For All Sponsor supporting programs to bring the Boston Pops to families, especially those in underserved communities. Takeda Pharmaceutical, Ltd. continues their support of the BSO as supporting sponsor of the Spring Pops season, and for additional education and community engagement initiatives throughout the year. Fairmont Copley Plaza, Official Hotel of the Boston Pops, and Commonwealth Worldwide Chauffeured Transportation, the Official Chauffeured Transportation of the Boston Pops, and American Airlines, Official Airline of the Boston Pops, will support our artists and recording crew's travel needs for the newly recorded online video content.
———————
=======================================  
______________________________________________________-