BOSTON SYMPHONY ORCHESTRA ANNOUNCES NEW BSO NOW CONCERT STREAMS TO BE RELEASED IN JANUARY AND FEBRUARY AT WWW.BSO.ORG/NOW
ANDRIS NELSONS MAKES A HIGHLY ANTICIPATED RETURN TO THE SYMPHONY HALL PODIUM THIS WEEK TO BEGIN RECORDING THREE NEW CONCERT STREAMS FOR RELEASE IN FEBRUARY—HIS FIRST APPEARANCES WITH THE BOSTON SYMPHONY SINCE JANUARY 2020, BEFORE THE ORCHESTRA WAS FORCED TO CANCEL THE REMAINDER OF ITS 2019-20 SEASON DUE TO THE COVID-19 PANDEMIC
NELSONS-LED PROGRAMS TO FOCUS ON BEETHOVEN—IN CELEBRATION OF THE 250TH ANNIVERSARY OF THE COMPOSER'S BIRTH—FOR INITIAL RELEASE ON FEBRUARY 11, 18, AND 25, AT WWW.BSO.ORG/NOW; RECENT WORKS BY THREE YOUNG COMPOSERS NEW TO THE BSO—IMAN HABIBI, HANNAH KENDALL, AND CARLOS SIMON—WILL BE FEATURED ALONGSIDE THE MUSIC OF BEETHOVEN, INCLUDING SYMPHONIES NOS. 3, 5, 6, AND 7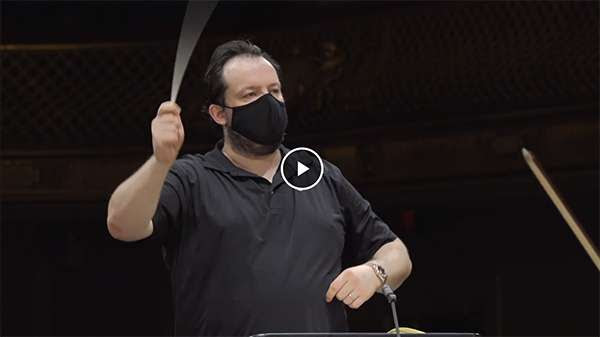 Click here to view January 6 rehearsal footage of BSO Music Director Andris Nelsons leading the BSO in Beethoven's Eroica Symphony
———–
BOSTON SYMPHONY ALSO ANNOUNCES NEW BSO NOW VIDEO STREAMS TO BE RELEASED IN JANUARY: MUSIC OF THOMAS ADÈS, DEBUSSY, SMETANA, AND ELENA LANGER, ON A PROGRAM WITH VAUGHAN WILLIAMS' THE LARK ASCENDING, WITH VIOLIN SOLOIST ELENA URIOSTE, UNDER THE DIRECTION OF STEFAN ASBURY, LAUNCHING JANUARY 14; MUSIC OF HINDEMITH, KAREEM ROUSTOM, AND CARLOS SIMON, ON A PROGRAM WITH PIAZZOLLA'S CONCERTO FOR BANDONEÓN AND ORCHESTRA, WITH BANDONEÓN SOLOIST HECTOR DEL CURTO, UNDER THE DIRECTION OF THOMAS WILKINS, LAUNCHING JANUARY 21; AND MUSIC OF MISSY MAZZOLI, PROKOFIEV, AND STRAVINSKY, ON A PROGRAM WITH ARVO PÄRT'S FRATRES, WITH VIOLIN SOLOIST GIL SHAHAM, UNDER THE DIRECTION OF ANNA RAKITINA, IN HER BSO DEBUT, LAUNCHING ON JANUARY 28

Anna Rakitina, Thomas Wilkins, Gil Shaham, Stefan Asbury
ALL NEW BSO ONLINE CONCERTS—UNDER THE TITLE MUSIC IN CHANGING TIMES—LAUNCH ON THURSDAYS AT NOON, STARTING JANUARY 14, AT WWW.BSO.ORG/NOW; EACH VIDEO STREAM IS AVAILABLE FOR 30 DAYS BEYOND ITS ORIGINAL RELEASE DATE

BSO NOW ONLINE PRESENTATIONS—AVAILABLE STARTING THURSDAYS AT NOON, NOVEMBER 19 THROUGH APRIL 29—FEATURE NEWLY RECORDED HOUR-LONG VIDEO PERFORMANCES BY THE BOSTON SYMPHONY, BOSTON POPS, AND BSO MUSICIANS IN CHAMBER MUSIC, ALONG WITH BEHIND-THE-SCENES STORYTELLING WITH CONDUCTORS, COMPOSERS, AND MUSICIANS, PLUS MUCH MORE

BSO NOW VIDEO STREAMS AVAILABLE IN JANUARY INCLUDE THREE BOSTON SYMPHONY ORCHESTRA PERFORMANCES WITH THE THEME "NEW BEGINNINGS"
• Thursday, January 14, at noon: Stefan Asbury leads a Boston Symphony Orchestra program including Thomas Adès' Dawn, Debussy's Printemps, Vaughan Williams' The Lark Ascending with violin soloist Elena Urioste, and Smetana's The Moldau; the Boston Symphony Chamber Players, with guest conductor Jorge Soto, perform Elena Langer's Five Reflections on Water
• Thursday, January 21, at noon: Thomas Wilkins leads a BSO program with selections from Kareem Roustom's Aleppo Songs, Piazzolla's Aconcagua, Concerto for Bandoneón and Orchestra, with soloist Hector Del Curto, and Hindemith's Mathis der Maler; chamber music performance of Carlos Simon's Warmth from Other Suns, featuring BSO musicians Victor Romanul and Wendy Putnam, violins; Mary Ferrillo, viola; and Adam Esbensen, cello
• Thursday, January 28, at noon: Making her BSO debut, Anna Rakitina leads a BSO program featuring Prokofiev's Symphony No. 1, Classical, Arvo Pärt's Fratres, with violin soloist Gil Shaham, and Stravinsky's The Firebird Suite; chamber music performance of Missy Mazzoli's Set That on Fire, featuring BSO musicians Elizabeth Klein, flute; Thomas Martin, clarinet; Thomas Siders, trumpet; and Valeria Vilker Kuchment, violin; with guest pianist Vytas Baksys


Thomas Adès, Elena Langer, Elena Urioste, Missy Mazzoli
ANDRIS NELSONS-LED BSO NOW VIDEO STREAMS AVAILABLE IN FEBRUARY INCLUDE THREE BOSTON SYMPHONY ORCHESTRA PERFORMANCES WITH THE THEME "THE SPIRIT OF BEETHOVEN"
• Thursday, February 11, at noon: Andris Nelsons leads the BSO in Beethoven's Symphony No. 3, Eroica, and Hannah Kendall's Disillusioned Dreamer; chamber music performance of Caroline Shaw's Blueprint, featuring BSO musicians Xin Ding and Catherine French, violins; Mary Ferrillo, viola; and Mickey Katz, cello
• Thursday, February 18, at noon: Andris Nelsons leads the BSO in Beethoven's Symphony No. 6, Pastoral, and Iman Habibi's Jeder Baum spricht; chamber music performance of Debussy's Sonata for flute, viola, and harp, featuring BSO musicians Cynthia Meyers, flute; Danny Kim, viola; and Jessica Zhou, harp
• Thursday, February 25, at noon: Andris Nelsons leads the BSO in Beethoven's Symphonies Nos. 5 and 7 and Carlos Simon's Fate Now Conquers; chamber music performance of Schoenberg's Phantasy for violin and piano, featuring BSO violinist Haldan Martinson and guest pianist Max Levinson
Please note: Each of the BSO's Music in Changing Times online video programs will include a magazine-style segment with musicians, composers, and conductors shedding light on the musical selections and themes associated with each program.


BSO Music Director Andris Nelsons, Iman Habibi, Hannah Kendall, Carlos Simon

ADDITIONAL BSO NOW PROGRAMMING DETAILS, MARCH AND APRIL, TO BE ANNOUNCED AT A LATER DATE IN ORDER FOR THE BSO TO RESPOND EFFECTIVELY TO ANY CHANGES IN RESTRICTIONS THAT MIGHT BE IMPLEMENTED AROUND OFFICIAL COVID-19 PROTOCOLS


INFORMATION ON HOW TO ACCESS BSO NOW NEWLY RECORDED ONLINE VIDEO CONTENT TO BE DISTRIBUTED AT WWW.BSO.ORG/NOW, THURSDAYS AT NOON, THROUGH APRIL 29
• THE COMPLETE SERIES OF BSO NOW PROGRAMMING IS AVAILABLE IN RECOGNITION OF DONATIONS OF $100 OR MORE BY VISITING WWW.BSO.ORG/NOW
• DETAILS ABOUT THE ESSENTIAL WORKERS ACCESS PROGRAM AND COMPLIMENTARY ACCESS FOR BSO SUBSCRIBERS, COLLEGE CARD HOLDERS, CORPORATE PARTNERS, AND CURRENT BSO, POPS, AND TANGLEWOOD DONORS OF $100 OR MORE, AS WELL AS INFORMATION ABOUT A COMPLIMENTARY 24-HOUR TRIAL ACCESS PROGRAM FOR THE GENERAL PUBLIC, ARE AVAILABLE THROUGH WWW.BSO.ORG/NOW

FURTHER DETAILS OF MR. NELSONS' PROGRAMS AND OTHER BSO NOW CONCERT STREAMS SCHEDULED FOR JANUARY AND FEBRUARY
Andris Nelsons, in a Highly Anticipated Return to the BSO, Leads the Orchestra in Concert Streams Launching February 11, 18, and 25: "The Spirit of Beethoven"

BSO Music Director Andris Nelsons—in a highly anticipated return to the Symphony Hall podium after nearly a year's absence due to the live performance hiatus related to the COVID-19 pandemic—will lead the Boston Symphony Orchestra in a series of recordings in the first two weeks of January to be released on the orchestra's new streaming platform, BSO NOW, on February 11, 18, and 25. In a poignant reflection on the Beethoven symphonic cycle Mr. Nelsons was to have conducted with the orchestra this past October and November in honor of the 250th anniversary of Beethoven's birth—before the forced cancellation of the entire BSO 2020-21 season—the February concert streams will feature Mr. Nelsons and the orchestra in four Beethoven symphonies, nos. 3, 5, 6, and 7, as well as recent orchestral works by Iranian-Canadian composer Iman Habibi, British composer Hannah Kendall, and American composer Carlos Simon. Andris Nelsons loves conducting all the Beethoven symphonies and has been engrossed in recording and performing them over the last two to three years. This selection of symphonies highlights Beethoven's different approaches to the form, as well as being great showcases for the strengths of the BSO. Click here for a video statement from Mr. Nelsons.
Topics for the magazine segments for these Andris Nelsons-led programs will be "Beethoven and the BSO," spotlighting the BSO's unique associations with the composer's music, as well as the history behind the famous Beethoven medallion—the only composer name featured in the architecture of the hall—at the top of the stage proscenium; "Beethoven and Change," reflecting the personal and political realities of Beethoven's life that influenced his composing and affected his music; and "Beethoven and the Visual Arts," focusing on the countless ways Beethoven's music and life story have been depicted in the varied world of the visual arts, including film.
This will also be Mr. Nelsons' first time back in Boston since the October 5, 2020 announcement of a three-year extension of his contract as BSO Music Director through August 2025, with an evergreen clause in place reflecting a mutual intent for a long-term commitment well beyond the years of the new contract extension. The fifteenth music director since the orchestra's founding in 1881, Mr. Nelsons began his tenure in that role in fall 2014. His last appearance with the BSO was in January 31, 2020 when he led the orchestra in Bartók's Concerto for Orchestra, Mozart's Piano Concerto No. 24 in C minor, K.491 (with soloist Yefim Bronfman), and Ravel's Daphnis et Chloé Suite No. 2.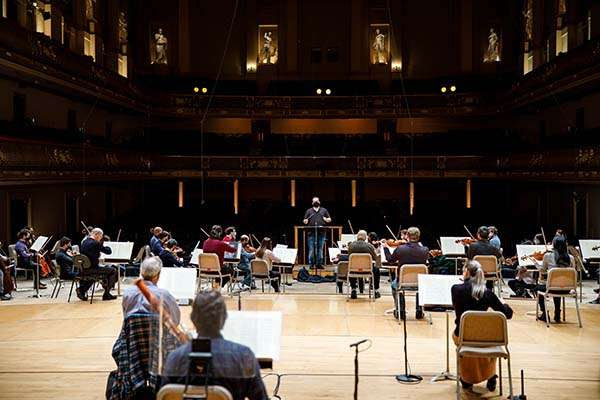 Andris Nelsons returns for the first time to Symphony Hall in nearly a year.
Stefan Asbury, Thomas Wilkins, and Anna Rakitina Lead the BSO in Concert Streams Launching January 14, 21, and 28, Respectively: "New Beginnings"
——————–

In January, the three episodes in the Boston Symphony Orchestra's second BSO NOW streaming concert series explore different facets of the concept "New Beginnings." The first episode's BSO performances, led by conductorStefan Asbury (right), focus on the idea of rejuvenation in the natural world: Smetana's depiction of the river Moldau from its source to its end, Debussy's colorful, musical Spring, and Thomas Adès' Dawn, an addition to the great tradition of musical sunrises. Elena Langer's chamber music work Five Reflections on Water was cormmissioned for and originally premiered by the Boston Symphony Chamber Players, who perform it here with guest conductor Jorge Soto. This episode also includes a rhapsodic feature exploring musical depictions of rivers as a complement to Smetana's The Moldau, as well as introductory remarks by BSO violinist Jennie Shames and a conversation between conductor Stefan Asbury and soloist Elena Urioste.
Led by BSO Youth and Family Concerts Conductor Thomas Wilkins, Episode 2 of the series examines the role of place and home in an artist's experience. The Syrian-born, Boston-based composer Kareem Roustom embraces the land of his youth in three of his Aleppo Songs, based on urban folk music of that ancient city. Although he grew up largely in New York City, the Argentine composer Astor Piazzolla's musical "home" was Buenos Aires and the tango, which he transformed with unique sophistication. Hector Del Curto channels Piazzolla's spirit as soloist in the composer's bandoneón concerto Aconcagua, named for an Argentine mountain. Paul Hindemith remained true to his artistic principles even in light of his oppression by the Third Reich, which led to his immigration to the U.S. in 1940. His 1934 Symphony, Mathis der Maler, an orchestral parallel to his opera of the same name, concerns the Renaissance painter Matthias Grünewald's struggle for artistic freedom during a time of social strife. Concluding this episode is Atlanta-born composer Carlos Simon's brief string quartetWarmth from Other Suns, which references the great Black writer Richard Wright's quote about the Great Migration of the 20th century, in which millions of African Americans left the Jim Crow South to seek new lives in the North. Also part of this program are a dynamic feature on the bandoneón with soloist Hector Del Curto, plus a conversation with Kareem Roustom as part of a feature on composers finding their artistic voice far from their place of birth.


Carlos Simon, Kareem Roustom, Thomas Wilkins, Hector Del Curto
BSO Assistant Conductor Anna Rakitina makes her debut with the orchestra leading works representing the distinctive voices of three composers. Violinist Gil Shaham is soloist for Arvo Pärt's atmospheric, ceremonial Fratres ("Brothers"), one of his best-known and most characteristic pieces. With Prokofiev's Classical Symphony,
we find that talented but deliberately provocative young composer broadening his range to embrace music of grace, clarity, and charm. The first of Stravinsky's three great ballet scores, The Firebird, composed when he was 27, was far more ambitious and imaginative than anything he had written previously. Closing this episode is celebrated American composer Missy Mazzoli's Set That on Fire for chamber ensemble, which takes its title from a phrase used by the painter Jean-Michel Basquiat. The energy and precision of the piece demand virtuosic performances from the BSO musicians. Magazine elements in Episode 3 include a feature on "arrivals" in terms of a composer's musical style, as well as a conversation between BSO Assistant Conductor Anna Rakitina and BSO bassoonist Suzanne Nelsen.
Formal BSO titles for conductors referenced in this release: Andris Nelsons is the Ray and Maria Stata BSO Music Director; Anna Rakitina is BSO Assistant Conductor; Thomas Wilkins is the BSO's Artistic Advisor, Education and Community Engagement, and Germeshausen Youth and Family Concerts Conductor; Thomas Adès is the Deborah and Philip Edmundson Artistic Partner; and Stefan Asburyholds the Sana H. Sabbagh Master Teacher Chair on the Tanglewood Music Center Conducting Faculty. The director for the concert portions of the BSO NOW series is Habib Azar; click here for a recent biography.

Anna Rakitina makes her BSO debut with a BSO NOW stream of works by Missy Mazzoli, Prokofiev, Stravinsky, and Arvo Pärt (Photo by Hilary Scott)

INFORMATION ON THE NEW STREAMING PLATFORM, BSO NOW
On November 19, the Boston Symphony Orchestra launched BSO NOW, an expanded online presence with newly recorded hour-long video streams by the Boston Symphony Orchestra, under the direction of Andris Nelsons and guest conductors; the Boston Pops, under the direction of Keith Lockhart; and BSO musicians in chamber music, as well as BSO Youth and Family Concerts, under the direction of Thomas Wilkins, and special projects featuring the orchestra's educational and community partnerships. Most BSO NOW video streams will also feature a magazine-type segment, with behind-the-scenes storytelling with conductors, composers, and musicians, plus much more. All BSO NOW newly recorded programs will be released on select Thursdays at noon through April 29, at www.bso.org/now, with each program remaining available for 30 days after its initial posting. The BSO, Pops, and youth-focused video performances will be recorded from the stage of Symphony Hall—widely considered one of the top three acoustic concert halls in the world—which will also be featured for all its beautiful detail and historic significance.
Over the next few months, BSO NOW will also stream some selected performances from the BSO Archives, including concerts led by Seiji Ozawa, William Steinberg, and Colin Davis, with further details to be announced at a later date.
Additional BSO NOW programming details, March-April, will be announced at a later date in order for the BSO to respond effectively to any changes in restrictions that might be implemented around official COVID-19 protocols. Previously released BSO NOW streams, no longer available include Ken-David Masur leading the BSO in Dvořák's Symphony No. 9 and Ives' The Unanswered Question; Thomas Wilkins conducting the BSO in works by Jessie Montgomery, Ellington, and Still; Marcelo Lehninger leading the orchestra in works by Copland, Barber, and Joan Tower; and Keith Lockhart leading a Holiday Pops concert stream.

BSO Principal Harp Jessica Zhou, BSO violist Danny Kim, BSO Principal Second Violin Haldan Martinson, BSO violinist Xin Ding


INFORMATION ABOUT ONLINE PROGRAMMING CREATED IN RESPONSE TO COVID-19 CONCERT CANCELLATIONS
BSO NOW—the BSO's expanded digital content series to be recorded at Symphony Hall and made available through bso.org/now beginning on November 19—is part of the BSO's continuing series of online offerings created in response to the live performance hiatus imposed by regulations around the COVID-19 pandemic and ensuing health crisis. In response to this hiatus from live performances, the BSO launched its expanded digital offerings on March 26 with BSO at Home and BSO HomeSchool, followed by Boston Pops at Home (all available at www.bso.org), the Tanglewood 2020 Online Festival (www.tanglewood.org), and Encore BSO Recitals (www.bso.org), available through November 19. The success of these programs, which have generated millions of interactions—both directly with the actual online content and indirectly through posts on the orchestra's social media channels about that content—has been an inspiration for the orchestra to continue to explore new ways of reaching its music community and beyond with new, innovative, and compelling programming during the COVID-19 pandemic.
As of March 13, 2020, and continuing on through April 2021 and possibly beyond, the orchestra has been forced to cancel the remainder of its 2019-20 BSO Youth Concert Series and 2019-20 BSO season and the entire 2020 Boston Pops, 2020 Tanglewood, 2020 Holiday Pops, and 2020-21 BSO seasons. The series of announcements detailing the full slate of cancellations by the Boston Symphony Orchestra, beginning on March 13, can be found here.

INFORMATION ON THE BSO'S REOPENING STRATEGY FOR ITS BSO NOWONLINE RECORDING SCHEDULE AT SYMPHONY HALL
Working with 9 Foundations, Inc., the BSO's reopening strategy for its BSO NOW online recording schedule at Symphony Hall will include a robust testing schedule, two layers of daily screening, social distancing, universal masking, engineering controls, and enhanced cleaning and disinfection protocols. (Click here for additional details.) In addition, BSO musicians will sit on a 35.5 foot stage extension—more than doubling the size of the stage—especially built to accommodate official social distancing requirements between orchestra members.
With the health and safety of everyone involved the highest priority, the BSO will continually monitor updates from the Centers for Disease Control, the Commonwealth of Massachusetts, and the City of Boston, as well as its own team of experts, to determine when it can gradually start inviting audiences bad to Symphony Hall and its other venues. The timing of this process will not be known for at least several months. All official Boston Symphony Orchestra updates will be announced through press releases and postings on www.bso.org.

SPONSORSHIPS
BSO SEASON SPONSORS:
Bank of America is the Lead BSO Season Sponsor for the 2020-21 season, supporting the Music in Changing Times programming and other BSO digital offerings, including the launch of the essential workers program. Arbella Insurance Foundation, a longtime sponsor, is continuing its major sponsorship for the 15th season as the "Music for All" sponsor, supporting our education and outreach programs so that everyone has access to great classical music in our community. Fairmont Copley Plaza, Official Hotel of the BSO, and Commonwealth Worldwide Executive Transportation, the Official Chauffeured Transportation of the BSO, will support our artists and recording crew's travel needs for the newly recorded online video content.
~~~~~~~~~~~~~~~~~~~~~~~~~~~
BSO | 301 Massachusetts Avenue | Symphony Hall | Boston, MA 02115 |
Tickets 617.266.1200 (M-F 10 – 6pm; Sat : 12 – 6pm) | Subscriptions 888.266.7575 | Service 617.266.9402 (M-F : 9 – 5pm)
—————
============================================ 
_____________________________________________________________