March 4, 2021
———————–
BSO NOW STREAMING PLATFORM PRESENTS ANOTHER ARCHIVAL GBH EVENING AT SYMPHONY WITH A SEMINAL 1969-70 PROGRAM OF HOLST AND ELGAR LED BY WILLIAM STEINBERG, AVAILABLE STARTING TODAY AT NOON AT WWW.BSO.ORG/NOW
BSO NOW ARCHIVAL STREAMS CONTINUE IN APRIL WITH CONDUCTORS COLIN DAVIS AND SEIJI OZAWA LEADING THE BSO IN WORKS BY ELGAR, SIBELIUS, TCHAIKOVSKY, AND WAGNER
—————————–

Click here to view an excerpt from the "Mercury" movement of Holst's The Planets, recorded on October 6, 1970, by the BSO and then-BSO Music Director William Steinberg



OVERVIEW OF BSO NOW ARCHIVAL ONLINE PROGRAMMING FOR RELEASE IN MARCH AND APRIL •Today at noon:William Steinberg (BSO Music Director, 1969–72) conducts the Boston Symphony Orchestra in "Mercury" from Holst's The Planets, originally recorded on October 6, 1970, and Elgar's Symphony No. 2, originally recorded on October 7, 1969; available for viewing through April 3 at www.bso.org/now 
——————————-

Seiji Ozawa, William Steinberg, Colin Davis•Thursday, April 1, at noon:Colin Davis (BSO Principal Guest Conductor, 1972–84) leads the Boston Symphony Orchestra in "Siegfried's Rhine Journey" from Wagner's Götterdämmerung, originally recorded on April 3, 1976; Sibelius' Symphony No. 6, originally recorded on November 29, 1975; and Elgar's Cockaigne Overture (In London Town), originally recorded on January 7, 1978; available for viewing through May 3 at www.bso.org/now
•Thursday, April 8, at noon: Originally recorded on October 25, 1978, then-BSO Music Director Seiji Ozawa conducts the Boston Symphony Orchestra in excerpts from Acts II and III of Tchaikovsky's Swan Lake; available for viewing through May 10 at www.bso.org/now
• Available for viewing through Saturday, March 6: Originally recorded on April 26, 1975, Seiji Ozawa(BSO Music Director, 1973–2002) conducts the Boston Symphony Orchestra and New England Conservatory Chorus in Mahler's Symphony No. 2 (Resurrection) with soprano soloist Susan Davenny Wyner and contralto soloist Maureen Forrester. 

CLICK HERE FOR ADDITIONAL BSO NOW PROGRAMMING DETAILS, MARCH AND APRIL, FEATURING CONDUCTORS ANDRIS NELSONS, GIANCARLO GUERRERO, AND DAVID ROBERTSON

INFORMATION ON HOW TO ACCESS BSO NOW NEWLY RECORDED ONLINE VIDEO CONTENT TO BE DISTRIBUTED AT WWW.BSO.ORG/NOW, THURSDAYS AT NOON, THROUGH APRIL 29• THE COMPLETE SERIES OF BSO NOW PROGRAMMING IS AVAILABLE IN RECOGNITION OF DONATIONS OF $100 OR MORE BY VISITING WWW.BSO.ORG/NOW
• DETAILS ABOUT THE ESSENTIAL WORKERS TICKET PROGRAM AND COMPLIMENTARY ACCESS FOR BSO SUBSCRIBERS, COLLEGE CARD HOLDERS, CORPORATE PARTNERS, AND CURRENT BSO, POPS, AND TANGLEWOOD DONORS OF $100 OR MORE, AS WELL AS INFORMATION ABOUT A COMPLIMENTARY 24-HOUR TRIAL ACCESS PROGRAM FOR THE GENERAL PUBLIC, ARE AVAILABLE THROUGH WWW.BSO.ORG/NOW

FURTHER DETAILS: BSO ARCHIVAL STREAMS OF ICONIC EVENING AT SYMPHONY PERFORMANCES, AVAILABLE IN MARCH AND APRIL Today at noon at www.bso.org/now, the BSO NOW concert streaming platform will launch the second of four archival programs, featuring artists who enjoyed especially close relationships with the orchestra. All four programs were originally produced and distributed by Boston public broadcaster GBH for the iconic Evening at Symphony television series. Longtime CRB announcer Brian McCreath will serve as host for the archival BSO NOW streams.
The BSO NOW archival stream available today includes William Steinberg(BSO Music Director, 1969–72) conducting the Boston Symphony Orchestra in "Mercury" from Holst's The Planets (originally recorded on October 6, 1970) and Elgar's Symphony No. 2 (originally recorded on October 7, 1969). Steinberg was renowned for his interpretations of classics from his native Germany, but he also felt a strong affinity with English music, including works by Elgar and Holst. Among the works he recorded with the BSO for Deutsche Grammophon was Gustav Holst's The Planets—a release that continues to stand out after all this time as an unsurpassed benchmark in a field of numerous recordings of that piece.
On April 1, BSO NOW will release an archival concert stream featuring Colin Davis (BSO Principal Guest Conductor, 1972–84) leading the Boston Symphony Orchestra in "Siegfried's Rhine Journey" from Wagner's Götterdämmerung (originally recorded on April 3, 1976); Sibelius' Symphony No. 6 (originally recorded on November 29, 1975); and Elgar's Cockaigne Overture, from "In London Town" (originally recorded on January 7, 1978). Davis' relationship with the Boston Symphony stretched across more than four decades. He made many recordings with the BSO—including a complete set of Sibelius symphonies and selected tone poems released on the Philips label and he was a regular presence at Tanglewood as well.
The final BSO NOW archival release of the orchestra's 2020–21 online season launches on April 8. Beginning in the late 1970s, the BSO and Seiji Ozawa recorded Tchaikovsky's three great ballet scores: The Nutcracker, Sleeping Beauty, and Swan Lake. The April 8 Ozawa-led program includes excerpts from Acts 2 and 3 of Swan Lake, recorded on October 25, 1978. It features many musicians who are still in the BSO, as well as legendary players from the past, such as wind principals Harold Wright and Sherman Walt, harpist Ann Hobson Pilot, and string players Joseph Silverstein, Harry Ellis Dickson, Jules Eskin, and Mary Lou Speaker.
The first telecast of a BSO performance took place in 1956, when WGBH Television and WGBH-FM simulcast a concert at Kresge Auditorium, on the campus of MIT. And in 1974, WGBH Television launched its award-winning series Evening at Symphony. All four of the BSO NOW archival programs are presented in their original format with Evening at Symphony opening credits and the resonant voice of its fabled announcer, William Pierce.


WEEKLY ENCORE BSO CONCERT BROADCASTS ON CRB CLASSICAL 99.5 FM AND WWW.CLASSICALWCRB.ORGCRB Classical 99.5 FM and www.classicalwcrb.org continue to feature encore Boston Symphony Orchestra concerts on Saturday evenings at 8 p.m. The program for Saturday, March 6 features BSO Music Director Andris Nelsons returning to the first work he performed with the BSO, the emotionally powerful Symphony No. 9 by Gustav Mahler. This performance originally took place on April 16, 2016.

INFORMATION ON THE NEW STREAMING PLATFORM, BSO NOWOn November 19, the Boston Symphony Orchestra launched BSO NOW, an expanded online presence with newly recorded hour-long video streams by the Boston Symphony Orchestra, under the direction of Andris Nelsons and guest conductors; the Boston Pops, under the direction of Keith Lockhart; and BSO musicians in chamber music, as well as BSO Youth and Family Concerts, under the direction of Thomas Wilkins, and special projects featuring the orchestra's educational and community partnerships. Most BSO NOW video streams feature a magazine-type segment, with behind-the-scenes storytelling with conductors, composers, and musicians, plus much more. All BSO NOW newly recorded programs are released on select Thursdays at noon through April 29, at www.bso.org/now, with each program remaining available for 30 days after its initial posting. The BSO, Pops, and youth-focused video performances are recorded from the stage of Symphony Hall—widely considered one of the top three acoustic concert halls in the world—which is featured for all its beautiful detail and historic significance.
——————-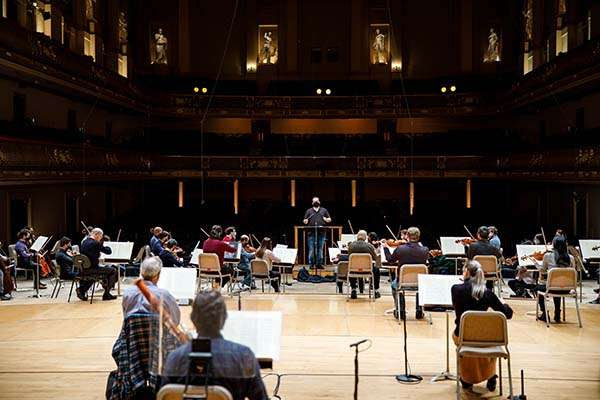 On January 6, 2021, Andris Nelsons returned for the first time to Symphony Hall in nearly a year.
(Photo credit: Aram Boghosian)
INFORMATION ABOUT ONLINE PROGRAMMING CREATED IN RESPONSE TO COVID-19 CONCERT CANCELLATIONS BSO NOW—the BSO's expanded digital content series recorded at Symphony Hall and made available through bso.org/now beginning on November 19—is part of the BSO's continuing series of online offerings created in response to the live performance hiatus imposed by regulations around the COVID-19 pandemic and ensuing health crisis. In response to this hiatus from live performances, the BSO launched its expanded digital offerings on March 26, 2020 with BSO at Home and BSO HomeSchool, followed by Boston Pops at Home (all available at www.bso.org), the Tanglewood 2020 Online Festival (www.tanglewood.org), and Encore BSO Recitals (www.bso.org). The success of these programs, which have generated millions of interactions—both directly with the actual online content and indirectly through posts on the orchestra's social media channels about that content—has been an inspiration for the orchestra to continue to explore new ways of reaching its music community and beyond with new, innovative, and compelling programming during the COVID-19 pandemic.
—————————-
As of March 13, 2020, and continuing on through April 2021 and possibly beyond, the orchestra has been forced to cancel the remainder of its 2019-20 BSO Youth Concert Series and 2019-20 BSO season and the entire 2020 Boston Pops, 2020 Tanglewood, 2020 Holiday Pops, and 2020-21 BSO seasons. The series of announcements detailing the full slate of cancellations by the Boston Symphony Orchestra, beginning on March 13, 2020, can be found here.

INFORMATION ON THE BSO'S REOPENING STRATEGY FOR ITS BSO NOWONLINE
RECORDING SCHEDULE AT SYMPHONY HALL
Working with 9 Foundations, Inc., the BSO's reopening strategy for its BSO NOW online recording schedule at Symphony Hall includes a robust testing schedule, two layers of daily screening, social distancing, universal masking, engineering controls, and enhanced cleaning and disinfection protocols. (Click here for additional details.) In addition, BSO musicians sit on a 35.5 foot stage extension—more than doubling the size of the stage—especially built to accommodate official social distancing requirements between orchestra members.
With the health and safety of everyone involved the highest priority, the BSO will continually monitor updates from the Centers for Disease Control, the Commonwealth of Massachusetts, and the City of Boston, as well as its own team of experts, to determine when it can gradually start inviting audiences back to Symphony Hall and its other venues. The timing of this process will not be known for at least several months. All official Boston Symphony Orchestra updates will be announced through press releases and postings on www.bso.org.

SPONSORSHIPS | BSO SEASON SPONSORS:
Bank of America is the Lead BSO Season Sponsor for the 2020-21 season, supporting the Music in Changing Times programming and other BSO digital offerings, including the launch of the essential workers ticket program. Arbella Insurance Foundation, a longtime sponsor, is continuing its major sponsorship for the 15th season as the "Music for All" sponsor, supporting our education and outreach programs so that everyone has access to great classical music in our community. Fairmont Copley Plaza, Official Hotel of the BSO, and Commonwealth Worldwide Executive Transportation, the Official Chauffeured Transportation of the BSO, will support our artists and recording crew's travel needs for the newly recorded online video content. 
—————————-
BSO | 301 Massachusetts Avenue | Symphony Hall | Boston, MA 02115 |
Tickets 617.266.1200 (M-F 10 – 6pm; Sat : 12 – 6pm) | Subscriptions 888.266.7575 | Service 617.266.9402 (M-F : 9 – 5pm)
———————-
=============================================== 
__________________________________________________________________