April 28, 2021
THIS WEEK: THE BOSTON SYMPHONY ORCHESTRA'S ONLINE PERFORMANCE (WWW.BSO.ORG/NOW)
THE FINAL EPISODE OF THE BSO'S 2020–21 BSO NOW STREAMING SEASON LAUNCHES TOMORROW AT NOON WITH THE RELEASE OF THE THIRD SEGMENT OF PATHWAYS OF ROMANTICISM; BSO MUSIC DIRECTOR ANDRIS NELSONS LEADS AN ALL-STRAUSS PROGRAM, WITH CHAMBER MUSIC BY JENNIFER HIGDON, AVAILABLE AT WWW.BSO.ORG/NOW

Click here to listen to short excerpts of the BSO performing Richard Strauss' Serenade for Winds, Op. 7 and one of the interludes from Intermezzo, both under the baton of BSO Music Director Andris Nelsons

ALL NEW BSO NOW ONLINE CONCERTS—UNDER THE TITLE MUSIC IN CHANGING TIMES—LAUNCH ON THURSDAYS AT NOON AT WWW.BSO.ORG/NOW; EACH VIDEO STREAM IS AVAILABLE FOR 30 DAYS BEYOND ITS ORIGINAL RELEASE DATE
BSO NOW ONLINE PRESENTATIONS—AVAILABLE STARTING THURSDAYS AT NOON, NOVEMBER 19 THROUGH APRIL 29—FEATURE NEWLY RECORDED HOUR-LONG VIDEO PERFORMANCES BY THE BOSTON SYMPHONY, BOSTON POPS, AND BSO MUSICIANS IN CHAMBER MUSIC, ALONG WITH BEHIND-THE-SCENES STORYTELLING WITH CONDUCTORS, COMPOSERS, AND MUSICIANS, PLUS MUCH MORE


NEW BSO NOW VIDEO STREAM LAUNCHING IN APRIL: BOSTON SYMPHONY ORCHESTRA PERFORMANCE WITH THE THEME PATHWAYS OF ROMANTICISM, AVAILABLE AT WWW.BSO.ORG/NOW
• Tomorrow at noon; available through May 29: Andris Nelsons leads an all-Strauss program, including Serenade in E-flat for Thirteen Wind Instruments and four Interludes from the opera Intermezzo; chamber music performance to feature Jennifer Higdon's Autumn Music for wind quintet, with BSO musicians Cynthia Meyers, flute; Robert Sheena, oboe; Thomas Martin, clarinet;Richard Ranti, bassoon; and Rachel Childers, horn

BSO flutist Cynthia Meyers, oboist Robert Sheena, clarinetist Thomas Martin, bassoonist Richard Ranti, and horn player Rachel Childers

BSO NOW STREAMS PREVIOUSLY RELEASED IN APRIL, INCLUDING TWO ARCHIVAL STREAMS AND TWO BOSTON SYMPHONY ORCHESTRA ONLINE PERFORMANCES THEMED "PATHWAYS OF ROMANTICISM," ARE STILL AVAILABLE AT WWW.BSO.ORG/NOW
• Available for viewing through May 1: Colin Davis (BSO Principal Guest Conductor, 1972–84) leads the Boston Symphony Orchestra in "Siegfried's Rhine Journey" from Wagner's Götterdämmerung, originally recorded on April 3, 1976; Sibelius' Symphony No. 6, originally recorded on November 29, 1975; and Elgar's Cockaigne Overture (In London Town), originally recorded on January 7, 1978
• Available for viewing through May 8: Seiji Ozawa (BSO Music Director, 1973–2002) conducts the Boston Symphony Orchestra in excerpts from Acts II and III of Tchaikovsky's Swan Lake, originally recorded on November 21, 1978
• Available for viewing through May 15: Andris Nelsons conducts the BSO in Brahms' Serenade No. 2 in A, Op. 16, and Schumann's Symphony No. 4 in D minor, Op. 120; chamber music performance features Marti Epstein's Komorebi, with BSO musicians John Ferrillo, oboe; William R. Hudgins, clarinet; and Elita Kang, violin
• Available for viewing through May 22: BSO Music Director Andris Nelsons leads a program of Mendelssohn's String Symphony No. 10 in B minor; Weber's Concertino in E-flat for clarinet and orchestra, with BSO Principal Clarinet William R. Hudgins as soloist; and Schumann's Concert Piece for four horns and orchestra, with the BSO's Richard Sebring, Michael Winter, Rachel Childers, and Jason Snider as soloists; chamber music performance featuring Still's Suite for violin and piano, with BSO violinist Victor Romanul and pianist Randall Hodgkinson

BSO NOW STREAMS CONTINUE IN MAY AND JUNE WITH THE BOSTON POPS' 2021 SPRING CELEBRATION, THE FIRST ALL-VIRTUAL SEASON IN THE POPS' HISTORY; FOR MORE INFORMATION, CLICK HERE

CLICK HERE FOR DETAILS ABOUT THE FIRST-EVER STREAMING BSO YOUTH CONCERT (RELEASED MARCH 5) AND ARCHIVAL BSO FAMILY CONCERT VIDEOS (RELEASING APRIL 30)—BOTH FEATURING THOMAS WILKINS—AS WELL AS INFORMATION ABOUT A NEW PARTNERSHIP BETWEEN THE BSO AND BOSTON PUBLIC SCHOOLS
BSO FAMILY CONCERT STREAM TO BE RELEASED TO GENERAL PUBLIC FREE OF CHARGE ON MAY 13, AVAILABLE ON-DEMAND THROUGH JUNE 30 AT WWW.BSO.ORG/NOW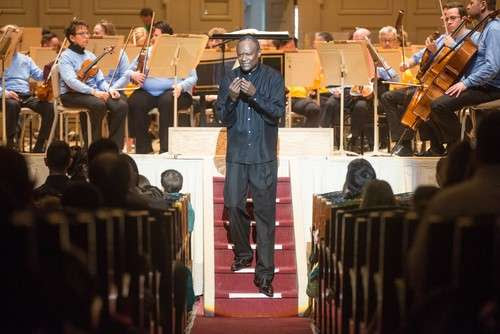 Thomas Wilkins speaking at a Family Concert (photo credit: Hilary Scott)

INFORMATION ON HOW TO ACCESS BSO NOW NEWLY RECORDED ONLINE VIDEO CONTENT TO BE DISTRIBUTED AT WWW.BSO.ORG/NOW, THURSDAYS AT NOON, THROUGH APRIL 29
• THE COMPLETE SERIES OF BSO NOW PROGRAMMING IS AVAILABLE IN RECOGNITION OF DONATIONS OF $100 OR MORE BY VISITING WWW.BSO.ORG/NOW; PRICING STRUCTURE FOR BSO NOW ONLINE STREAMS TO CHANGE BEGINNING MAY 6
• DETAILS ABOUT THE ESSENTIAL WORKERS ACCESS PROGRAM AND COMPLIMENTARY ACCESS FOR BSO SUBSCRIBERS, COLLEGE CARD HOLDERS, CORPORATE PARTNERS, AND CURRENT BSO, POPS, AND TANGLEWOOD DONORS OF $100 OR MORE, AS WELL AS INFORMATION ABOUT A COMPLIMENTARY 24-HOUR TRIAL ACCESS PROGRAM FOR THE GENERAL PUBLIC, ARE AVAILABLE THROUGH WWW.BSO.ORG/NOW

FURTHER DETAILS ABOUT BSO NOW CONCERT STREAM SCHEDULED FOR APRIL
In the final episode in the BSO's 2020-21 BSO NOW streaming season, releasing tomorrow at noon, BSO Music Director Andris Nelsons returns to a focus of his recent conducting activity: music of Richard Strauss. Strauss was only 18 when his Serenade for Winds, Op. 7, was premiered in Dresden. Its classical clarity is in stark contrast to the lush, almost cinematic orchestral Interludes from the composer's 1923 opera Intermezzo, composed 40 years later. Based on an episode in Strauss' life, the plot of the libretto (written by the composer himself) revolves around a misunderstanding that drives the wife of a conductor to jealous extremes. Strauss called his opera a "bourgeois comedy with symphonic interludes," indicating the importance of the purely orchestral music of the four interludes, which respectively tell of the bustle and joy of travel, an introspective scene by the fireside, a card-playing scene, and a brief happy ending touching on many of the opera's main themes. The American composer Jennifer Higdon's colorful, energetic 1995 wind quintet Autumn Music, which was in part inspired by Samuel Barber's Summer Music, is this program's chamber music work.

Click here to listen to a short excerpt from Jennifer Higdon's Autumn Music, with BSO flutist Cynthia Meyers, oboist Robert Sheena, horn player Rachel Childers, bassoonist Richard Ranti, and clarinetist Thomas Martin
As with the season's other BSO NOW offerings, this month's three online video streams, which are part of the "Pathways of Romanticism" series, are accompanied by magazine segments. These features put Romanticism in historical and cultural context. This program's magazine, "Strauss: The Last Romantic," pictures the once-progressive composer who ultimately kept the fires of musical Romanticism burning nearly 50 years into the modernist 20th century.
The BSO NOW concert streaming platform launched in November and was created in response to the live performance hiatus in place since March 2020, due to the restrictions around the COVID-19 pandemic. Most BSO NOW concert streams are available for on-demand viewing for 30 days past their original launch dates through www.bso.org/now. Formal BSO titles for conductors referenced in this release: Andris Nelsons is the Ray and Maria Stata BSO Music Director and Thomas Wilkins is the BSO's Artistic Advisor, Education and Community Engagement, and Germeshausen Youth and Family Concerts Conductor.

WEEKLY ENCORE BSO CONCERT BROADCASTS ON CRB CLASSICAL 99.5 FM AND WWW.CLASSICALWCRB.ORG
CRB Classical 99.5 FM and www.classicalwcrb.org continue to feature encore Boston Symphony Orchestra concerts on Saturday evenings at 8 p.m. In the program for Saturday, May 1, virtuoso musicians of the Boston Symphony Orchestra take center stage in works by Vivaldi, Krommer, Jolivet, Rota, and Schumann. Led by Ken-David Masur, the concert has as featured soloists piccolo player Cynthia Meyers, clarinetists William R. Hudgins and Michael Wayne, trumpeter Thomas Rolfs, trombonist Toby Oft, and horn players James Sommerville, Michael Winter, Rachel Childers, and Jason Snider. The performance originally took place in January 2017.

INFORMATION ON THE NEW STREAMING PLATFORM, BSO NOW
On November 19, the Boston Symphony Orchestra launched BSO NOW, an expanded online presence with newly recorded hour-long video streams by the Boston Symphony Orchestra, under the direction of Andris Nelsons and guest conductors; the Boston Pops, under the direction of Keith Lockhart; and BSO musicians in chamber music, as well as BSO Youth and Family Concerts, under the direction of Thomas Wilkins, and special projects featuring the orchestra's educational and community partnerships. Most BSO NOW video streams feature a magazine-type segment, with behind-the-scenes storytelling with conductors, composers, and musicians, plus much more. All BSO NOW newly recorded programs are released on select Thursdays at noon through April 29, at www.bso.org/now, with each program remaining available for 30 days after its initial posting. The BSO, Pops, and youth-focused video performances are recorded from the stage of Symphony Hall—widely considered one of the top three acoustic concert halls in the world—which is featured for all its beautiful detail and historic significance.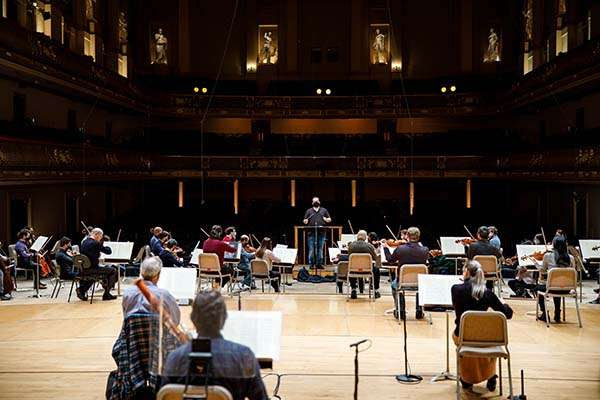 On January 6, 2021, Andris Nelsons returned for the first time to Symphony Hall in nearly a year. (Photo credit: Aram Boghosian)

INFORMATION ABOUT ONLINE PROGRAMMING CREATED IN RESPONSE TO COVID-19 CONCERT CANCELLATIONS
BSO NOW—the BSO's expanded digital content series recorded at Symphony Hall and made available through bso.org/now beginning on November 19—is part of the BSO's continuing series of online offerings created in response to the live performance hiatus imposed by regulations around the COVID-19 pandemic and ensuing health crisis. In response to this hiatus from live performances, the BSO launched its expanded digital offerings on March 26, 2020 with BSO at Home and BSO HomeSchool, followed by Boston Pops at Home (all available at www.bso.org), the Tanglewood 2020 Online Festival (www.tanglewood.org), and Encore BSO Recitals (www.bso.org). The success of these programs, which have generated millions of interactions—both directly with the actual online content and indirectly through posts on the orchestra's social media channels about that content—has been an inspiration for the orchestra to continue to explore new ways of reaching its music community and beyond with new, innovative, and compelling programming during the COVID-19 pandemic.
————–
As of March 13, 2020, the orchestra has been forced to cancel the remainder of its 2019-20 BSO Youth Concert Series and 2019-20 BSO season and the entire 2020 Boston Pops, 2020 Tanglewood, 2020 Holiday Pops, and 2020-21 BSO seasons. The series of announcements detailing the full slate of cancellations by the Boston Symphony Orchestra, beginning on March 13, 2020, can be found here. The 2021 Tanglewood season will proceed with a six-week schedule of live concerts, from July 9 through August 16; click here for more information about the 2021 Tanglewood season.

INFORMATION ON THE BSO'S REOPENING STRATEGY FOR ITS BSO NOWONLINE RECORDING SCHEDULE AT SYMPHONY HALL
Working with 9Foundations, Inc., the BSO's reopening strategy for its BSO NOW online recording schedule at Symphony Hall includes a robust testing schedule, two layers of daily screening, social distancing, universal masking, engineering controls, and enhanced cleaning and disinfection protocols. (Click here for additional details.) In addition, BSO musicians sit on a 35.5-foot stage extension—more than doubling the size of the stage—especially built to accommodate official social distancing requirements between orchestra members.
With the health and safety of everyone involved the highest priority, the BSO will continually monitor updates from the Centers for Disease Control, the Commonwealth of Massachusetts, and the City of Boston, as well as its own team of experts, to determine when it can gradually start inviting audiences back to Symphony Hall and its other venues. All official Boston Symphony Orchestra updates will be announced through press releases and postings on www.bso.org.

SPONSORSHIPS
BSO SEASON SPONSORS:
Bank of America is the Lead BSO Season Sponsor for the 2020-21 season, supporting the Music in Changing Times programming and other BSO digital offerings, including the launch of the essential workers ticket program. Arbella Insurance Foundation, a longtime sponsor, is continuing its major sponsorship for the 15th season as the "Music for All" sponsor, supporting our education and outreach programs so that everyone has access to great classical music in our community. Fairmont Copley Plaza, Official Hotel of the BSO, and Commonwealth Worldwide Executive Transportation, the Official Chauffeured Transportation of the BSO, will support our artists and recording crew's travel needs for the newly recorded online video content.
~~~~~~~~~~~~~~~~~~~~~~
BSO | 301 Massachusetts Avenue | Symphony Hall | Boston, MA 02115 |
Tickets 617.266.1200 (M-F 10 – 6pm; Sat : 12 – 6pm) | Subscriptions 888.266.7575 | Service 617.266.9402 (M-F : 9 – 5pm) 
——————-
===========================================  
___________________________________________________