October 7, 2021
BSO NOW STREAMING PLATFORM ANNOUNCES NEW LIVESTREAM, VIDEO-ON-DEMAND, AND ARCHIVAL PROGRAMMING FOR 2021–22 SEASON, ACCESSIBLE THROUGH WWW.BSO.ORG/NOW
FIRST MONTHLY LIVESTREAM OF THE 2021–22 BSO SEASON IS AVAILABLE THIS SATURDAY, OCTOBER 9 AT 8 P.M.: BSO MUSIC DIRECTOR ANDRIS NELSONS LEADS WORKS BY STRAUSS ON A PROGRAM WITH THE NAUGHTON SISTERS, CHRISTINA AND MICHELLE, IN THEIR BSO DEBUT, PERFORMING MOZART'S CONCERTO FOR TWO PIANOS
BSO NOW CONCERT STREAMS ARE BEING OFFERED IN TANDEM WITH 2021–22 BSO CONCERT SEASON AT SYMPHONY HALL, SEPTEMBER 30 THROUGH APRIL 30, WITH PROGRAM DETAILS AVAILABLE AT BSO.ORG
BSO Music Director Andris Nelsons leads the opening concert of the 2021-22 BSO season, from September 30, 2021; photo credit: Aram Boghosian.

Monthly BSO NOW Live Video Streams Are Available for Video-On-Demand Viewingat BSO.ORG/NOW 12 Days after the Live Performances Take Place
The Online Streams are Available for Viewing for 30 Days after Each Initial Release Date and Can Be Viewed on the Web and via Apple TV, Roku, Amazon Fire TV, and Select Samsung Smart TVs
Additional Details of Future 2021-22 BSO NOW Season Livestreams and Video-On Demand Viewing Will Be Announced Closer to the Performance Dates

OVERVIEW OF BSO NOW PROGRAMMING LAUNCHING IN OCTOBER AT WWW.BSO.ORG/NOW
• Available on October 9 at 8 p.m. as a LIVESTREAM and October 21-November 20 for VIDEO-ON-DEMAND VIEWING:
Philadelphia-based Naughton sisters, Christina and Michelle, make their BSO debuts performing Mozart's two-piano concerto, K.365, which the composer likely wrote for himself and his sister Nännerl—a famed piano duo in their own time—to perform. Also on the Andris Nelsons-led program are two works by Richard Strauss: the Love Scene from his risqué early opera Feuersnot (music not performed by the BSO for more than a century) and the tone poem Death and Transfiguration.
• Available on Thursday, October 14, at noon through November 13 for FREE VIDEO-ON-DEMAND VIEWING: Originally recorded on October 3, 2021 at Symphony Hall, Concert for Our City: Reunited at Symphony Hall capped the BSO's opening week of its 2021–22 season with a free community concert spotlighting four of the BSO's titled conductor—Andris Nelsons, Thomas Wilkins, John Williams, and Keith Lockhart—in a wide-ranging program of Beethoven, Bartók, Still, and more. (Click here for Concert for Our City press release.)


BSO Music Director Andris Nelsons, John Williams, Keith Lockhart, Thomas Wilkins
• Available for VIDEO-ON-DEMAND VIEWING on Thursday, October 28, at noon through November 27: Drawing from the BSO's rich archives of recorded performances, including those produced in collaboration with Boston public broadcaster GBH, BSO NOW will feature monthly releases of recent and historic archival concerts. The first will be a performance of Beethoven's Symphony No. 9, recorded October 19, 1965, and featuring soprano Jane Marsh, contralto Eunice Alberts, tenor Richard Cassilly, and bass Thomas Paul, with the Harvard Glee Club, Radcliffe Choral Society, and New England Conservatory Chorus, all under the direction of Erich Leinsdorf.
• Available on October 30 at 8 p.m. as a LIVESTREAM and November 11-December 11 for VIDEO-ON-DEMAND VIEWING: BSO Artistic Advisor for Education and Community Engagement Conductor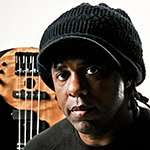 Thomas Wilkins is joined by composer and electric bass virtuosoVictor Wooten (left) who is making his BSO debut. A multi-Grammy winner, Wooten puts his own eclectic chops to the test in his recent concerto La Lección Tres, which continues the musical-philosophical journey of his book The Music Lesson. Wilkins also leads the orchestra in Duke Ellington's Suite from The River and Anglo-African composer Samuel Coleridge Taylor's Suite from the ballet Hiawatha.

2021 HOLIDAY POPS CONCERT,
UNDER THE DIRECTION OF KEITH LOCKHART, AVAILABLE AS A BSO NOW ONLINE VIDEO STREAM DECEMBER 17 THROUGH JANUARY 16

The Holiday Pops concert will be accessible to deaf, hard of hearing, blind, and low-vision audiences through closed captioning and audio description

PREVIOUSLY RELEASED BSO NOW STREAMS, INCLUDING OF SUNDAY AFTERNOON TANGLEWOOD 2021 CONCERTS, ARE STILL AVAILABLE AT WWW.BSO.ORG/NOW
• Available for viewing through October 9: Andris Nelsons leads the Beethoven-inspired work Jeder Baum spricht (Every Tree Speaks) by Iman Habibi on a program with Beethoven's Piano Concerto No. 3, featuring noted pianist Yefim Bronfman as soloist, and Schumann's Symphony No. 4.
• Available for viewing through October 16: Gil Shaham is the soloist for Mozart's Violin Concerto No. 3 in G on a program with the Mendelssohn-Hensel Overture in C and Mendelssohn's Symphony No. 5, Reformation.
• Available for viewing through October 23: American conductor Karina Canellakis leads the Boston Symphony Orchestra for the first time, in a program that opens with Sinfonia (for Orbiting Spheres)by American composer Missy Mazzoli, continues with Tchaikovsky's Variations on a Rococo Theme, for cello and orchestra, with soloist Yo-Yo Ma, and concludes with Tchaikovsky's Symphony No. 4.

Yo-Yo Ma, Iman Habibi, Karina Canellakis, Missy Mazzoli
• Available for viewing through October 30: Returning guest conductor Alan Gilbert leads Schumann's The Bride of Messina Overture, Mozart's Violin Concert No. 5 in A, K.219, with Stefan Jackiw as soloist, and Stenhammar's Serenade.
• Available for viewing through November 7: Returning for the final Tanglewood concert of the season, Herbert Blomstedt leads an all-Brahms program: the Violin Concerto with noted Greek violinist Leonidas Kavakos and the Symphony No. 4.

INFORMATION ON HOW TO ACCESS BSO NOW NEWLY RECORDED ONLINE VIDEO CONTENT TO BE DISTRIBUTED AT WWW.BSO.ORG/NOW
• FULL SEASON ACCESS OF BSO NOW PROGRAMMING, WITH NEW RELEASES THROUGH APRIL 22, IS AVAILABLE FOR $100
• 7-DAY ACCESS PASS IS AVAILABLE FOR $10 (EXCLUDING HOLIDAY POPS)
• HOLIDAY POPS-ONLY PASS AVAILABLE FOR $30; GIFT OPTIONS ARE ALSO AVAILABLE
• BSO DONORS AND SUBSCRIBERS RECEIVE A 15% DISCOUNT
• PREVIOUS PASS HOLDERS FOR TANGLEWOOD AND SPRING POPS 2021 WILL CONTINUE TO ENJOY ACCESS TO THE REMAINING TANGLEWOOD SEASON RELEASES AS WELL AS SELECT NEW BSO RELEASES THROUGH OCTOBER 31

FURTHER DETAILS OF 2021–22 BSO NOW SEASON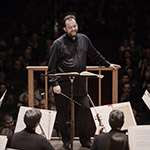 The 2021-22 BSO season will continue to offer BSO NOW online concert streams, which were introduced to enthusiastic reception in November 2020 in response to the live performance hiatus due to the pandemic. This year's concert streams—launching on October 9—will include approximately one new program per month– a mix of newly recorded livestreams and on-demand viewing, along with recently released and archival programming streams. Online viewers will see the BSO led by Andris Nelsons and guest conductors and the Boston Pops led by Keith Lockhart, as well as Thomas Wilkins leading both a BSO concert and BSO Youth and Family programming. In addition, BSO NOW will also feature TLI (Tanglewood Learning Institute) concert streams emanating from Tanglewood's Linde Center for Music and Learning, and special projects, including a collaboration with WBUR's Circle Round.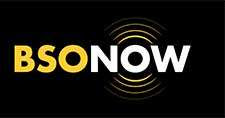 The Boston Symphony Orchestra will release its 2021-22 season concert streams through www.bso.org/now; the online programming is available for viewing on Apple TV, Roku, Amazon Fire TV, and select Samsung Smart TVs, as well as on computers, tablets, and mobile phones via BSO NOW's updated web interface. The BSO's monthly live video concert streams are also available for video-on-demand viewing 12 days after the live performances take place. Details of future livestreams will be announced individually closer to the performance dates.
BSO NOW concert streams are being offered in tandem with the 2021-22 BSO concert season, September 30-April 30, at Symphony Hall.
Formal BSO titles for conductors referenced in this release: Andris Nelsons is the Ray and Maria Stata BSO Music Director; Thomas Wilkins is the BSO's Artistic Advisor, Education and Community Engagement, and the Germeshausen Youth and Family Concerts Conductor; John Williams is the George and Roberta Berry Boston Pops Conductor Laureate; and Keith Lockhart is the Julian and Eunice Cohen Boston Pops Conductor.

A BRIEF BACKGROUND ON BSO NOW
BSO NOW—the BSO's expanded digital content series recorded at Symphony Hall and made available through bso.org/now beginning on November 19, 2020—is part of the BSO's continuing series of online offerings initially created in response to the live performance hiatus imposed by regulations around the COVID-19 pandemic and ensuing health crisis. In response to this hiatus from live performances, the BSO launched a series of digital offerings on March 26, 2020, with BSO at Home and BSO HomeSchool, followed by Boston Pops at Home (all available at www.bso.org), the Tanglewood 2020 Online Festival (www.tanglewood.org), and Encore BSO Recitals(www.bso.org).
The success of these programs, which have generated millions of interactions—both directly with the actual online content and indirectly through posts on the orchestra's social media channels about that content—has been an inspiration for the orchestra to continue to explore new ways of reaching its music community and beyond with new, innovative, and compelling programming during the COVID-19 pandemic.
Altogether, BSO NOW has so far produced more than 250 hours of content with more than 7.1 million minutes of total viewership.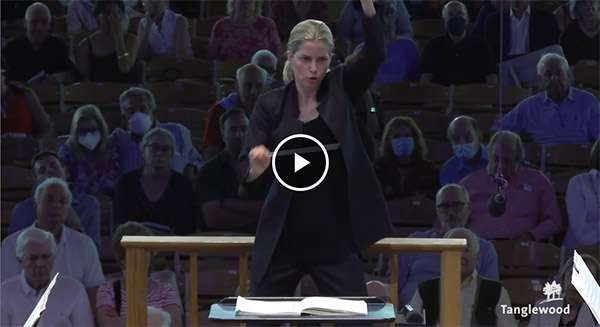 Click here for a short excerpt from August 8, 2021's Tanglewood performance of Karina Canellakis leading the BSO in Tchaikovsky's Fourth Symphony

SPONSORSHIPS
Special thanks to our longstanding major corporate partner Bank of America, BSO Season Lead Sponsor for the 2021–22 season, for their support of our work with the Boston Public Schools this year. Arbella Insurance Foundation, a longtime sponsor, is continuing its major sponsorship for the 16th season as the Music for All Sponsor, supporting initiatives that bring new audiences to the Hall. The BSO is also delighted to have Fairmont Copley Plazabegin its 20th season as the Official Hotel of the BSO.
——————-
============================================= 
__________________________________________