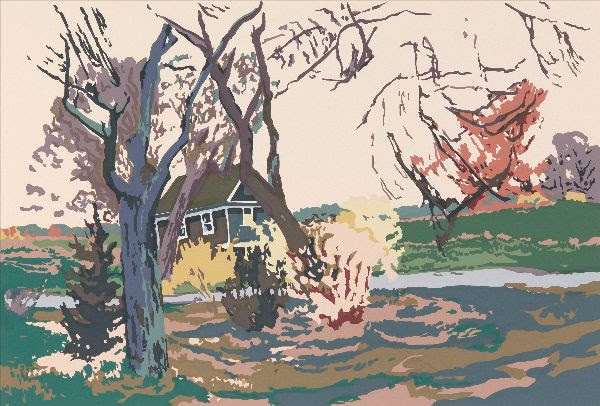 Robert Dash: Spring, 1977, serigraph edition of 25
~~~~~~~~~~~~~~~~~~~~~~
Robert Dash: Printmaker,
a talk by Dan Welden
————-
Saturday, March 7 at 11:00 AM
In conjunction with the Hamptons Arts Network's third annual Thaw Fest, we will be presenting the exhibition Robert Dash: Printmaker. Bob was a prolific printmaker who experimented with a variety of techniques. Highlighted in the exhibition will be the reciprocal relationship between printmaking and painting in his works depicting the Sagaponack landscape, in which paintings served as maquettes for prints which then became the compositional basis for later groups of paintings. 
As part of the opening, master printmaker Dan Welden will discuss his collaboration with Bob on several of the prints in the exhibition at 11:00 AM in the summer studio. Free.
Preview: March 7, 11:00AM to 4:00 PM
—————–
The exhibition will be on view when the garden reopens from May 15 through July 18, Fridays and Saturdays from 12:00 to 4:00 PM or by appointment.
—————–
Parking: Please park along the cul de sac on the Madoo side of the street facing outward.
Hamptons Arts Network (HAN) is a consortium of not-for-profit organizations working together to create a unified arts community of the Hamptons. Our goal is to promote collaboration, partnerships, and shared programming among its members. As well, we advocate for the arts in the area of economic development, tourism, and education. Visit hamptonsartsnetwork.org
—————
==================================== 
__________________________________________________________