~~~~~~~~~~~~~~~~~~~~~~~~~~~~~~~~~~~~~~~
JAZZ ON THE TERRACE:
Antoine Drye and Quartet
Friday, July 31, 6pmRenowned trumpet player Antoine Drye performs with a stellar lineup: guitarist Mark Whitfield, drummer Donald Edwards, and bassist Mike Noordzy.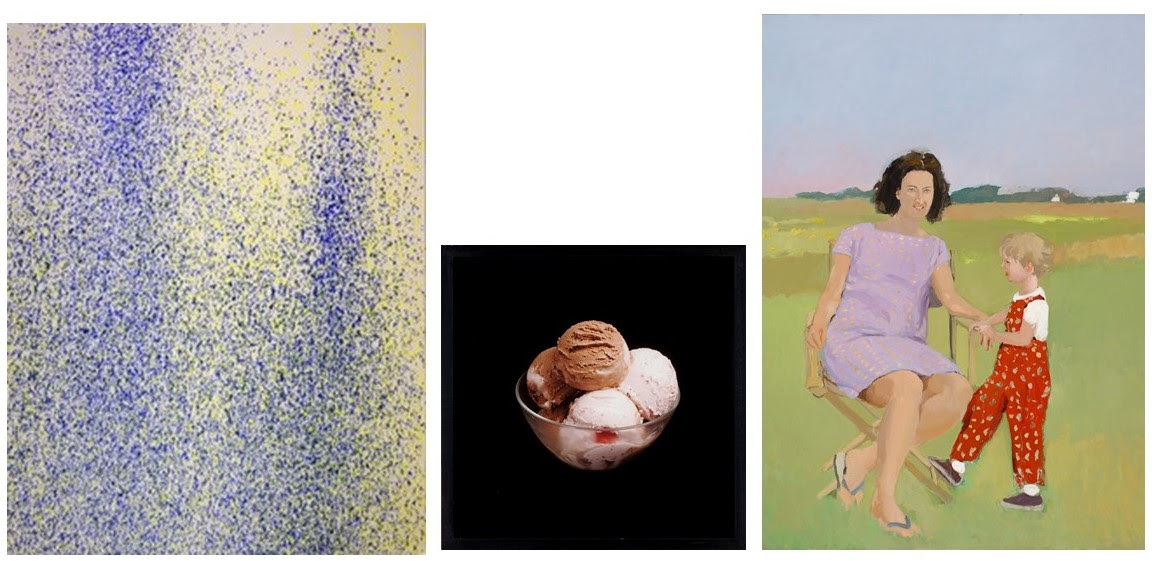 PARRISH GALLERIES REOPEN WITH THREE NEW EXHIBITIONS
Ten paintings by Lucien Smith in his first museum exhibition; Jackie Black's Last Meal series of death row final requests; and Housebound: Fairfield Porter and His Circle of Poets and Painters. Opens with Members preview August 7 & 8 and to the general public on August 9, with pre-purchased timed admission e-tickets.
OUTDOOR PROJECTIONS:
Five Videos by Tomashi Jackson
Friday, August 7, 9–11pm (rain date: Saturday, August 8, 9–11pm)
"SAVE THE PLATE" for the Midsummer Party
Support our annual benefit and receive a limited-edition plate by collection artist Mary Heilmann.
MEMBER-ONLY DAYS
August 7 & 8
Members are invited to pre-register for free timed admission on exhibition preview days.
JAZZ ON THE TERRACE: Flute/Sax
Player Julie Bluestone
Friday, August 7, 6pm
NYC and East End favorite performs with her ensemble.
ART WORKSHOPS: Life Drawing with Linda Capello
A series of 6 Monday classes begin August 17, 10:30am–12:30pm. Register now for one or more!
BEFORE YOU VISIT
We're committed to your safety and enjoyment. Learn more about the Museum's COVID measures and guidelines.
~~~~~~~~~~~~~~~~~~~~~~~

279 Montauk Highway
Water Mill, NY 11976
Phone: 631-283-2118
Fax: 631-283-7006
—————
Parrish Art Museum construction photographs © Jeff Heatley.
============================================== 
AAQ / Resource:

Plum Builders — Live the Modern Barn Lifestyle
—————————————————–
Friday Nights are made possible, in part, by Presenting Sponsor: Bank of America. 


Additional support provided by Sandy and Stephen Perlbinder.
The Parrish Art Museum's educational programming is supported, in part, by Milford D. and Janice B. Gerton/Arts and Letters Foundation; the Institute of Museum and Library Services; May and Samuel Rudin Family Foundation; Joseph M. Cohen, Long Island Community Foundation; The John J. McDonnell Margaret T. O'Brien Foundation; Bobbie Braun/The Neuwirth Foundation; The New York State Council on the Arts with the support of Governor Andrew M. Cuomo and the New York State Legislature; Patricia and David Rung; William Talbott Hillman Foundation; and Town of Southampton. Special thanks to the Art Spirit Foundation. Additional support for the Parrish education programs is provided by the Museum's annual Spring Fling and Midsummer Party benefit events and the Book Club Friends of Martha Scriven Campanella. OptoSonic Tea @ the Parrish was made possible, in part, by the generous support of the Swiss Arts Council Pro Helvetia, mediaThe foundation inc., and Sandy and Stephen Perlbinder.
Housebound: Fairfield Porter and his Circle of Poets and Painters is made possible, in part, thanks to the generous support of Art Bridges Foundation. 
Platform: Tomashi Jackson—The Land Claim is made possible, in part, thanks to the generous support of The Andy Warhol Foundation for the Visual Arts; National Endowment for the Arts; The Bandier Family Foundation; The Dorothy Lichtenstein ArtsReach Fund, established by Agnes Gund; The Deborah Buck Foundation;  Sandy and Stephen Perlbinder and The Speyer Family Foundation. Public Funding provided by Suffolk County.  
The Museum's exhibitions and programs are made possible, in part, by the New York State Council on the Arts with the support of Governor Andrew M. Cuomo and the New York State Legislature, and the property taxpayers from the Southampton Union Free School District and the Tuckahoe Common School District.
————
PHOTO CREDITS: Antoine Drye. Photo: Andrew Krasilnikov;  Lucien Smith (American, born 1989), LSMI – 5 (Blue & Yellow), 2013. Acrylic and unprimed canvas, 108 x 84 inches, from Southampton Suite; Jackie Black (American, born 1958), Johnny Frank Garrett: Ice cream, from the Last Meal (Series), 2001–2003. Museum purchase with funds provided by the Bessemer Trust; Fairfield Porter (American, 1907–1975), Jane and Elizabeth, 1967. Oil on canvas, 55 1/8 x 48 1/8 inches. Gift of the Estate of Fairfield Porter;  Tomashi Jackson (American, born 1980) Interstate Love Song: Stock the River with Piranha I;  Tomashi Jackson with Derek Witherspoon. Chattahoochie River, Georgia, 2017. Projection on façade of Parrish Art Museum; Julie Bluestone. Photo courtesy of the artist; Linda Capello, Sunday at Billy's (large detail). Image courtesy of the artist; Parrish galleries. Photo: Daniel Gonzalez; Parrish Art Museum, Photo: Hazel Hutchins 
___________________________________________________________________________