"Art in Focus" Lecture Series 
at Stony Brook Southampton Library
November 5
Illustrated talks by some of the Long Island art world's most notable personalities.
Stony Brook Southampton Library, 239 Tuckahoe Road, Southampton.
Tuesday, November 5 at 7 p.m. Admission is free.
Made possible by support from the John H. Marburger III Fund of Stony Brook University.
FOCUS: Lasting Impression–The Essence of a Printmaker
Dan Welden
Director, Hampton Editions, Ltd.Dan's adventures with numerous artists during his fifty years of printmaking and the creation of his home studio are the subjects of his talk. Tracing his evolution from a purist graphic approach to his present day mixed-media works, he will show recent examples of how he incorporates drawing and painting to create his hybrid works on paper. Since Dan has been at the forefront of alternative methods of making graphic art with health and safety in mind, his pioneering efforts have changed artists' attitudes toward the printmakin g arena.
Historic marker installed
Our new historic marker, supported by a grant from the
William G. Pomeroy Foundation
, commemorates the property's listing on the National Register of Historic Places. Our 1994 designation as a National Historic Landmark conferred that status automatically, but this public monument, fabricated by Catskill Castings, now makes it evident.
Community outreach all year
Our Education Coordinator, Joyce Raimondo, schedules her popular art workshops for schools, libraries and community groups year-round. All ages, from pre-school to seniors, enjoy channeling their inner Pollock and Krasner, either at the Pollock-Krasner House or at their own location.
Click here for program descriptions
.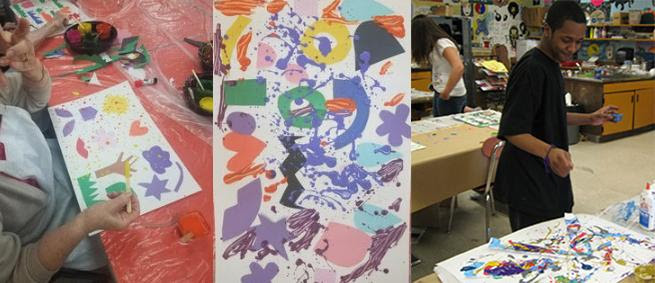 Left: Adult Day Care collage workshop. Right: Riverhead High School drip painting workshop.
New products from Medicom
Storage boxes, iPhone cases, skate board decks and other studio floor-themed merchandise is now available from Medicom, the Japanese company that licenses Jackson Pollock studio floor imagery. A limited number of selected items are available in the Museum Store, which is open during office hours, Monday – Friday 9:30 – 5:30, in the off season. They may also be ordered from Japan through
Medicom's Sync store
. Royalties from sales benefit the Pollock-Krasner House and Study Center.
Pollock-Krasner House and Study Center
830 Springs-Fireplace Road, East Hampton, New York
A National Historic Landmark
The museum is closed for the season.
We will reopen for public tours on 
May 1, 2020
The office is open Mondays – Fridays, 9:30 a.m. – 5:30 p.m.
For researcher access to Study Center collections, which are available
year-round, please call 631-324-4929.
To schedule a school or community art workshop with
Education Coordinator Joyce Raimondo, please
email her
————————
=================================== 
________________________________________________________________