Reservations for "Lee Krasner"
at Guggenheim Bilbao
due by October 10
There are only a few days left to reserve your space on our exciting tour to Atlantic Spain from July 13 – 19, 2020, on the occasion of the Guggenheim's presentation of Lee Krasner's acclaimed retrospective exhibition.
"Lee Krasner"
opens at the Schirn Kunsthalle in Frankfurt on October 11 and travels to Bern in spring 2020. It will conclude its European tour in Bilbao in May-September.
The itinerary includes five nights at a luxury hotel in Bilbao, a private tour of the exhibition, and excursions led by expert guides. We will tour Bilbao's Old Quarter and travel to the Centro Botín, Balenciaga Museum, Chillida-Leku and the charming villages of Queveda and Santillana del Mar.
The full program is here
 .
The cost is $4,985 per person, double occupancy, based on 20-24 participants, or $4,560 based on 25 or more participants. Single supplement $1,035. Air fare is not included. Registration with a deposit of $1,500 per person is required by October 10, 2019.  
Reservation form
.
With questions or for further information, please contact Susan Gullia, Protravel International, 1633 Broadway, New York, NY 10019. Phone: (212) 409-9556 Fax: (212) 755-1376. Email:  susan.gullia@protravelinc.com
"Jackson Pollock: Blue Poles" documentary at the
Hamptons International Film Festival
Sunday, October 13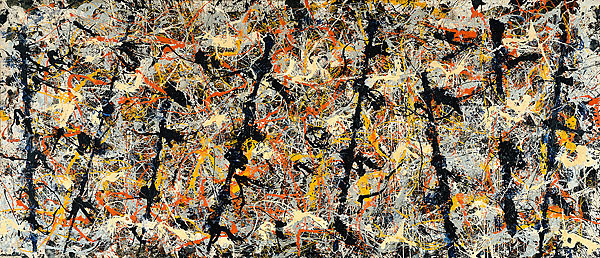 Jackson Pollock, Blue Poles: Number 11, 1952.
Enamel and aluminum paint with glass on canvas, 83 x 192 inches.
© The Pollock-Krasner Foundation / Artists Rights Society (ARS), New York.
This film by Alison Chernick tells the story of Jackson Pollock's monumental canvas, Blue Poles. Painted in 1952 and later bought by collector Ben Heller, its controversial $2.1 million sale to the National Gallery of Australia in 1973 almost brought down the Australian government. The film puts Pollock's masterpiece into art-world context and explains why it's often discussed as one of the greatest paintings in history.
The screening is on Sunday, October 13 at 10:00 a.m. at  UA East Hampton Cinema 6 – UA3, before the feature, "Museum Town," a look at how North Adams, Massachusetts, a post-industrial ghost town, became home to MASS MoCA, one of the world's largest contemporary-art venues.
"Art in Focus" Lecture Series
at Stony Brook Southampton Library
Illustrated talks by some of the Long Island art world's most notable personalities.
Stony Brook Southampton Library, 239 Tuckahoe Road, Southampton.
Tuesday evenings at 7 p.m. Admission is free.
Made possible by support from the John H. Marburger III Fund of Stony Brook University.
October 8
FOCUS: The New York Movement of Contemporary Native American Art
David Martine
Chair, American Indian Artists Inc.David will give an overview on Long Island Indian history, the various time periods and their respective characteristics, and some of the more important events in that history. He will also discuss the New York Movement in Contemporary Native American art, its founders and its expression in performing and visual arts media, as well as cross influences among some of the Native American artists and some members of the New York School of abstract expressionists and Pop artists.
October 22
FOCUS:  Unoccupied Clothing: Skeletons and Skins
Sue Ferguson Gussow
Professor Emerita, School of Architecture, The Cooper UnionThe "unoccupied clothing" drawings are a meditation on the memories and inner life of the absent wearer. Its subtext is Sue's preoccupation with issues of ageing and beauty. In 2003 she set out to draw women "of a certain age" to explore the definition of beauty in women no longer young. One of her subjects was Karin von Aroldingen, once a principal dancer in George Balanchine's New York City Ballet, who brought with her the only performance dress she still owned in the event the artist might want her to pose wearing it. Sue preferred to draw her in her leotard. But her dress stayed in the studio, suspended on a hanger, and began to assume a life of its own. It insisted on being drawn.
November 5
FOCUS: Lasting Impression–The Essence of a Printmaker
Dan Welden
Director, Hampton Editions, Ltd.Dan's adventures with numerous artists during his fifty years of printmaking and the creation of his home studio are the subjects of his talk. Tracing his evolution from a purist graphic approach to his present day mixed-media works, he will show recent examples of how he incorporates drawing and painting to create his hybrid works on paper. Since Dan has been at the forefront of alternative methods of making graphic art with health and safety in mind, his pioneering efforts have changed artists' attitudes toward the printmaking arena.
"Sparkling Amazons" opens at the
Katonah Museum on October 6
Lee Krasner, The Seasons, 1957. Oil on canvas, 92 3/4 × 203 7/8 inches.
Lent by the Whitney Museum of American Art, New York.
© The Pollock-Krasner Foundation / Artists Rights Society (ARS), New York.
Lee Krasner is among the eleven female painters celebrated in "Sparkling Amazons: Abstract Expressionist Women of the 9th St. Show," on view at the Katonah Museum of Art from October 6 – January 26.  This is the first time works by these artists will be brought together since the 9th St. show took place 68 years ago.
Jackson Pollock Studio fashions by Sacai
now available in New York
The fabric pattern is based on a detail of Pollock's paint-spattered studio floor. The Pollock-Krasner House and Study Center receives a royalty for every garment sold.
Have you joined for 2019?
Your support is important to us! Pollock-Krasner House members are admitted free, receive discounts at the Museum Store, and help underwrite our exhibitions and public programs. If you haven't yet renewed, or would like to join for the first time,
membership is just a click away:
Pollock-Krasner House and Study Center
830 Springs-Fireplace Road, East Hampton, New York
A National Historic Landmark
 Open Thursdays, Fridays and Saturdays from May – October
  HOURS
Thursdays and Fridays
One-hour guided tours by advance reservation at noon, 2 p.m. and 4 p.m.
Maximum 12 people per tour
$15 adults / $10 children under 12 / infants free
Members and SUNY/CUNY students, faculty and staff free with
coupon code, call 631-324-4929 before reserving
Saturdays
Open from noon to 5 p.m. Self-guided tour, no reservations required
On-site parking for the disabled only
$10 adults / children under 12 free
Members and SUNY/CUNY students, faculty and staff free with ID
For information about exhibitions and programs, please visit our Web site.
For researcher access to Study Center collections, which are available
year-round, please call 631-324-4929.
—————–
=========================================== 
AAQ Resource:
_________________________________________________________