~~~~~~~~~~~~~~~~~~~~~~~~~~~~~~~~~~~~~~~~~~~
March Events

Staff and Volunteer Opportunities

Curatorial Team News
Visit our Exhibition Gallery in March!
———————————
Beyond the Boat Walking Tour hosted by The Whaling Museum
What: Beyond the Boat Walking Tour hosted by The Whaling Museum
Date:  Saturday, March 11, 2023
Time: 12 pm and 2 pm 
Cost: $15
Where: Cold Spring Harbor Village Main Street
Our Exhibition Gallery in the Old Methodist Church is a featured stop on this Women's History Month Walking Tour hosted by the Cold Spring Harbor Whaling Museum! Stroll down Cold Spring Harbor's Historic Main Street and travel back in time to explore what life was like in a 19th-Century coastal village when many of the men were out at sea. Registration required.
———————–
——————————–
What: Gallery Open House
Date:  Wednesday, March 15, 2023
Time: 4 pm – 6 pm
Cost: FREE
Where: Preservation Long Island Exhibition Gallery, 161 Main Street, Cold Spring Harbor, NY  
———————————-
To kick off our 75th Anniversary year we invite you to our headquarters gallery to meet the team! View our permanent collection, learn about our history, how we serve the community, and the benefits of initiating, renewing, or upgrading your membership, especially during this celebratory year! Trivia, light refreshments and more!
What: 
Cold Spring Harbor Village
Saint Patrick's Day Treasure Hunt
————-
Date:  Saturday, March 18, 2023
Time: 11 am – 3 pm
Cost: FREE
Where: Fireman's Park and Main Street, Cold Spring Harbor, NY
——————————
Stop by our gallery during the day's festivities to view our permanent collection, enjoy discounts on our books about Long island history and design, and redeem gift card prizes hidden during the hunt! Click HERE for details.
~~~~~~~~~~~~~~~~~~~~~~~~~~~~~~~~~~~~~~~~~~~
We're seeking an experienced historic preservation professional to develop and implement integrated, dynamic, and impactful advocacy initiatives to advance our mission.
Full-time position. Hybrid in-person/remote scheduling is available.
Become a key contributor to an ongoing inventory project. Work directly with our collections to improve the intellectual control and physical well-being of approximately 2,500 items across four properties.
This is a part-time, grant-funded position. 
——————————–
If you are interested in sharing your love of history with others, contributing to our understanding of Long Island's past, and joining an organization dedicated to the protection of cultural heritage, consider volunteering with us this season! Online application portal open now through March 15th.
————-
~~~~~~~~~~~~~~~~~~~~~~~~~~~~~~~~~~~~~~~~~~~
Our Curatorial Team is in the News!
We are delighted to announce that Preservation Long Island Curatorial Fellow Peter Fedoryk who has led our Art of Edward Lange Project since July 2021, has been recognized as a 2023 Rising Star by the Museum Association of New York (MANY).


———


The Rising Star award celebrates museum professionals with five years or less experience who think creatively, inspire change, spark innovation, and exemplify leadership. Click HERE to read more about Peter's work with us and MANY's Annual Awards of Distinction program.———————————-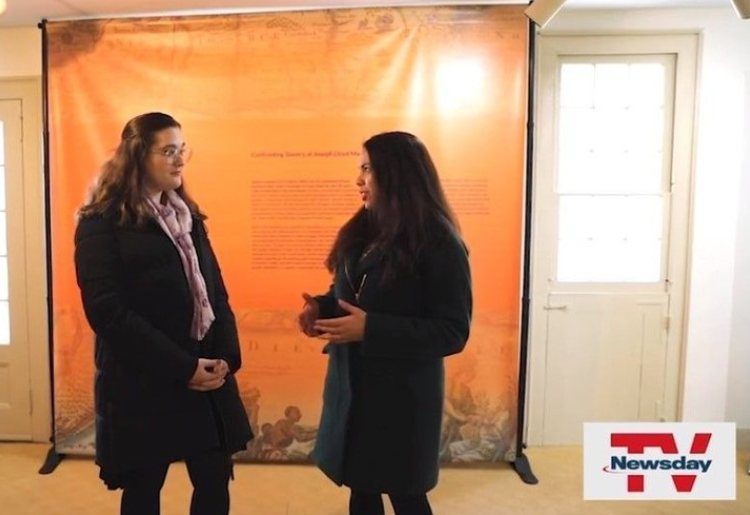 ———————————
Curator Lauren Brincat recently toured Newsday TV through Joseph Lloyd Manor,sharing Jupiter Hammon's story and the site's history of enslavement for Newsday's special feature about Black History sites in the Northeast.
———–
~~~~~~~~~~~~~~~~~~~~~~~~~~~~~~~~~~~~~~~~~~~
——————–
===================================================== 
_____________________________________________________________________