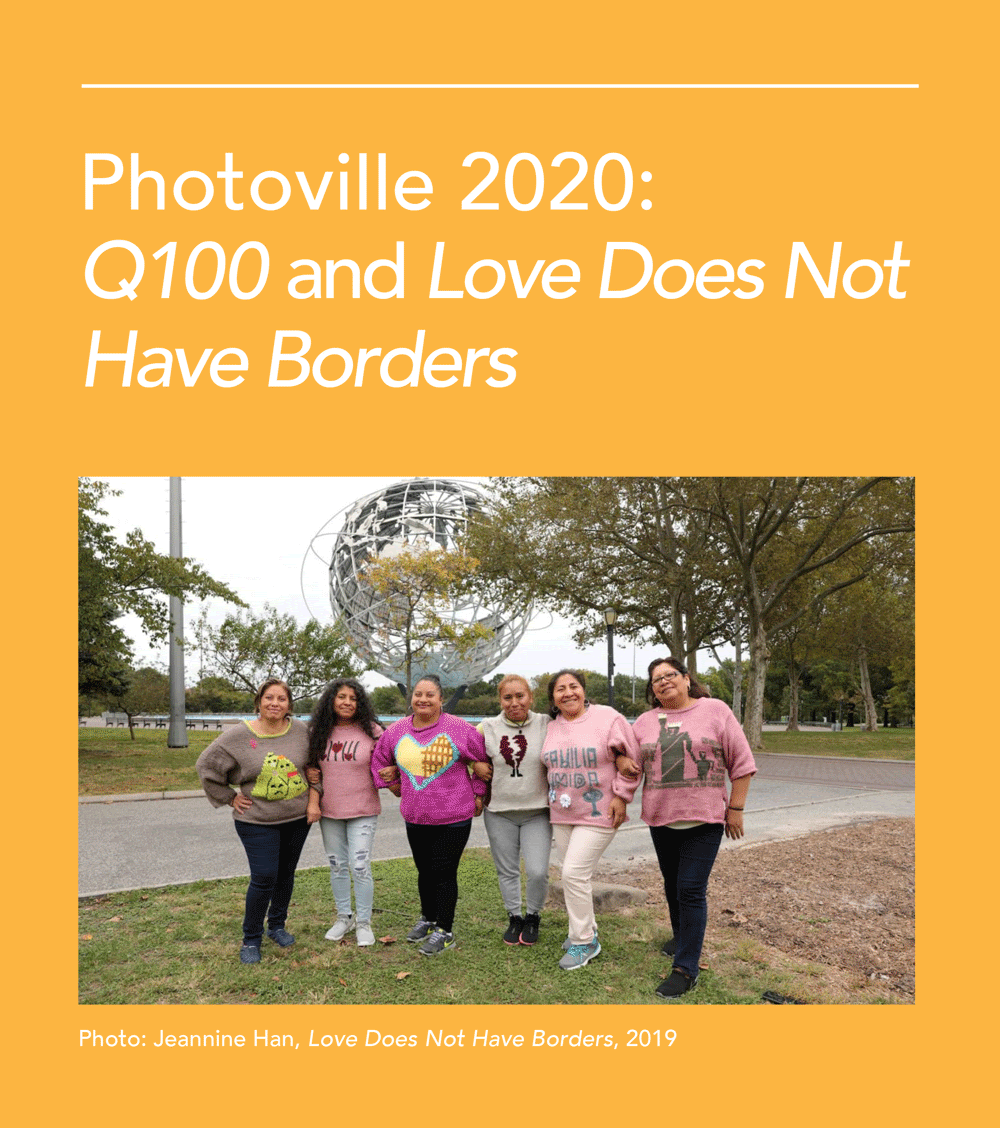 ~~~~~~~~~~
PHOTOVILLE 2020
Q100 BY SALVADOR ESPINOZA
LOVE DOES NOT HAVE BORDERS BY JEANNINE HAN AND BORDEANDO
On view from September 17, 2020 to November 29, 2020
—–
The Photoville Festival returns for a ninth year with photo exhibitions in public spaces throughout New York City as well as online community and artist programming. The Queens Museum is excited to announce our partnership with Photoville 2020 on the presentation of two outdoor photography exhibitions: Q100 by Savlador Espinoza and Love Does Not Have Borders by Jeannine Han and BordeAndo. Both projects will be on view from September 17 to November 29, 2020 in Travers Park and Astoria Park.
Vuelve la novena edición del Festival Photoville, con exposiciones fotográficas en espacios públicos de toda la ciudad de Nueva York y con una programación online comunitaria y de artistas. El Queens Museum está encantado de presentar nuestra colaboración con Photoville 2020 mediante la inauguración de dos exposiciones fotográficas al aire libre: Q100, de Salvador Espinoza, y El Amor No Tiene Fronteras, de Jeannine Han y BordeAndo. Los dos proyectos estarán expuestos desde el 17 de septiembre hasta el 29 de noviembre de 2020 en Travers Park y Astoria Park.
~~~~~~~~~~
ARTISTS IN (THEIR) RESIDENCE: ASIF MIAN
—–
For this week's Artist in (their) Residence video we're catching up with Asif Mian, a recipient of the Queens Museum-Jerome Foundation Fellowship for Emerging Artists, as he prepares his upcoming exhibition at the Museum. See his journey as he settles into a new studio, navigates NYC on his bike, and leads guided meditation for fellow artists. With little access to materials and the need to self-isolate during the pandemic, Mian walks us through the ways in which he's been engaging with sculptural and 2D materials on an experimental and intimate scale and his new science fiction video that was made with a thermal camera.
En el vídeo de Artist in (their) Residence (Artista en (su) residencia) de esta semana seguimos a Asif Mian, receptor de la beca para artistas emergentes Queens Museum-Jerome Foundation Fellowship for Emerging Artists, mientras prepara su próxima exposición en el museo. Lo acompañaremos cuando se instala en un nuevo estudio, atraviesa la ciudad de Nueva York en bicicleta y organiza meditaciones guiadas para otrxs artistas. Debido al acceso limitado a materiales y a la necesidad de aislamiento provocados por la pandemia, Mian nos muestra cómo ha utilizado materiales escultóricos y en 2D a nivel experimental e íntimo, y su nuevo vídeo de ciencia ficción realizado mediante una cámara térmica.
~~~~~~~~~~
—–
We spoke to the U.S. Census Bureau's Supervisory Partnership Specialist about her role in helping educate, engage, and encourage people to respond to the 2020 Census. With the focus shifting to public safety due to the COVID-19 pandemic, it has been difficult for Ahmed's team to continue Brooklyn, Queens, and Southern Manhattan outreach efforts. As a result, people have been unable to hear these key messages directly from trusted community voices: the Census is 1) safe to participate in, 2) easy to respond to, and 3) important in shaping the future of our community. With the Census 2020 deadline quickly approaching, Ahmed wants Queens to know that the future of our community starts right now! Complete the Census online at 2020census.gov, by phone (844-330-2020), or by mail.
Conversamos con la especialista de la Asociación de Supervisión de la Oficina del Censo de EE.UU. acerca de su papel a la hora de informar, involucrar y animar a lxs ciudadanxs a responder al Censo del 2020. Puesto que la seguridad pública se ha convertido en la prioridad debido a la pandemia de la COVID-19, el equipo de Ahmed ha tenido muchas dificultades para continuar con los esfuerzos de divulgación en Brooklyn, Queens y Southern Manhattan. Así, muchas personas no han podido escuchar estos mensajes esenciales de voces de confianza para la comunidad: 1) es seguro participar en el Censo, 2) es fácil hacerlo, y 3) es importante para el futuro de nuestra comunidad. La fecha límite para participar en el Censo de 2020 se acerca rápidamente, y Ahmed quiere que Queens sepa que el futuro de nuestra comunidad empieza ¡ahora! Complete el Censo online en 2020census.gov, por teléfono (844-330-2020), o por correo postal.
Photo: Mary Conlon
 
~~~~~~~~~~
OPEN CALL: HECHO LOCAL
8 WEEK PRODUCT DEVELOPMENT WORKSHOP
Apply by September 7, 2020 – Workshop runs September 24 to November 13, 2020
—–
Aspiring artisans, craftspeople, and makers are invited to apply for a free 8 week online workshop series on product development. Offered by The August Tree's Christine Jeanjaquet, this workshop series is geared to support Spanish speaking immigrant communities who live in Queens. Selected participants will learn how to build on their craft and develop a new product line for income. Participants will be offered the opportunity to sell through the The August Tree's Queens Museum Collection, as well as guidance on how to expand and sell through other channels. Please see the Hecho Local form for application guidelines and more information.
Se invita a los aspirantes a artesanos, artesanos y creadores a solicitar una serie de talleres en línea gratuitos de 8 semanas sobre desarrollo de productos. Ofrecido por Christine Jeanjaquet de The August Tree, esta serie de talleres está orientada a apoyar a las comunidades de inmigrantes de habla hispana que viven en Queens. Los participantes seleccionados aprenderán cómo desarrollar su oficio y desarrollar una nueva línea de productos para generar ingresos. A los participantes se les ofrecerá la oportunidad de vender a través de la Colección del Museo de Queens de The August Tree, así como orientación sobre cómo expandirse y vender a través de otros canales. Consulte el formulario de solicitud para conocer las pautas de solicitud y obtener más información.
~~~~~~~~~~~~~~~~~~~~~~~~~~~~~~~~~
LIKE WHAT WE'RE DOING? 
If you are able, please consider making a tax-deductible donation to the Queens Museum. Every gift matters and allows us to continue to serve the communities that rely on us.
Si le es posible, por favor, considere hacer una donación deducible de impuestos al Queens Museum. Cada donación es importante y nos permitirá continuar sirviendo a las comunidades que confían en nosotrxs.
~~~~~~~~~~~~~~~~~~~~~~~~~~~~~~~~~
Major funding for the Queens Museum is generously provided by the New York City Department of Cultural Affairs, the New York State Council on the Arts with the support of Governor Andrew Cuomo and the New York State Legislature, the Lily Auchincloss Foundation, the Booth Ferris Foundation, the Lambent Foundation, the Andrew W. Mellon Foundation, the New York Community Trust, the Shelley and Donald Rubin Foundation, and the TD Charitable Foundation.
~~~~~~~~~~~~~~~~~~~~~~~~~~~~~~~~~
~~~~~~~~~~~~~~~~~~~~~~~~~~~~~~~~~
Our mailing address is:
Queens Museum
Flushing Meadows Corona Park
Queens, NY 11368
———–
================================ 
__________________________________________________________