SONDRA PERRY: ECLOGUE FOR [in]HABITABILITY
After the Plaster Foundation, or, "Where can we live?"
——————–
As part of After the Plaster Foundation, or, "Where can we live?", Sondra Perry presents Eclogue for in[HABITABILITY], 2017-2019. In this multi-media sculpture, an "interstellar terraforming backhoe" recounts its role in the racialized history of land transformation–from the building of Central Park in the 1850s to the prospecting of Mars. For the exhibition's online publication, Perry discusses the work alongside text excerpts from The Park and the People: A History of Central Park by Roy Rosenzweig and Elizabeth Blackmar and Kathryn Yusoff's A Billion Black Anthropocenes or None.
Como parte de After the Plaster Foundation, or, "Where can we live?" , Sondra Perry presenta Eclogue for in[HABITABILITY] ("Égloga a la in[HABITABILIDAD]"), 2017-2019. En esta escultura multimedia, un "agujero negro interestelar en evolución" relata su papel en la historia racializada de la transformación del terreno, desde la construcción de Central Park en la década de 1850 hasta la exploración de Marte. En la publicación online de la exposición, Perry comenta su obra junto con extractos de texto de The Park and the People: A History of Central Park ("El parque y la gente: historia de Central Park"), de Roy Rosenzweig, y A Billion Black Anthropocenes or None ("Mil millones de atropocenos negros o ninguno"), de Elizabeth Blackmar y Kathryn Yusoff.
BOOK LAUNCH: ART AND MERCHANDISE IN KEITH HARING'S POP SHOP BY AMY RAFFEL, PH.D.
Wednesday, January 27, 2021 – 6:00pm to 7:00pm – Online
—————
Join us for the launch of  Art and Merchandise in Keith Haring's Pop Shop, a new book by Dr. Amy Raffel, Andrew W. Mellon Interpretation Research Fellow at the Queens Museum. The book is a monograph of Keith Haring's career, centered on the evolution of ideas that led to his Pop Shop, where he produced and sold affordable objects printed with his art. Amy will give an overview of the book, and touch on Keith Haring's intersections with the Queens Museum, followed by a short conversation with her colleague, Assistant Curator, Lindsey Berfond, and a Q&A with the public. To join please RSVP at this link.
Únase al lanzamiento del nuevo libro de la doctora Amy Raffel, becaria Andrew W. Mellon de investigación en interpretación en el Queens Museum,  Art and Merchandise in Keith Haring's Pop Shop. El libro es una monografía de la trayectoria de Keith Haring que se centra en la evolución de las ideas que originaron su tienda Pop Shop, en la que fabricaba y vendía objetos asequibles que llevaban impresas sus obras de arte. Amy nos presentará una perspectiva general del libro y comentará las intersecciones de Haring con el Queens Museum. A continuación, debatirá con Lindsey Berfond, comisaria adjunta, y se abrirá un turno de preguntas del público. Si quiere unirse, reserve con antelación en este link.
Image credit: Tseng Kwong Chi, Pop Shop, New York, 1986. Art © The Keith Haring Foundation. Photo © Muna Tseng Dance Projects, Inc.
QUEENS MUSEUM VIRTUAL FAMILY WORKSHOPS
————
The Queens Museum offers weekly Virtual Family Art Workshops on Saturdays from 1:00 pm- 2:00 pm. These fun, educational workshops invite children ages 4+ and their adult companions to take part in a shared learning experience. Virtual Art Workshops will be based on seasonal Family Workshop Guides. For more information and to RSVP, contact us at fkhuda@queensmuseum.org. Please RSVP at least one day prior to the Virtual Family Workshop you would like to attend.
El Queens Museum organiza talleres de arte virtuales para familias los sábados de 1:00 pm a 2:00 pm. Estos divertidos y educativos talleres ofrecen una experiencia de aprendizaje compartido para lxs niñxs a partir de 4 años y sus acompañantes adultxs. Los talleres se organizarán conforme a las guías Family Workshop. Póngase en contacto con nosotrxs para obtener más información y para reservar con antelación en fkhuda@queensmuseum.org. Le rogamos que reserve el taller al que quiera asistir al menos con un día de antelación.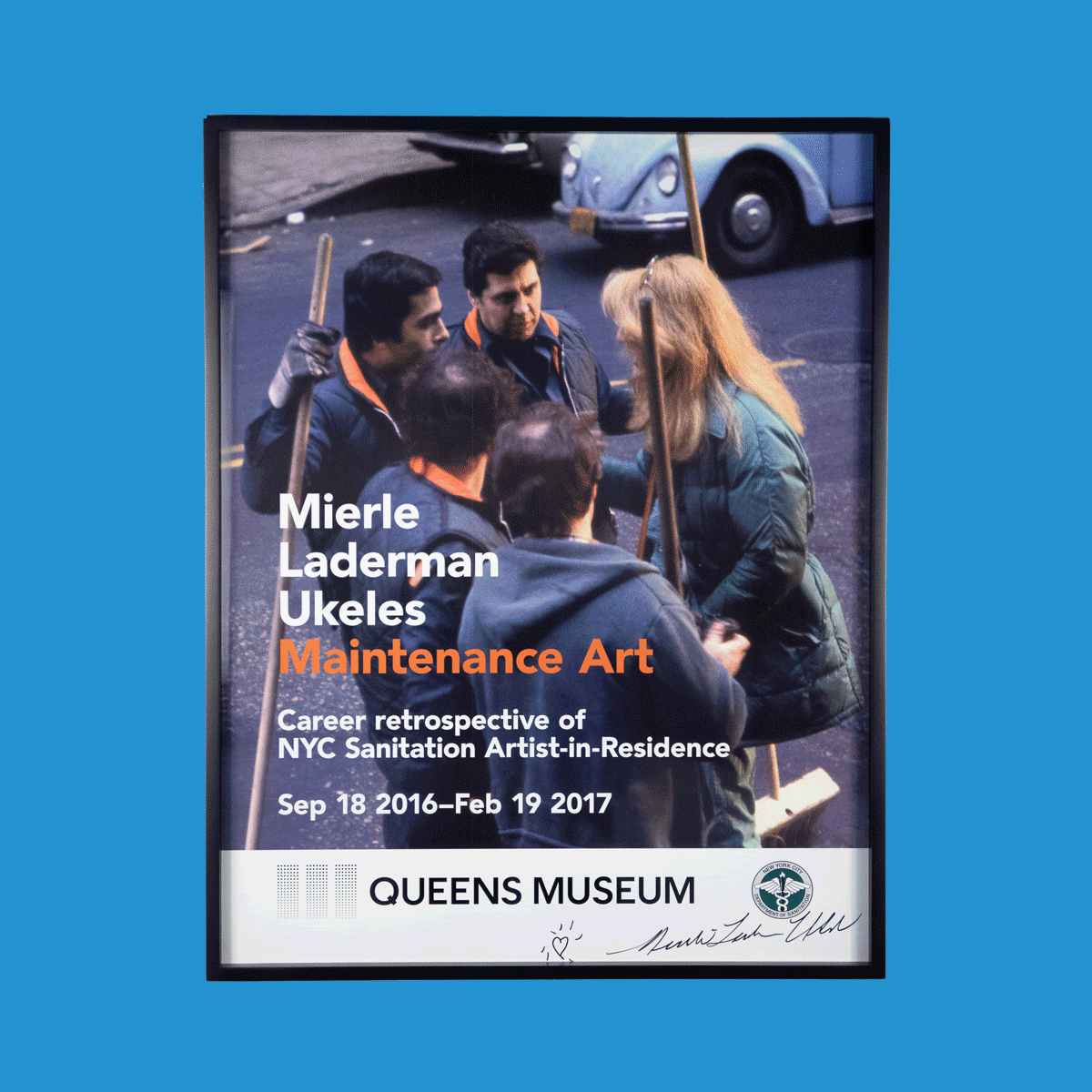 QUEENS MUSEUM ARTIST EDITIONS
————
Bring home a piece of Queens Museum history by purchasing a Queens Museum Artist Edition. Our first set includes contemporary artists who have shown at the Queens Museum in the past 5 years: Mierle Laderman Ukeles, Anna K.E., Ulrike Müller, Patty Chang, and Ronny Quevedo. Proceeds from the sale of these Artist Editions directly benefit the Queens Museum's exhibitions and programs.
Llévese a casa un pedazo de la historia del Queens Museum con nuestros Queens Museum Artist Editions. La primera colección cuenta con artistas contemporánexs que expusieron en el Queens Museum en los últimos 5 años: Mierle Laderman Ukeles, Anna K.E., Ulrike Müller, Patty Chang, and Ronny Quevedo. Los beneficios de la venta de los Artist Editions se invierten de forma directa en las exposiciones y programas del Queens Museum.
LIKE WHAT WE'RE DOING? 
If you are able, please consider making a tax-deductible donation to the Queens Museum. Every gift matters and allows us to continue to serve the communities that rely on us.
Si le es posible, por favor, considere hacer una donación deducible de impuestos al Queens Museum. Cada donación es importante y nos permitirá continuar sirviendo a las comunidades que confían en nosotrxs.
~~~~~~~~~~~~~~~~~~~~~~~~~~
After the Plaster Foundation, or, "Where can we live?" is made possible by lead support from the Andy Warhol Foundation for the Visual Arts. Generous support is also provided by the Graham Foundation for Advanced Studies in the Fine Arts. Special thanks to Powerhouse Arts.
Major funding for the Queens Museum is generously provided by the New York City Department of Cultural Affairs, the New York State Council on the Arts with the support of Governor Andrew Cuomo and the New York State Legislature, the Lily Auchincloss Foundation, the Booth Ferris Foundation, the Lambent Foundation, the Andrew W. Mellon Foundation, the New York Community Trust, the Shelley & Donald Rubin Foundation, and the TD Charitable Foundation.
—————-
———————-
Our mailing address is:
Queens Museum
Flushing Meadows Corona Park
Queens, NY 11368
——————–
====================================== 
____________________________________________________________