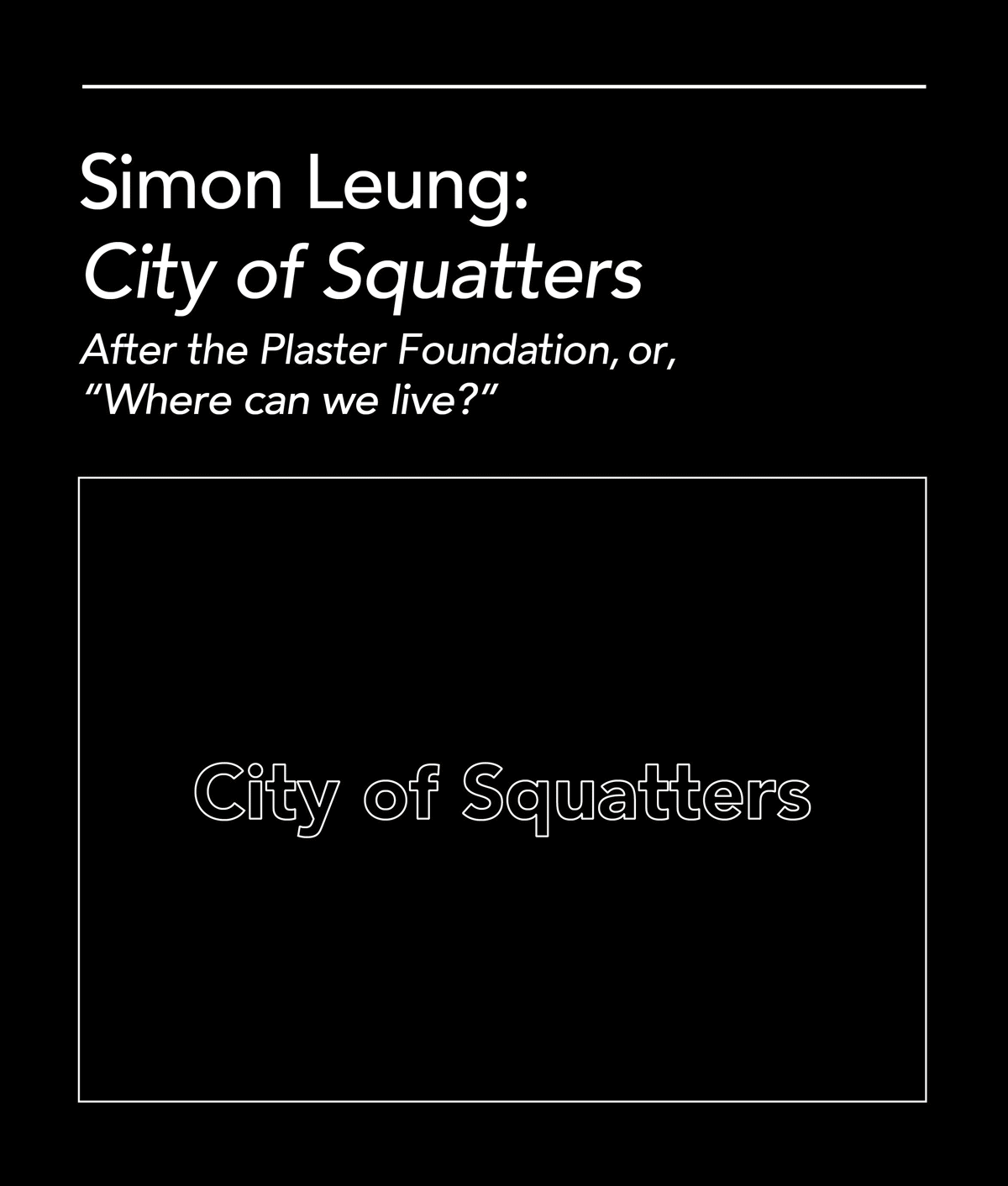 SIMON LEUNG: CITY OF SQUATTERS
After the Plaster Foundation, or, "Where can we live?"
Tuesday, January 12, 2021 – 2:00pm to 3:30pm – Online
On January 12th, artist Simon Leung presents City of Squatters, an online lecture-performance which meditates on two parallel bodies of work that Leung began in the early 1990s: a series of "squatting" projects and a long term collaboration with the late Warren Niesluchowski. This performative piece is a response to the Jack Smith-inspired title of the Queens Museum exhibition— After the Plaster Foundation, or, "Where can we live?" —through which Leung looks at three decades of work against the backdrop of 2020. Check out Josh Lubin-Levy's essay to learn more about the work of the downtown artist Jack Smith through the lens of Smith's preoccupation with "landlordism" and rent. For the exhibition's online publication, Leung provides context for City of Squatters and also discusses the two video installations currently on view at the museum: War after War, 2011 and POE, 2007/2010/2020.
El artista Simon Leung presentará el 12 de enero City of Squatters ("Ciudad de okupas"), una conferencia-actuación que reflexiona acerca de dos trabajos paralelos que el propio Leung comenzó a principios de los 90: una serie de proyectos de "okupación" y una colaboración a largo plazo con el difunto Warren Niesluchowski. Esta obra es una respuesta al título de la exposición del Queens Museum, inspirado por Jack Smith, After the Plaster Foundation, or, "Where can we live?". En ella, Leung repasa tres décadas de trabajo con el año 2020 como telón de fondo. En el ensayo de Josh Lubin-Levy's encontrará más información sobre el trabajo del artista local Jack Smith a través de su preocupación por las prácticas abusivas de lxs propietarixs y el alquiler. En la online publication de la exposición, Leung proporciona algo de contexto para City of Squatters y comenta las dos instalaciones de vídeo que se exhiben ahora en el museo: War after War, 2011, y POE, 2007/2010/2020.
ULRIKE MÜLLER AND AMY ZION IN CONVERSATION WITH LYNNE COOKE
Thursday, January 14, 2021 – 7:00pm to 8:00pm – Online
Join us for a conversation with Ulrike Müller and independent curator Amy Zion on their collaborative project The Conference of the Animals. Oriented along the 45-foot-high wall that encircles The Panorama of the City of New York, the project responds to Queens Museum's building history. Müller and Zion will discuss the intersections of politics and play, and the under-recognized value of art by children and its relation to the power of scale to shift our understanding of ideas, spaces, and ourselves. They are joined by scholar and curator of self-taught and Avant-Garde art Lynne Cooke, Senior Curator for Special Projects at the National Gallery of Art, Washington, DC and moderator Larissa Harris, Queens Museum Curator 2009-2020.
Únase a nuestra conversación con Ulrike Müller y la comisaria independiente Amy Zion acerca de su proyecto colaborativo The Conference of the Animals. El proyecto se ubica a lo largo de la pared de 45 pies (14 m) que rodea el Panorama de la Ciudad de Nueva York y hace referencia a la historia de la construcción del Queens Museum. Müller y Zion comentarán la intersección entre política y juego y la escasa valoración de la que goza el arte infantil y su relación con el poder de la escala para dar forma a nuestra comprensión de ideas, de espacios y de nosotrxs mismxs. Participarán también la especialista y comisaria de arte vanguardista y autodidacta Lynne Cooke, comisaria superior de proyectos especiales en la Galería Nacional de Arte de Washington, DC, y la moderadora Larissa Harris, comisaria del Queens Museum del 2009 al 2020.
QUEENS MUSEUM VIRTUAL FAMILY WORKSHOPS
Monday, December 21, 2020
The Queens Museum offers weekly Virtual Family Art Workshops on Saturdays from 1:00 pm- 2:00 pm. These fun, educational workshops invite children ages 4+ and their adult companions to take part in a shared learning experience. Virtual Art Workshops will be based on seasonal Family Workshop Guides. For more information and to RSVP, contact us at fkhuda@queensmuseum.org. Please RSVP at least one day prior to the Virtual Family Workshop you would like to attend. 
El Queens Museum organiza talleres de arte virtuales para familias los sábados de 1:00 pm a 2:00 pm. Estos divertidos y educativos talleres ofrecen una experiencia de aprendizaje compartido para lxs niñxs a partir de 4 años y sus acompañantes adultxs. Los talleres se organizarán conforme a las guías Family Workshop. Póngase en contacto con nosotrxs para obtener más información y para reservar con antelación en fkhuda@queensmuseum.org. Le rogamos que reserve el taller al que quiera asistir al menos con un día de antelación.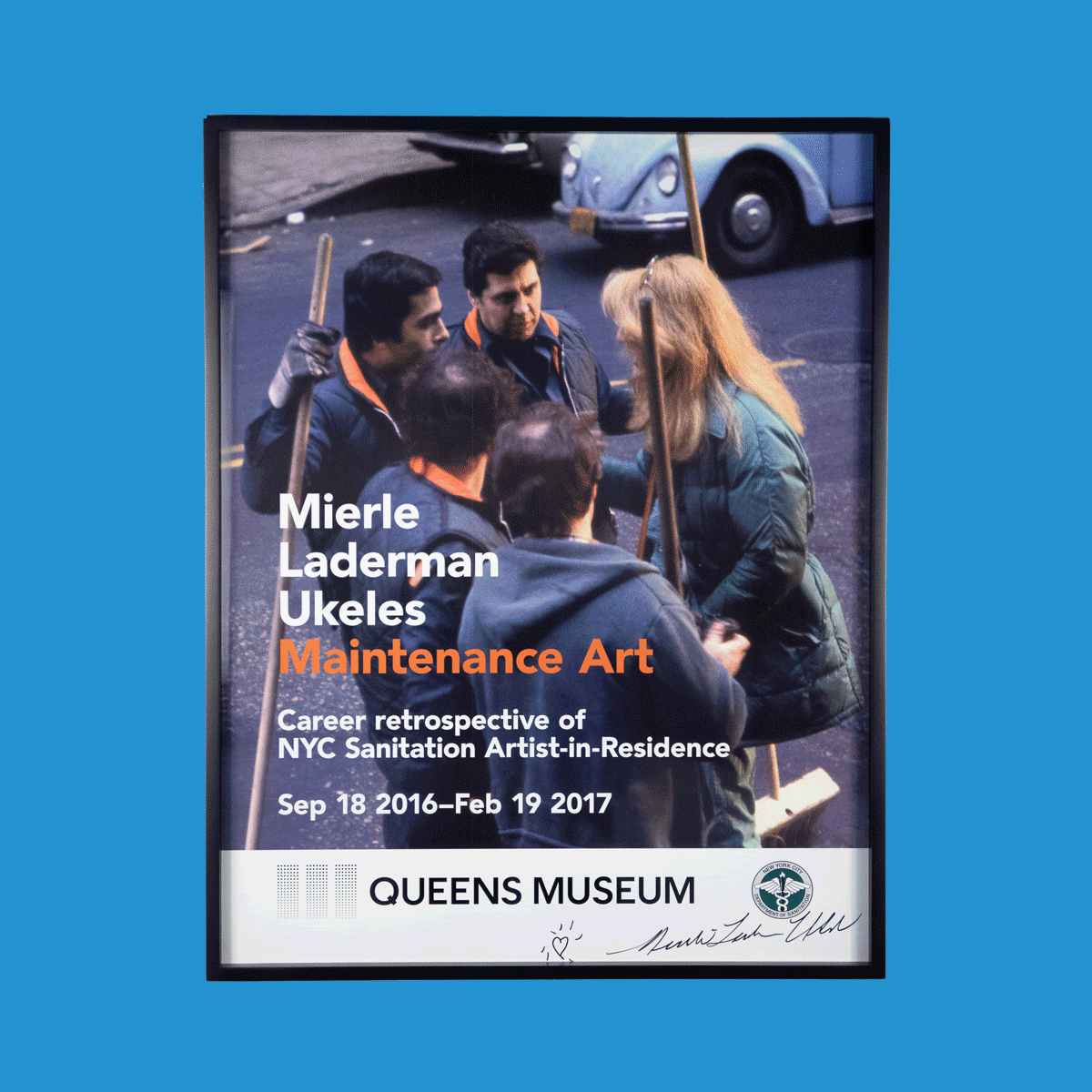 QUEENS MUSEUM ARTIST EDITIONS
Bring home a piece of Queens Museum history by purchasing a Queens Museum Artist Edition. Our first set includes contemporary artists who have shown at the Queens Museum in the past 5 years: Mierle Laderman Ukeles, Anna K.E., Ulrike Müller, Patty Chang, and Ronny Quevedo. Proceeds from the sale of these Artist Editions directly benefit the Queens Museum's exhibitions and programs. 
Llévese a casa un pedazo de la historia del Queens Museum con nuestros Queens Museum Artist Editions. La primera colección cuenta con artistas contemporánexs que expusieron en el Queens Museum en los últimos 5 años: Mierle Laderman Ukeles, Anna K.E., Ulrike Müller, Patty Chang, and Ronny Quevedo. Los beneficios de la venta de los Artist Editions se invierten de forma directa en las exposiciones y programas del Queens Museum.
LIKE WHAT WE'RE DOING? 
If you are able, please consider making a tax-deductible donation to the Queens Museum. Every gift matters and allows us to continue to serve the communities that rely on us.
————
Si le es posible, por favor, considere hacer una donación deducible de impuestos al Queens Museum. Cada donación es importante y nos permitirá continuar sirviendo a las comunidades que confían en nosotrxs.
~~~~~~~~~~~~~~~~~~~~~~~~~~~~~~~~~~
——————-
============================================ 
————————————–
CREDITS:
After the Plaster Foundation, or, "Where can we live?" is made possible by lead support from the Andy Warhol Foundation for the Visual Arts. Generous support is also provided by the Graham Foundation for Advanced Studies in the Fine Arts. Special thanks to Powerhouse Arts.
The Conference of the Animals was produced in collaboration with Phileas and with the generous support of legero united | con-tempus.eu. Major support provided by Helen and Charles Schwab and the Austrian Cultural Forum New York. Additional support provided by Richard Gerrig and Timothy Peterson, Alexandra Bowes, JoAnn Gonzalez Hickey LLLP, and Putter Pence. Special thanks to Benjamin Moore, Callicoon Fine Arts, and Gensler. The organizers of The Conference of the Animals (An Exhibition of Children's Drawings) gratefully acknowledge our partner the Children's Museum of the Arts. Images courtesy of the Children's Museum of the Arts; Children's Museum of the Arts; Petrit Hallilaj; and Queens Museum, credit Hai Zhang.
Major funding for the Queens Museum is generously provided by the New York City Department of Cultural Affairs, the New York State Council on the Arts with the support of Governor Andrew Cuomo and the New York State Legislature, the Lily Auchincloss Foundation, the Booth Ferris Foundation, the Lambent Foundation, the Andrew W. Mellon Foundation, the New York Community Trust, the Shelley & Donald Rubin Foundation, and the TD Charitable Foundation.
~~~~~~~~~~~~~~~
__________________________________________