~~~~~~~~~~~~~~~~~~~~~~~~~~~~~~~
Southampton Arts Center is a place that fuels creativity, ignites minds, and provides inspiration. This February continue your journey by exploring a collection of local artists' works in East End Collected7 US Here Now curated by Paton Miller. Please tour our virtual 3D gallery HERE where you can click on each image, learn more and purchase art. 
——-
Continue to engage in upcoming programming  – here's what's next: 
————
Studio: Figure Drawing Workshop
Fridays @ 1 PM
February 24, March 3 ,March 10, March 17 , March 24, March 31
Working from a live model, artist Linda Capello will guide students through the basics of figure drawing using a variety of mediums.
——-
Talk: Artist Talk
Saturday March 4 @ 3PM
East End Collected7 exhibition artists Kelynn Alder, Isadora Capraro, Lautaro Cuttica, and George Schulman will discuss their respective works during an intimate panel discussion co-moderated by curator Paton Miller and Christina Strassfield. 
——-
Talk: Artist Talk
Saturday March 18 @ 3PM
East End Collected7 exhibition artists Franco Cuttica, Glen Hansen, Oscar Jackman, Mary Lambert, and Adam Straus will discuss their respective works during an intimate panel discussion co-moderated by curator Paton Miller and Christina Strassfield.
——-
~~~~~~~~~~~~~~~~~~~~~~~~~~~~~~~
~~~~~~~~~~~~~~~~~~~~~~~~~~~~~~~~~~~~~~
East End Collected7 artist Candace Hill-Montgomery was born in Queens but now calls Sag Harbor home. She is a multi-disciplinary artist and writer, working with photography, mixed-media collage, and watercolors. 
Her art was a family affair, with her mother strongly supporting her artistic development from childhood. She has been awarded prestigious fellowships, exhibited her work in galleries across the state, and has been featured in a number of print publications.  
Candace's art incorporates elements of fabric and poetry. As an African American artist, she offers a vital perspective on important social issues. She discusses racism, poverty, feminism, migrants, and refugee children in moving ways, harnessing the power of humor and satire. 
We are honored to have her work here at Southampton Arts Center!
~~~~~~~~~~~~~~~~~~~~~~~~~~~~~~~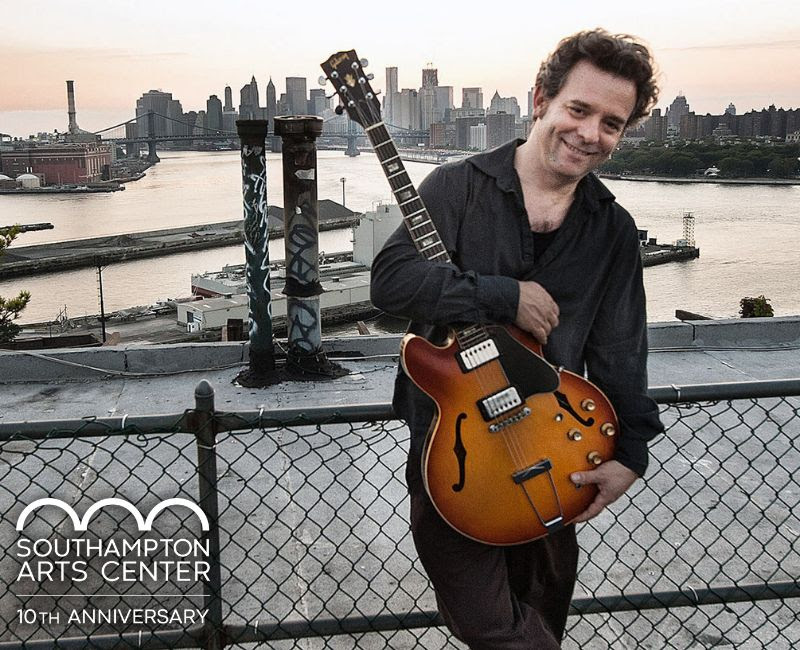 ~~~~~~~~~~~~~~~~~~~~~~~~~~~~~~~~~~~~~~
Join Southampton Arts Center and Hamptons Jazz Fest on March 25, as we present Will Bernard Quartet for an evening of jazz! The concert will begin at 7 PM.
Guitarist Will Bernard, a Berkeley, CA native and Brooklyn NY transplant studied guitar and piano from an early age with Dave Creamer, Art Lande and Julian White later developing an interest in classical music composition. He received a degree in music from UC Berkeley where he studied with Andrew Imbrie and others.
He began playing and recording on an international level as a member of Peter Apfelbaum's Hieroglyphics Ensemble, who made their recorded debut with Don Cherry on "Multikulti" (A&M 1989). Since then, Bernard has participated in a host of boundary stretching groups, ranging from jazz, hip-hop and world music to experimental music, with many stops in between. In the 90's Bernard recorded and performed with many projects under the direction of acclaimed producer Lee Townsend and worked with groups ranging from the Hindustani-influenced Jai Uttal to the political hip-hop group the Coup. The most commercially successful of these projects was the group T.J. Kirk (with Charlie Hunter) whose sophomore album "If Four Was One" on Warner bros. was nominated for a Grammy in 1997. Will made further inroads with the Stanton Moore trio which toured extensively and made three albums on Telarc and a Hal Leonard drum instructional video and book.
—————–
———————————————————————-
Looking for more at SAC?


————–
~~~~~~~~~~~~~~~~~~~~~~~~~~~~~~~~~~~~~
MISSION 
———-
Southampton Arts Center is committed to community building through the arts. We present and produce inspiring, inclusive, socially and regionally relevant programs across all disciplines – welcoming, connecting, and collaborating with the diverse members of New York's East End community and beyond.
Member of Hamptons Art Network
———————–
ART @ SAC 2023
EAST END COLLECTED7 
Curated by Paton Miller
Participating Sponsors: PLESSER'S
Media Partner: JAMES LANE POST 
————–
SUPPORT 
Southampton Arts Center's programs are made possible by the New York State Council on the Arts with the support of Governor Kathy Hochul and the New York State Legislature.
~~~~~~~~~~~~~~~~~~~~~~~~~~~~~~~~~~~~~
Copyright © 2023 Southampton Arts Center, All rights reserved.
—————————Our mailing address is:

Southampton Arts Center

25 Jobs Lane

Southampton, NY 11968

———————

========================================================= 
_____________________________________________________________________