~~~~~~~~~~~~~~~~~~~~~~~
FEATURED MERCHANT OF THE WEEK: Mimi Page Jewelry
Mimi Page is a silversmith and artist living on Shelter Island.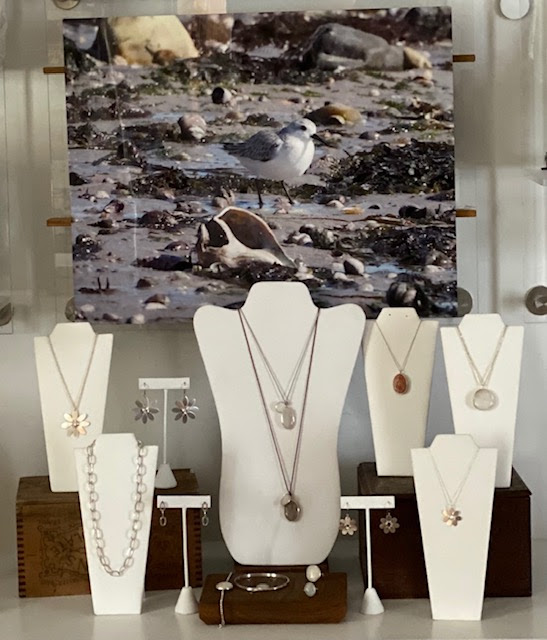 Piping Plover photo by Adam Bundy
"I have always been a collector of things. For as far back as I can remember, my pockets have been overflowing with objects found in the natural world to use in my artistic endeavors. By the age of 5, I was creating necklaces and bracelets out of discarded pull-tabs from aluminum cans. From there, I moved on to beadwork, and ultimately fell in love with silversmithing. I relocated to Shelter Island from Vermont in 2004, and was immediately drawn to the beautiful stones on the local beaches. Within a few weeks of living on the island, I had buckets and mason jars full of them. Their natural shape and the smooth texture from centuries of tumbling through the salt water made them perfect candidates for jewelry making. I made my first beach-stone pendant in 2008 and have only grown to love the process even more with each piece that I create. In addition to the beach stone work, I am known for my flower designs and architectural -inspired work. I find great joy in collaborating on custom work with my customers as well. My inspiration comes from anywhere and everywhere. Those stones on the beach, an architectural landmark, walks in nature, or just pushing objects around my workbench. My current studio is located in a vintage 1974 Airstream Argosy which I renovated into a bright, beach-y and inspiring space for myself and my visitors to enjoy."
Havens Store is open
Wednesday – Saturday, 10:00 am – 2:00 pm
Masks are required for entry.
—————
Shelter Island Historical Society
PO BOX 847
Shelter Island, NY 11964
——————–
========================================= 
Old Fashioned Hospitality
_________________________________________