THIS WEEKEND @SAC
~~~~~~~~~~~~~~~~~~~~~~~~~~~~~~~~~~~~~~~
ART
The Collectors Sale
a Benefit Art Sale and Exhibition
On View Through 9/13
Don't miss your final chance to see The Collectors Sale in person in our pop-up theater gallery. Over 80 artists and collectors generously contributed to this special fundraiser by donating a work or works of art. Whether you an experienced collector or just beginning, there is something for every eye and budget. Works are also available to view and purchase online. All proceeds from this fundraising art sale will underwrite SAC's diverse slate of year-round programming.
MORE INFO
---

2020 VISION
presented with New York Academy of Art
On View Through 12/27
Curated by David Kratz and Stephanie Roach
Edited by Emma Gilbey-Keller
Participating Sponsor: Douglas Elliman
Insurance Sponsor: AXA XL
Can't visit in person? Click HERE for a 360-degree virtual tour or HERE for a short gallery tour with curators David Kratz and Stephanie Roach along with a few artists and writers!
Artists, writers, and creative thinkers were asked to consider three questions of critical importance: Our lives will never be the same, but what will change look like?  What do we want to keep as we rebuild? And what must we guard against? These creators were then invited to express what they saw, what they felt, and what they experienced during this time of pause and reassessment, upheaval and risk, and anxiety and uncertainty.  The hope is that 2020 Vision marks one of many beginnings in the necessary process of 'post-traumatic growth' and positive change for our society and our world.
MORE INFO
Gallery Hours:
Wednesday-Sunday, 11 AM-5 PM
 
---

SAC Public Art Project:
Outdoor Sculpture & Art Installation
EXTENDED – On View Through September 30, 2020
Participating artists include Hal Buckner, Saskia Friedrich, Alice Hope, Bryan Hunt, Laurie Lambrecht, and Steve Miller. Plus "Eye Benches II" by Louise Bourgeois on the East Lawn courtesy of Hauser & Wirth Gallery.
MORE INFO
Please follow established social distancing guidelines when visiting the galleries and grounds. Masks required.
Sculpture Credit: Hal Buckner, "Birth of Venus" after Boticelli; Powder coated aluminum; 63 x 94 x 22 inches.
KIDS
Youth Global Citizen After School Program – ECOLOGY
Ages 11-15
FRIDAY, SEPTEMBER 11 | 4:30-7 PM | $25 
4:30 PM: Ocean conservation discussion with Jillian Kampf of Surfrider Foundation Eastern Long Island followed by beach cleanup bag decorating
6-7 PM: Pizza & Ping-Pong Social Hang-Out
MORE INFO        RESERVE
Space is extremely limited – advance registration required. Drop-Offs Permitted
The Youth Global Citizen program is sponsored by Kara Ross, Paula Viscogliosi, and The Peace Project Inc.
 
---
ECO
Beach Cleanup with Surfrider Foundation Eastern Long Island
Because September is Coastal Cleanup Month!
SATURDAY, SEPTEMBER 12 | 9-11 AM | FREE
Join us for a socially distant beach cleanup at Old Town Beach in Southampton. All attendees will receive a custom-designed burlap bag for marine waste to be use for this and your own future cleanups.
MORE INFO        RESERVE
 
---
TALK
ECO-Entrepreneurs
Women Creating Successful Companies While Caring for the Environment
SATURDAY, SEPTEMBER 12 | 6 PM | FREE
This special panel discussion in the back gallery will feature female eco-entrepreneurs including Andie Swim Founder Melanie Travis, Loliware Partner Karuna Rana, and Bees Needs Founder Mary Woltz, moderated by Elyn Kronemeyer. The talk will be followed by a sampling of vegan ice cream from SUNSCOOP!
MORE INFO        RESERVE
Eco programs at SAC are sponsored by Dorothy and Michael Reilly.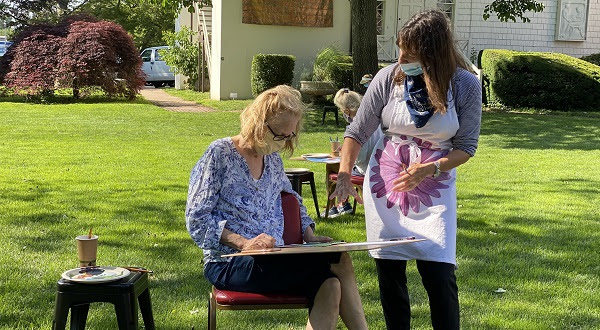 STUDIO
Painting in the Garden
with Barbara Thomas
SUNDAY, SEPTEMBER 13 | 3-5 PM | $45 ($40 for Members)
All Levels – Ages 15+
Paint outside on the grounds of Southampton Arts Center and learn techniques for painting sky and clouds, trees, grass, shadows, and all aspects of landscape, plein air (in the open air) painting.
MORE INFO        RESERVE
~~~~~~~~~~~~~~~~~~~~~~~~~~~~~~~~~~~~~~~~~~~~~~~
——————-
===================================== 
___________________________________________________________