~~~~~~~~~~~~~~~~~~~~~~~~~~~~~~~~~~~~~~~~~~~~~~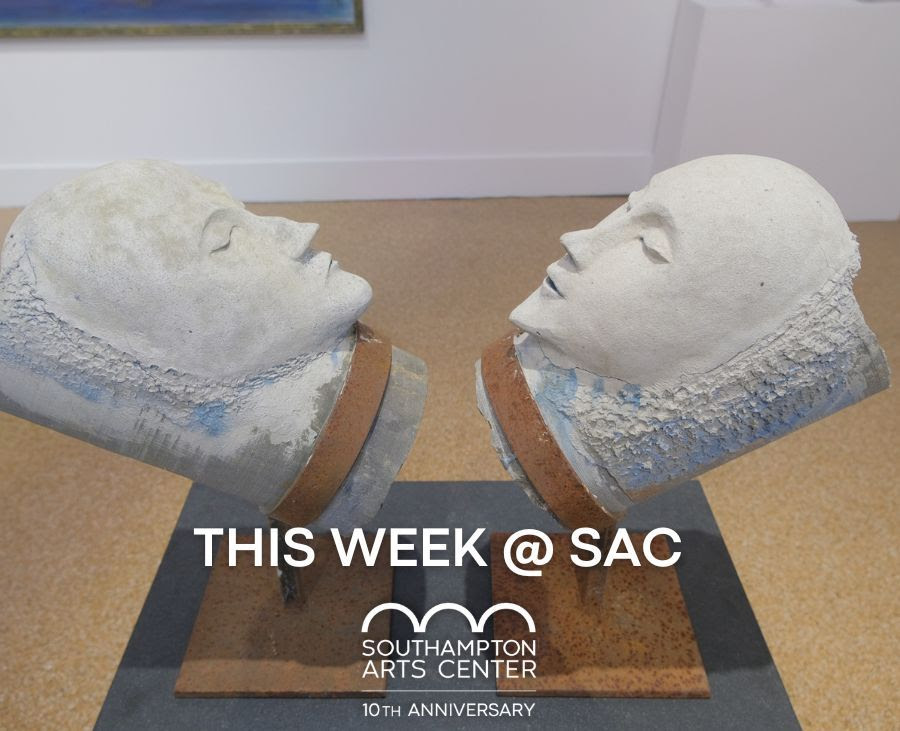 ~~~~~~~~~~~~~~~~~~~~~~~~~~~~~~~~~~~~~~~~~
As we celebrate this Valentine's Day, we hope you fall in love with unforgettable works of art in our newly opened exhibition,  East End Collected7  US Here Now curated by Paton Miller and comprised of East End artists. Join us this week for some creative inspiration:
———
Studio: Figure Drawing Workshop
Friday, February 17  @ 1 PM
Working from a live model, artist Linda Capello will guide students through the basics of figure drawing using a variety of mediums.
———
Talk: Curator Led Tour with Paton Miller 
Sunday, February 19 @ 11AM – 12PM
Join us for a live tour with East End Collected7 curator Paton Miller, as he highlights specific artists and key works to give visitors an in-depth understanding of themes and ideas addressed in exhibition. 
———
~~~~~~~~~~~~~~~~~~~~~~~~~~~~~~~~~~~~~~~~
~~~~~~~~~~~~~~~~~~~~~~~~~~~~~~~~~~~~~~~~~
Elaine Grove was born in 1943 in Oklahoma City and earned her BFA in 1965 at the University of Dallas, Texas. She is a former faculty member of Parsons School of Design. She is the widow of abstract painter, Dan Christensen. Grove has enjoyed a successful career in set design and illustration and her illustrated works have appeared in various magazines and books, winning notable awards. Her theatrical sets have appeared on national and international television. 
———
Elaine Grove's move to New York City was led by part serendipity jobs in art and acting. Though she was a trained as a painter the large focus her work has been welded steel sculpture. She works in classic constructivist tradition, with roots in the work of Julio Gonzales, Picasso, David Smith and Anthony Caro. These artists have influenced the development of her artistic language. Elaine incorporates "found objects" into her work and her intention is for the viewer to lose the sense of original purpose of the object, and to focus rather on its form in relation to the overall sculpture.
———
"It is my belief that art can elevate the human spirit and bring about a connection to nature

and to inner peace. We need that now more than ever".
———
~~~~~~~~~~~~~~~~~~~~~~~~~~~~~~~~~~~~~~~~~
Join us this Sunday, February 19 @ 11 AM as curator and artist Paton Miller takes us on a tour of the East End Collected 7. You don't want to miss this immersive experience to get an inside scoop about the local artists, their stories, and curatorial insights from one of the most widely respected artists on the East End of Long Island.In the early days in his life in the Hamptons, Miller found himself in the studios of Willem de Kooning, Roy Lichtenstein, Larry Rivers and Frank Stella " a great experience for a young artist". The East End Collected is the celebration of our artistic community. 
—–
"For an arts center to thrive it must be loved and to be loved it should reflect its artistic territory". – Paton Miller  
~~~~~~~~~~~~~~~~~~~~~~~~~~~~~~~~~~~~~~~~~~~~~~
~~~~~~~~~~~~~~~~~~~~~~
MISSION Southampton Arts Center is committed to community building through the arts. We present and produce inspiring, inclusive, socially and regionally relevant programs across all disciplines – welcoming, connecting, and collaborating with the diverse members of New York's East End community and beyond.
————
Member of Hamptons Art Network
——————————–
ART @ SAC 2022


A CELEBRATION OF TREES




Presenting Sponsors: Simone & David Levinson, William Talbott Hillman Foundation




Participating Sponsors: Susan & Tim Davis, Andy Sabin & the Andrew Sabin Family Foundation




Media Partner: The Southampton Press


———
FILM @ SAC 


Title Sponsor: Brown Harris Stevens of the Hamptons


———
STOREFRONT ART PROJECT


Sponsored by Long Island Community Foundation and Bank of America Foundation


———
KIDS @ SAC 


Sponsor: Southampton Bath and Tennis Club


———
SAC SUMMER STAGE 2022


Title Sponsor: Primary Care and Reproductive Medicine at Weill Cornell Medicine and NewYork-Presbyterian


———


Financial Literacy Partner: J.P. Morgan Private Bank 


———


General operating support is provided by Bank of America 


———


ECO Programs at SAC are made possible by Dorothy & Michael Reilly


———
SUPPORT 


Southampton Arts Center's programs are made possible by the New York State Council on the Arts with the support of Governor Kathy Hochul and the New York State Legislature.
Copyright © 2023 Southampton Arts Center, All rights reserved.
————
Our mailing address is:
======================================= 
AAQ / Resource
______________________________________________________________________