~~~~~~~~~~~~~~~~~~~~~~~~~~~~~~~~~~
Hello, friends!
The reawakening of life on the East End as spring comes into bloom has been symbolic of life at SAC. It's a new day at SAC, and I'm thrilled to share a few exciting updates. From one of our most impactful exhibitions, to a new team and website, from the continued revival of our grounds, to new installations and neighbors, from the fast approaching summer to the years (yes, years!) to come, SAC's story continues to evolve and expand. Good energy is emanating from 25 Jobs Lane. We love what we do with and for our community, and we're honored to do it.There are a few things I want to tell you about…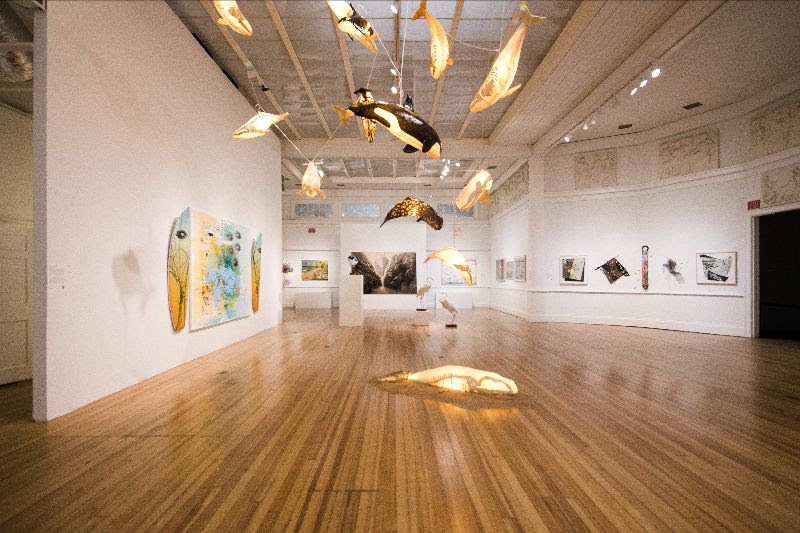 Since the beginning of the year, we have been quietly assembling a dynamic new team here at SAC. Among the new faces are general manager Joe Diamond, curatorial associate Daniela Kronemeyer, and Diana Torres, who was recently promoted to SAC's full-time business manager. We've also engaged Rachel Bosworth, owner of RB Collaborative on the East End, as our communications manager, onboarded Ellie Manko Libby as a fundraising consultant, and re-engaged consultant and former East End Arts Council director Pat Snyderas our development administrator. They are joined by operations coordinator Matt Ballard, and guest services ambassadors Marlene Esposito, Nicole Hadix, Sarah Mattos, and Nancy Miller. I couldn't be prouder and more excited to work alongside these dedicated and talented professionals in advancing SAC's mission of community building through the arts.
Complementing this team is SAC's new website, which launched on April 17, to more effectively share our mission, story, and commitment to our community. Please explore!
SAC's three acres of outdoor grounds have been a true blessing during the unique challenges of the past year – attracting thousands to our Jobs Lane property and neighboring downtown Village businesses. Our grounds are always open, and you may have noticed we've been busy making some improvements. Working in collaboration with new neighbor Peter Marino, we are refreshing our iconic Caesar Garden and making upgrades to both our East and West Lawns – all with a view toward providing safe, open-air places for us to come together as a community. Sincere thanks to Anke Beck-Friedrich and Jürgen Friedrich for their generous support of this work.
I'm also delighted to share that this summer we have again engaged our friend Eric Fischl to curate an outdoor sculpture garden. Entitled Whimsy, this playful installation is slated to open Memorial Day weekend and will feature work from Louise Bourgeois, Mel Kendrick, Alice Aycock, Hans van de Bovenkamp, William King, David Salle, Larry Rivers, Almond Sigmund, among others. My warm thanks to Eric and our friends at Hauser and Wirth for their support of this public art installation.
Summer at SAC is always a fun and special time. And 2021 will certainly be no exception – highlighted by outdoor films (features on Fridays, docs on Sundays), free family programs, Thursday night Talks, and, if we can do it safely, the return of SAC's Silent Disco! Anchoring summer 2021 will be a vibrant visual art exhibition featuring artists who trained in and are inspired by graffiti, street art, hip hop, punk rock, zines and underground art. Details on this show will be announced soon!
 
And finally, as we look to the future, working with a sensational collection of guest curators and partner organizations, we've presently got a dynamic and diverse slate of exhibitions lined up through the first quarter of 2023. Rest assured, you'll be hearing more from me on this in the coming months!
 
In the meantime, I look forward to seeing you here at SAC early and often in the weeks and months ahead.
 
All my best,
Tom
Tom Dunn 
Executive Director
PS – We'd love to hear from you! Please feel free to let us know how we're doing. Or tell us what you'd like to see more of. Or simply share a story or an SAC memory. I can be reached directly at tdunn@southamptoncenter.org. 
~~~~~~~~~~~~~~~~~~~~~~~~~~~~~~~~
~~~~~~~~~~~~~~~~~~~~~~~~~~~~~~~~
MISSION 
Southampton Arts Center is committed to community building through the arts. We present and produce inspiring, inclusive, socially and regionally relevant programs across all disciplines – welcoming, connecting, and collaborating with the diverse members of New York's East End community and beyond.
SUPPORT 
Southampton Arts Center's programs are made possible by the New York State Council on the Arts with the support of Governor Andrew M. Cuomo and the New York State Legislature.
FILM@SAC 2021
Title Sponsor: Brown Harris Stevens of the Hamptons
 
ART@SAC
EARTH – Artists as Activists Presenting Sponsor: Douglas Elliman Real Estate
~~~~~~~~~~~~~~~~~~~~~~~~~~~~~~~~
============================================= 
________________________________________________