~~~~~~~~~~~~~~~~~~~~~~~~~~~~~~~~~~~~~~~~~~~~~~~~~
Welcome March, a month for celebrating women and their power. Southampton Arts Center is excited to showcase programming, events and performances that are focused on supporting women artists and leaders. All of March we will be highlighting panels, concerts and films that explore the rich history of women in the arts across all disciplines. We are happy to be collaborating at the end of the month for film and panel co-presented with AIA Peconic, a chapter of the American Institute of Architects.
Please tour our virtual 3D gallery HERE where you can click on each image, learn more and purchase art and continue to engage in upcoming programming  – here's what's next: 
Studio: Figure Drawing Workshop
Fridays @ 1 PM
March 3 , March 10, March 17 , March 24, March 31
Working from a live model, artist Linda Capello will guide students through the basics of figure drawing using a variety of mediums.
———
Talk: Curator Tour 
Friday March 10 @ 3PM
Get creatively inspired as East End Collected7 curator Paton Miller leads a tour of his own Southampton studio.
——— 
Talk: Artist Talk
Saturday March 4 @ 3PM
East End Collected7 exhibition artists Kelvin Adler, Glen Hansen, Candace Hill-Montgomery, and George Schulman will discuss their respective works during an intimate panel discussion moderated by Christina Strassfield and Paton Miller .  
———
Talk: Artist Talk
Saturday March 18 @ 3PM
East End Collected7 exhibition artists Isadora Capraro, Franco Cuttica, Mary Lambert, and Adam Straus will discuss their respective works during an intimate panel discussion moderated by and Christina Strassfield and Paton Miller.  
———
Film: Gray Matters-Film & Panel 
Thursday March 23 @ 6PM
In celebration of Women's History Month, enjoy a screening of the documentary Gray Matters about architect and designer Eileen Gray, followed by a brief panel discussion featuring local architects.  
Gray Matters explores the long, fascinating life and complicated career of architect and designer Eileen Gray, whose uncompromising vision defined and defied the practice of modernism in decoration, design and architecture. Making a reputation with her traditional lacquer work in the first decade of the 20th century, she became a critically acclaimed and sought after designer and decorator in the next before reinventing herself as an architect, a field in which she laboured largely in obscurity.
Reflection panel led by AIA Peconic President Lori K. Beppu, AIA who will be joined by AIA architect members Pamela J. Glazer, AIA and Viola G. Rouhani, AIA.Co-presented by Southampton Arts Center and AIA Peconic, a chapter of The American Institute of Architects. Proudly sponsored by Pella. Licensed architects are eligible for two learning units for attending this program. 
———
Live: Hampton Jazz Fest 
Saturday March 25 @ 7PM
Join Southampton Arts Center and Hamptons Jazz Fest as we present 
Will Bernard Quartet for an evening of jazz! 
———
~~~~~~~~~~~~~~~~~~~~~~~~~~~~~~~~~~~~~~~~~~~~~~~~
~~~~~~~~~~~~~~~~~~~~~~~~~~~~~~~~~~~
Margaret Garrett is an American artist and dancer whose abstract paintings and videos explore movement, shape, rhythm, and the unfolding of contrapuntal patterns. She is fascinated by patterns—rhythm, movement, line, and the interplay of shapes. Garrett's approach to painting is strongly influenced by her early training in dance. After dancing again she began filming herself using clips from that footage to create choreographed, collaged videos and prints. It began as a quest to find new shapes for her paintings, but quickly evolved into a rediscovery of her first love, dance, and a way to incorporate that into her art. In making self-portrait pieces she is following in a tradition of women artists who have used photography and video to explore their identity and claim control over their image. As she records herself dancing she is pushing back against the societal norm of invisibility. Garrett's series 19, is a multi-disciplinary series which works celebrate the 100th anniversary of the 19th amendment – woman's right to vote.  As a longtime admirer of Martha Graham, Garrett was immediately captivated by the idea of working with these poses to make work in celebration of the 19th amendment. 
———————-

"In creating these pieces, I felt like I was working with a very potent alphabet,

an intimate language about dance, women and power". 
———————-
Garrett's paintings, prints, and videos have been exhibited in galleries and museums across the United States including Danese/Corey, the Flag Art Foundation, Birnam Wood, and the Parrish Art Museum and Guild Hall Museum. Her work has also been included in the Armory Show, Art on Paper, Dallas Art Fair, and the Baltimore Museum Contemporary Print Fair. She has been awarded residencies at the Virginia Center for Creative Arts and in Assisi, Italy, and has collaborated on two projects with Flatbed Press in Austin, Texas. Garrett's work is held in numerous private and corporate collections in the United States and Europe. Museum collections include the Parrish Art Museum and Guild Hall Museum. She currently lives and maintains a studio on Shelter Island.
~~~~~~~~~~~~~~~~~~~~~~~~~~~~~~~~~~~~~~~~~~~~~~~~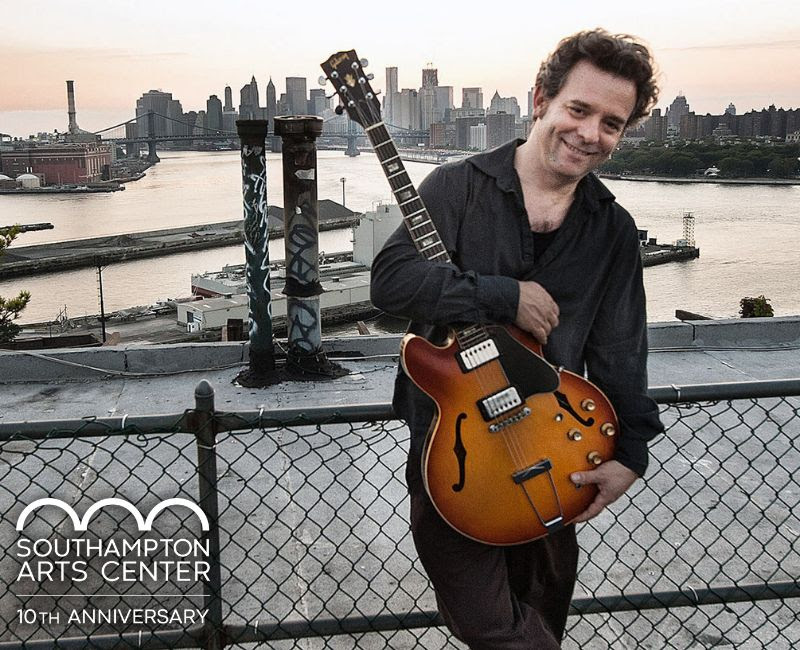 ~~~~~~~~~~~~~~~~~~~~~~~~~~~~~~~~~~~
Join Southampton Arts Center and Hamptons Jazz Fest on March 25, as we present Will Bernard Quartet for an evening of jazz! The concert will begin at 7 PM.
Guitarist Will Bernard, a Berkeley, CA native and Brooklyn NY transplant studied guitar and piano from an early age with Dave Creamer, Art Lande and Julian White later developing an interest in classical music composition. He received a degree in music from UC Berkeley where he studied with Andrew Imbrie and others.
He began playing and recording on an international level as a member of Peter Apfelbaum's Hieroglyphics Ensemble, who made their recorded debut with Don Cherry on "Multikulti" (A&M 1989). Since then, Bernard has participated in a host of boundary stretching groups, ranging from jazz, hip-hop and world music to experimental music, with many stops in between. In the 90's Bernard recorded and performed with many projects under the direction of acclaimed producer Lee Townsend and worked with groups ranging from the Hindustani-influenced Jai Uttal to the political hip-hop group the Coup. The most commercially successful of these projects was the group T.J. Kirk (with Charlie Hunter) whose sophomore album "If Four Was One" on Warner bros. was nominated for a Grammy in 1997. Will made further inroads with the Stanton Moore trio which toured extensively and made three albums on Telarc and a Hal Leonard drum instructional video and book.
~~~~~~~~~~~~~~~~~~~~~~~~~~~~~~~~~~~~~~~~~~~~~~~~
~~~~~~~~~~~~~~~~~~~~~~~~~~~~~~~~~~~~~~~~~~~~~~~~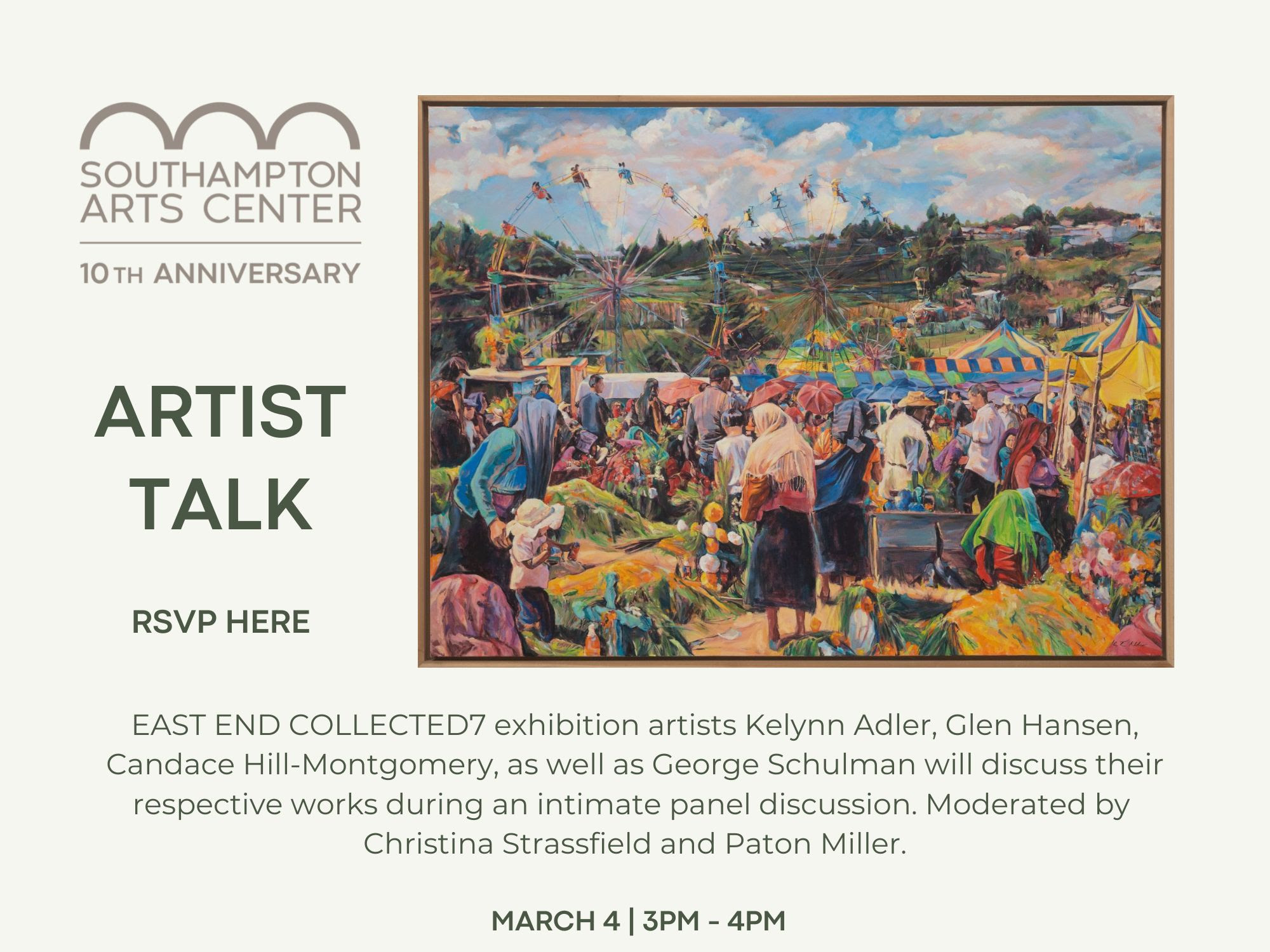 ~~~~~~~~~~~~~~~~~~~~~~~~~~~~~~~~~~~~~~~~~~~~~~~~
————————————-
Looking for more at SAC? 
————————
~~~~~~~~~~~~~~~~~~~~~~~~~~~~~~~~~
MISSION 
———
Southampton Arts Center is committed to community building through the arts. We present and produce inspiring, inclusive, socially and regionally relevant programs across all disciplines – welcoming, connecting, and collaborating with the diverse members of New York's East End community and beyond.
————
Member of Hamptons Art Network
ART @ SAC 2023
EAST END COLLECTED7 
Curated by Paton Miller
Participating Sponsors: PLESSER'S
Media Partner: JAMES LANE POST 
SUPPORT 
Southampton Arts Center's programs are made possible by the New York State Council on the Arts with the support of Governor Kathy Hochul and the New York State Legislature.
~~~~~~~~~~~~~~~~~~~~~~~~~~~~~~~~~~
Copyright © 2023 Southampton Arts Center, All rights reserved.
————

Southampton Arts Center

25 Jobs Lane

Southampton, NY 11968
——————– 
================================================== 
____________________________________________________________________