~~~~~~~~~~~~~~~~~~~~~~~~~~~~~~~~~~~
This May at the Whitney is a busy one, as we test the waters of a gently recovering New York City with a full roster of exhibitions and the completion of a new permanent public artwork by David Hammons.
On view in the galleries is the mid-career survey of Julie Mehretu, whose work often draws upon the twenty-first-century city for inspiration. Condensing seemingly infinite urban narratives, architectural views, and street plans into single unified compositions, Mehretu's paintings encourage a nuanced reckoning with the complexities of our politics, histories, and identities.
We also invite you to see Dawoud Bey: An American Project, featuring more than four decades of his work. Grounded in the rich traditions of the American portrait and street photographers who came before him, Bey's work is both a form of personal expression as well as an act of political responsibility, poignantly meditating on visibility, power, and race.
And just opened is Dave McKenzie: The Story I Tell Myself, which runs parallel to his new, Whitney-commissioned performance Disturbing the View. Friday and Saturday afternoons this month, McKenzie performs live, using the Museum's facade as a canvas in a choreographed disruption of its daily rhythms. Together the exhibition and performance commission span twenty years of McKenzie's creative output and reflect key themes of his art: endurance, exhaustion, repetition, and humor.
If you can, visit the Whitney to see David Hammons's Day's End in Hudson River Park across from the Whitney and explore all our exhibitions. You can also connect with the Whitney and our exhibitions online through virtual events in the next two weeks.
~~~~~~~~~~~~~~~~~~~~~~~~~~~~~~~~~~~
PLAN YOUR VISIT
Begin planning your trip, including everything you need to know to enjoy your visit safely. Become a Member to enjoy free admission, discounted guest tickets, dedicated viewing hours, and more.
~~~~~~~~~~~~~~~~~~~~~~~~~~~~~~~~~~~
~~~~~~~~~~~~~~~~~~~~~~~~~~~~~~~~~~~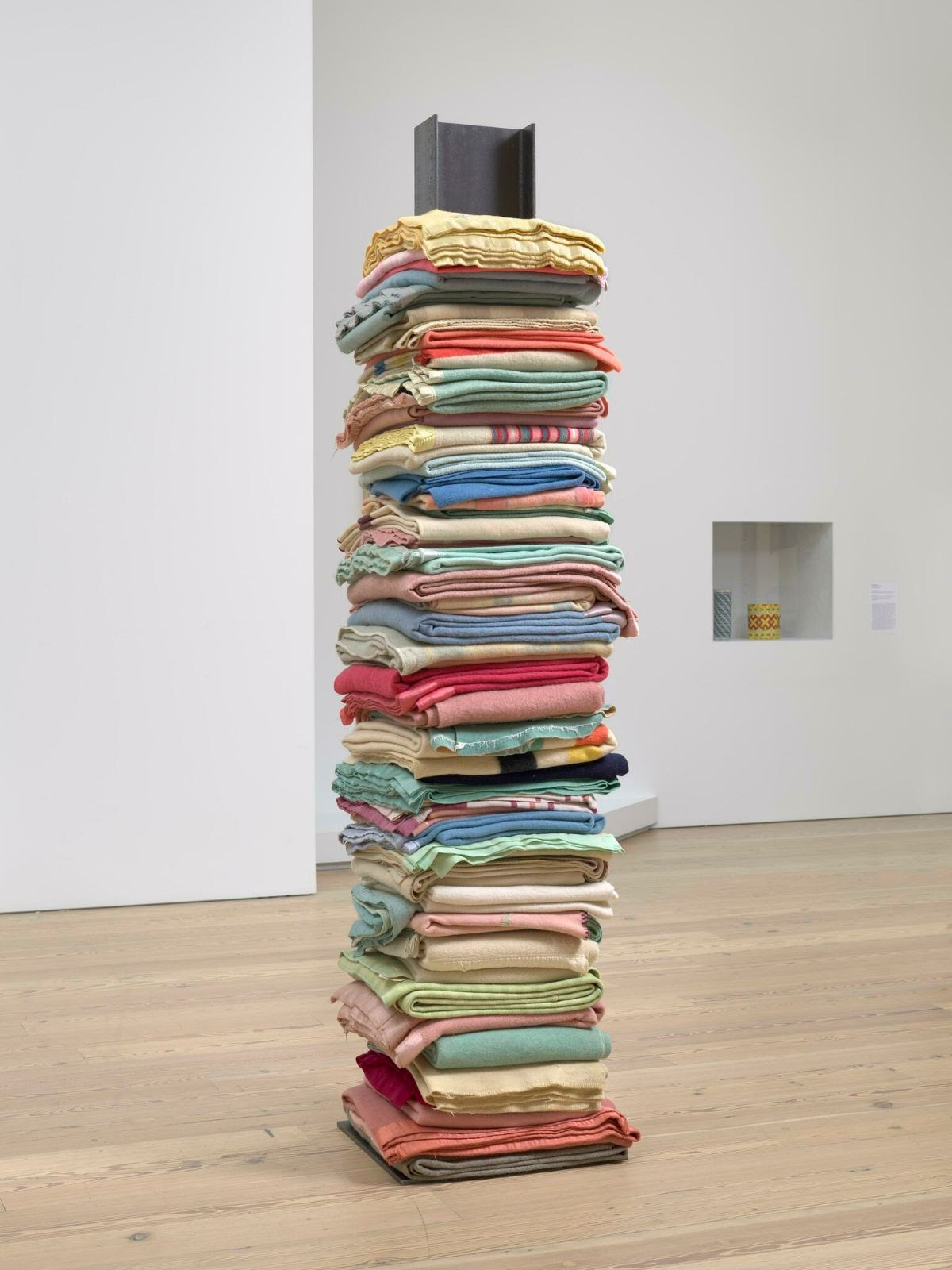 ART HISTORY FROM HOME
Thursdays at 12 pm
Tuesdays at 6 pm
Join our series highlighting works that illuminate critical topics in American art, led by the Whitney's Joan Tisch Teaching Fellows. Upcoming sessions focus on craft in art and Asian-American perspectives.
——————
ASK A CURATOR: DAWOUD BEY
Thursday, May 6, 7 pm
Join assistant curator Elisabeth Sherman and curatorial assistant Ambika Trasi for an overview of the Dawoud Bey exhibition, which covers more than four decades of work. Bey has used the camera to create poignant meditations on visibility, power, and race, chronicling communities and histories that have largely been underrepresented or even unseen.
——————
PERFORMANCE: DAVE MCKENZIE
Fridays and Saturdays, through June 12, 1–6 pm
Dave McKenzie's Whitney-commissioned performance, Disturbing the View, draws inspiration from the entrepreneurial window washers common in many American cities. As the artist choreographs a circuitous path around the Museum using the building's facade as a canvas and obscuring individual windows, he inserts himself into the Museum's daily rhythms, momentarily disrupting the view and prompting observers to consider essential labor that is often invisible.
——————
OPEN STUDIO FOR TEENS
Friday, May 7, 4 pm
High school students are welcome to join us for Open Studio for Teens, a free virtual artmaking workshop on Zoom with Whitney educators. Each week, participants will experiment, create, and learn together with at-home art projects inspired by the Whitney's exhibitions and collection. This session takes inspiration from the exhibition Dawoud Bey: An American Project, and teens will be challenged to create their own photographic portraits.
——————
O
PEN STUDIO FROM HOME
Saturdays, May 8 and May 15, 11 am
Families with kids of all ages are invited to these free weekly online art classes with Whitney educators. Experiment, create, and learn together with at-home art materials. Upcoming sessions are inspired by Madeline Hollander and Ree Morton.
——————
AFTER SCHOOL ART CLUB
Wednesday, May 12, 4 pm
Kids ages 5 to 10 can join this free weekly online program with Whitney educators to make art with at-home materials. Madeline Hollander inspires this session.
——————
~~~~~~~~~~~~~~~~~~~~~~~~~~~~~~~~~~~
REIMAGINING HISTORY: DAWOUD BEY IN CONVERSATION WITH JASON MORAN AND SARAH BROOM
Wednesday, May 12, 6 pm
The three speakers reflect on how an artwork can become an act of commemoration and radical reinvention, taking inspiration from two of Dawoud Bey's series, The Birmingham Project (2012)—a tribute to the victims of the 16th Street Baptist Church bombing in Birmingham, AL, in 1963—and Night Coming Tenderly, Black (2019), which imagines the flight of enslaved Black Americans along the final leg of the Underground Railroad.
——————
COMMUNITY DAY
Sunday, May 16, 11:30 am–3:30 pm
Please join us to celebrate the completion of David Hammons's Day's End (2014–21), a new permanent public artwork on Gansevoort Peninsula in Hudson River Park. As thanks to our community for making this project possible, the Museum will offer complimentary admission from 11:30 am–6 pm and free outdoor artmaking activities from 11:30 am–3:30 pm. Due to capacity limitations, and in compliance with health and safety regulations, visitors must reserve timed-entry tickets in advance on whitney.org.
——————
GIVE THE GIFT OF MEMBERSHIP
Gift Memberships make the perfect gift for the grad, mom, dad, caretaker, or mentor in your life! Recipients enjoy unlimited free admission, half-priced guest tickets, previews, as well as discounts at the Whitney Shop and cafe. Purchase online and a gift voucher will be immediately emailed to you.
——————
VIRTUAL TOURS
Virtual tours and talks for private groups and college classes are also available, led by one of the Whitney's Joan Tisch Teaching Fellows. Take a deep dive into the Museum's collection history; explore topics raised in the Museum's current exhibitions; or learn more about topical issues engaged by artists in the twentieth and twenty-first centuries. More details about available themes and topics can be found here.
——————
~~~~~~~~~~~~~~~~~~~~~~~~~~~~~~~~~~~
David Hammons's Day's End is officially complete. Seven years after the artist proposed the project, the public sculpture is permanently at home across from the Museum in @hudsonriverpark.
We look forward to celebrating this gift to all New Yorkers in the coming weeks! Watch the video and read more about this monumental artwork at the link in our bio. #DaysEnd.
——————
~~~~~~~~~~~~~~~~~~~~~~~~~~~~~~~~~~~
Now more than ever, we are relying on the generosity of our supporters to help champion American art and artists. Please consider making a donation or becoming a member today.
~~~~~~~~~~~~~~~~~~~~~~~~~~~~~~~~~~~
~~~~~~~~~~~~~~~~~~~~~~~~~~~~~~~~~~~
~~~~~~~~~~~~~~~~~~~~~~~~~~~~~~~~~~~
============================================ 
In the Heart of Historic Southampton Village
______________________________________________