Two of our beloved exhibitions—Working Together: The Photographers of the Kamoinge Workshop and Salman Toor: How Will I Know—will soon close. The last chance to see photographs by the original Kamoinge members taken during the collective's formative years is March 28, and the exquisite paintings of Salman Toor remain on view through April 4.
While we wistfully say goodbye to these shows, we are overjoyed to have Julie Mehretu's mid-career survey opening to the public on March 25. The artist's often immense, mesmerizing paintings combine maps, architectural drawing, landscape, and current events into panoramic abstractions, layering manipulated digital images, graphic shapes, and dynamic gestures of color.
As the sponsor of Julie Mehretu, Bank of America is proud to support free admission to the Museum for visitors on Thursday and Friday, March 25 and 26. Free tickets are available on a first-come, first-served basis. In addition, join us for online events delving further into Mehretu's work over the next two weeks, including an evening with assistant curator Rujeko Hockley, and a conversation with Julie Mehretu herself. Read on for more information.
~~~~~~~~~~~~~~~~~~~~~~~~~~~~~~~~~
PLAN YOUR VISIT
Begin planning your trip, including everything you need to know to enjoy your visit safely. Become a Member to enjoy free admission, discounted guest tickets, dedicated viewing hours, and more.
~~~~~~~~~~~~~~~~~~~~~~~~~~~~~~~~~
EVENT HIGHLIGHTS
~~~~~~~~~~~~~~~~~~~~~~~~~~~~~~~~~
AFTER SCHOOL ART CLUB
Wednesday, March 24, 4 pm
Kids ages 5 to 10 can join this free weekly online program with Whitney educators to make art with at-home materials. Join us to explore a new book of photo projects by Magnum photographer Susan Meiselas.
————
THE SOUND SHE SAW: MING SMITH IN CONVERSATION WITH GREG TATE
Wednesday, March 24, 7 pm
This conversation celebrating the publication of Ming Smith: An Aperture Monograph (Aperture, 2020) brings Ming Smith, the first female member of the Kamoinge Workshop, into dialogue with critic and musician Greg Tate, one of the book's contributors.
————
ART HISTORY FROM HOME
Thursdays at 12 pm
Tuesdays at 6 pm
This series, led by the Whitney's Joan Tisch Teaching Fellows, highlights works on view that illuminate critical topics in American art. Upcoming sessions focus on Julie Mehretu as well as art and social change.
————
OPEN STUDIO FROM HOME
Saturdays, March 27 and April 3, 11 am
Families with kids of all ages are invited to these free weekly online art classes with Whitney educators. Experiment, create, and learn together with at-home art materials. The work of Man Ray and Susan Meiselas inspire upcoming sessions.
————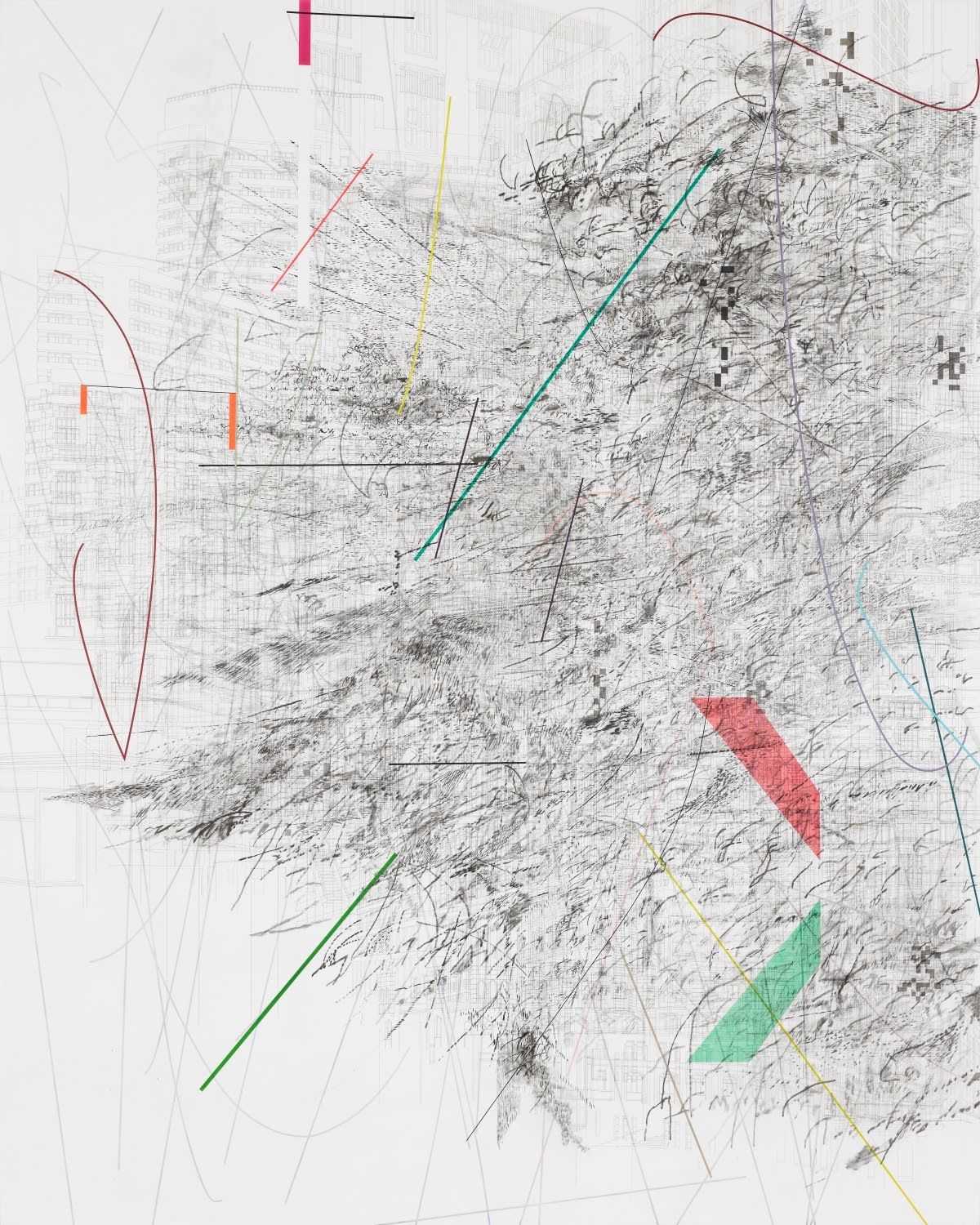 ASK A CURATOR: JULIE MEHRETU
Tuesday, March 30, 7 pm
Join Rujeko Hockley, assistant curator at the Whitney, to explore the exhibition Julie Mehretu, the artist's expansive mid-career survey, currently on view at the Museum. Hockley will provide an overview of the exhibition and then take questions from the audience.
————
WALTER ANNENBERG LECTURE: JULIE MEHRETU
Tuesday, April 6, 6 pm
For this virtual event, Julie Mehretu speaks about her practice with Adam D. Weinberg, the Museum's Alice Pratt Brown Director. Resisting singular interpretation, the artist's paintings, prints, and drawings have for more than two decades encouraged a nuanced reckoning with the complexity of our histories and identities, capturing both the interconnectedness and fragmentation that characterize contemporary life.
————
~~~~~~~~~~~~~~~~~~~~~~~~~~~~~~~~~
Opening to the public on March 25, Julie Mehretu's mid-career survey features monumental paintings that the Wall Street Journal calls "big enough to get lost in." Plan your trip to see the exhibition by getting your timed-entry tickets and watch our new behind-the-scenes social post.
~~~~~~~~~~~~~~~~~~~~~~~~~~~~~~~~~
Now more than ever, we are relying on the generosity of our supporters to help champion American art and artists. Please consider making a donation or becoming a member today.
——————
~~~~~~~~~~~~~~~~~~~~~~~~~~~~~~~~~
=======================================
North Fork | South Fork | Shelter Island
———————–
Image credits:
Cover image of Eyes Open: 23 Photography Projects for Curious Kids (Aperture, 2021)
Ming Smith, Sun Ra space II, New York City, New York, 1978. Sheet: 10 3/4 × 13 7/8 in. (27.3 × 35.2 cm), Image: 8 3/4 × 12 1/4 in. (22.2 × 31.1 cm), Frame: 16 × 20 in. (40.6 × 50.8 cm). Virginia Museum of Fine Arts, Richmond; Adolph D. and Wilkins C. Williams Fund. © Ming Smith
Julie Mehretu, Conjured Parts (eye), Ferguson, 2016. Ink and acrylic on canvas, 84 × 96 in. (213.4 × 243.8 cm). The Broad Art Foundation, Los Angeles. Photograph by Cathy Carver. © Julie Mehretu
Man Ray, La Fortune, 1938. Oil on linen, overall: 23 11/16 × 28 13/16in. (60.2 × 73.2 cm). Whitney Museum of American Art, New York; purchase, with funds from the Simon Foundation, Inc. 72.129. © Man Ray Trust / Artists Rights Society (ARS), NY / ADAGP, Paris
Julie Mehretu, Mogamma (A Painting in Four Parts) Part 1, 2012. Ink and acrylic on canvas, 180 × 144 inches (457.2 × 365.76 cm). Guggenheim Abu Dhabi. Photograph © White Cube, Ben Westoby. © Julie Mehretu
Julie Mehretu, Epigraph, Damascus, 2016. Photogravure, etching and aquatint, six parts, overall (In-situ): 97 5/8 × 226in. (248 × 574 cm) Sheet (each): 85 7/16 × 205 1/2in. (217 × 522 cm). Whitney Museum of American Art, New York; purchase, with funds from the Director's Discretionary Fund, Print Endowment Fund, Beth Rudin DeWoody, Susan K. Hess, Brooke Garber Neidich, Nancy F. Poses, Fern Kaye Tessler, Lisa Cashin, Stephen Dull, Jane Dresner Sadaka, Carol Weisman, Iris Z. Marden, Mary McCaffrey, Linda R. Safran, Marc A. Schwartz, Flora Miller Biddle, and Fiona Donovan in honor of David W. Kiehl 2017.159a-f. © Julie Mehretu
Video: Haimy Assefa: director and producer; Rodrigo Valencia: cinematographer; Carlos P. Beltran: editor
_________________________________________________