————
Still looking for the perfect gift? Check out a few of our staff's favorite things from the Whitney Shop or give the gift of Whitney Membership. Your purchase supports the Whitney's mission of presenting American art, with an emphasis on living artists, through exhibitions, educational programming, research, and conservation efforts.
Plan your visit to the Whitney to explore the shop in person or drop by the online shop anytime. Remember members enjoy special discounts.
~~~~~~~~~~~~~~~~~~~~~~~~~~~~~~~~~~~~~~~~
For the design enthusiast
"I'm a huge fan of Andrea Zittel'swork, and that the proceeds from these beautiful bowls support her investigative practice."
—Hilary Greenbaum, Director of Graphic Design
For the minimalist
"The Whitney Logo wool scarf in black is by far the best scarf I have ever owned. It's pure merino wool and so soft. I love it."
–Wendy Barbee-Lowell, Senior Manager of Visitor Services
For creative kiddos
"I gave the Grimm's wooden rainbow stacker to my nieces, and it is an absolute hit. They haven't gotten bored of it yet, and the adults (myself included) have fun playing along."
–Claire Frost, Senior Marketing Coordinator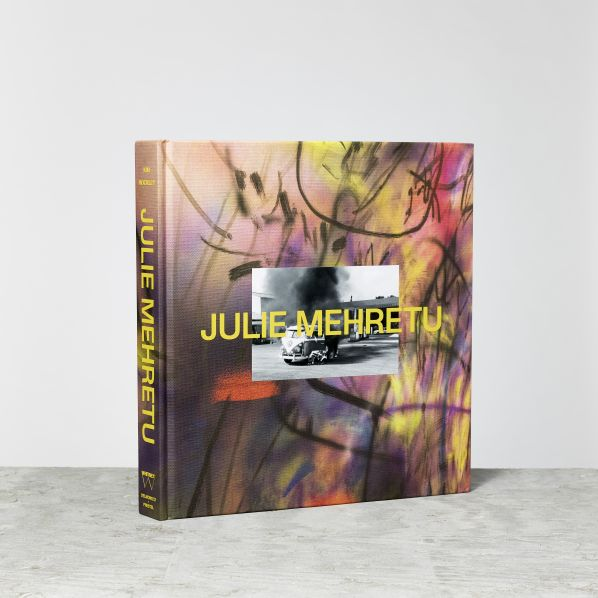 For the art lover
"When I think Julie Mehretu, the word supernova comes to mind. Get ready for her Whitney survey—opening this March!—with this knockout catalogue, including essays by Whitney stars Rujeko Hockley and Adrienne Edwards."
–David Breslin, DeMartini Family Curator and Director of Curatorial Initiatives
~~~~~~~~~~~~~~~~~~~~~~~~~~~~~~~~~~~~~~~~
PLAN YOUR VISIT
Begin planning your trip including everything you need to know to enjoy your visit safely. Become a Member to enjoy free admission, discounted guest tickets, dedicated viewing hours, and more.
~~~~~~~~~~~~~~~~~~~~~~~~~~~~~~~~~~~~~~~~
ART HISTORY FROM HOME
Thursdays at 12 pm
Tuesdays at 6 pm
This series of talks by the Whitney's Joan Tisch Teaching Fellows highlights works that illuminate critical topics in American art. Join us for upcoming talks exploring the Mexican revolution and portable landscapes.
VERBAL DESCRIPTION ONLINE: SALMAN TOOR: HOW WILL I KNOW
Friday, December 18, 10 am
Visitors who are blind or have low vision are invited to experience the richness and diversity of twentieth-and twenty-first-century American art through vivid description. This session will focus on works from the exhibition Salman Toor: How Will I Know.
VIERNES CON VIDA AMERICANA: ARTE MEXICANO Y AFRICANO-AMERICANO
Friday, December 18, 12 pm
Después de la turbulencia de la revolución en México, se estableció una nueva relación entre el arte y el público, dando lugar a un arte que hablaba directamente a la gente sobre la justicia social y el potencial del activismo. Esta sesión explorará el profundo impacto que este modelo tuvo en los artistas africano-americanos en los Estados Unidos, inspirándolos a crear narrativas épicas sobre la historia estadounidense y la vida cotidiana y a usar su arte para protestar contra las injusticias económicas, sociales y raciales.
OPEN STUDIO FROM HOME: GEORGIA O'KEEFFE
Saturday, December 19, 11 am
In this free weekly art class, participants will gather souvenirs from around their homes and create a postcard inspired by their surroundings.
~~~~~~~~~~~~~~~~~~~~~~~~~~~~~~~~~~~~~~~~
————
"An artist is an ordinary person," Ruth Asawa once remarked, "who can take ordinary things and make them special."
Here, Asawa transforms the most basic of pantry items—a potato—into a printing matrix. Working out of her San Francisco home, Asawa sliced one of these kitchen staples in half and carved a simple drawing into its interior. Alternately applying blue and purple ink, she stamped the potato onto paper to create collage-like layers made up of a single motif.
This print is on view now in Nothing Is So Humble: Prints from Everyday Objects.
~~~~~~~~~~~~~~~~~~~~~~~~~~~~~~~~~~~~~~~~
————
Whitney Gift Memberships are a great last minute present for any art lover. Gift Memberships provide unlimited admission, half priced guest tickets, and more. Our popular Dual level starts at just $140. When you purchase online, we'll immediately email you a gift voucher. Your recipient can conveniently activate benefits up to six months after date of purchase.
————
————————
============================================= 
AAQ / Resource:

Apple Honda, Riverhead
————————
———————————- Credits ———————————-  
Diego Rivera, The Uprising, 1931. Fresco on reinforced cement in a galvanized-steel framework, 74 × 94 1/8 in. (188 × 239 cm). Collection of Marcos and Vicky Micha Levy. © 2020 Banco de México Diego Rivera Frida Kahlo Museums Trust, Mexico, D.F. / Artists Rights Society (ARS), New York
Hands hold a touch object of Alexander Calder's wire sculpture The Brass Family, on view in the exhibition American Legends: From Calder to O'Keeffe (Whitney Museum of American Art, New York, December 22, 2012–June 29, 2014)
Aaron Douglas, Aspiration, 1936. Oil on canvas, 60 × 60 in. (152.4 × 152.4 cm). Fine Arts Museums of San Francisco; museum purchase, the estate of Thurlow E. Tibbs Jr., the Museum Society Auxiliary, American Art Trust Fund, Unrestricted Art Trust Fund, partial gift of Dr. Ernest A. Bates, Sharon Bell, Jo-Ann Beverly, Barbara Carleton, Dr. and Mrs. Arthur H. Coleman, Dr. and Mrs. Coyness Ennix, Jr., Nicole Y. Ennix, Mr. and Mrs. Gary Francois, Dennis L. Franklin, Mr. and Mrs. Maxwell C. Gillette, Mr. and Mrs. Richard Goodyear, Zuretti L. Goosby, Marion E. Greene, Mrs. Vivian S. W. Hambrick, Laurie Gibbs Harris, Arlene Hollis, Louis A. and Letha Jeanpierre, Daniel and Jackie Johnson, Jr., Stephen L. Johnson, Mr. and Mrs. Arthur Lathan, Lewis & Ribbs Mortuary Garden Chapel, Mr. and Mrs. Gary Love, Glenn R. Nance, Mr. and Mrs. Harry S. Parker III, Mr. and Mrs. Carr T. Preston, Fannie Preston, Pamela R. Ransom, Dr. and Mrs. Benjamin F. Reed, San Francisco Black Chamber of Commerce, San Francisco Chapter of Links, Inc., San Francisco Chapter of the N.A.A. C.P., Sigma Pi Phi Fraternity, Dr. Ella Mae Simmons, Mr. Calvin R. Swinson, Joseph B. Williams, Mr. and Mrs. Alfred S. Wilsey, and the people of the Bay Area. © 2020 Heirs of Aaron Douglas / Licensed by VAGA at Artists Rights Society (ARS), NY
Georgia O'Keeffe, Summer Days, 1936. Oil on canvas, 36 1/8 × 30 1/8 in. (91.8 × 76.5 cm). Whitney Museum of American Art, New York; gift of Calvin Klein 94.171. © 2020 Georgia O'Keeffe Museum / Artists Rights Society (ARS), New York
Ruth Asawa, Untitled (SF.045c, Potato print branches, purple/blue), 1951–52. Relief print, 13 5/8 × 9 in. (34.6 × 22.9 cm). Whitney Museum of American Art, New York; purchase with funds from the Drawing Committee, the Director's Discretionary Fund, and partial gift of Paul Lanier 2018.112. © 2020 Estate of Ruth Asawa / Artists Rights Society (ARS), New York. Courtesy The Estate of Ruth Asawa and David Zwirner
__________________________________________