~~~~~~~~~~~~~~~~~~~~~~~~~~
RING IN THE NEW YEAR WITH GREAT ART
From all of us at the Whitney, we're wishing you a very Hopper holiday!  There's no better way to spend the holiday break than by immersing yourself in the beauty and inspiration of art, and we have a number of special exhibitions on view that are sure to delight. From the critically-acclaimed Edward Hopper's New York to the thought-provoking survey no existe un mundo poshuracán: Puerto Rican Art in the Wake of Hurricane Maria, there's something for everyone to enjoy. Check out our holiday hours below, and book your tickets online in advance to ensure a smooth visit.
As we look ahead to the new year, we are filled with excitement for our upcoming lineup of exhibitions and events, and we can't wait to share them with you. As ever, we are also looking forward to continuing to provide a space for dialogue and connection through art, and we hope you will join us for all that is to come. Thank you for your continued support and engagement with us throughout the past year. We have been uplifted by our incredible community.
~~~~~~~~~~~~~~~~~~~~~~~~~~
HOLIDAY HOURS
Begin planning your trip, including everything you need to know to enjoy the Museum safely. We encourage all visitors to wear face coverings that cover the nose and mouth throughout their visit. Please note the Museum will close early at 5 pm on New Year's Eve, December 31, 2022.
~~~~~~~~~~~~~~~~~~~~~~~~~~~~~
ENJOY THE MUSEUM DAY AND NIGHT
MEMBER MORNINGS
Members are invited to start their day at the Whitney with special morning access to the Museum before we open to the general public.
FRIDAY NIGHTS
Enjoy pay-what-you-wish admission to the Museum and explore our full lineup of exhibitions along with drinks at the Studio Bar.
~~~~~~~~~~~~~~~~~~~~~~~~~~~~~
NEIGHBORHOOD DISCOUNTS
Enjoy special offers at our favorite local dining destinations like the Standard Grill, Shake Shack, Kobrick Coffee Co., and more with your admission ticket or Whitney Membership card.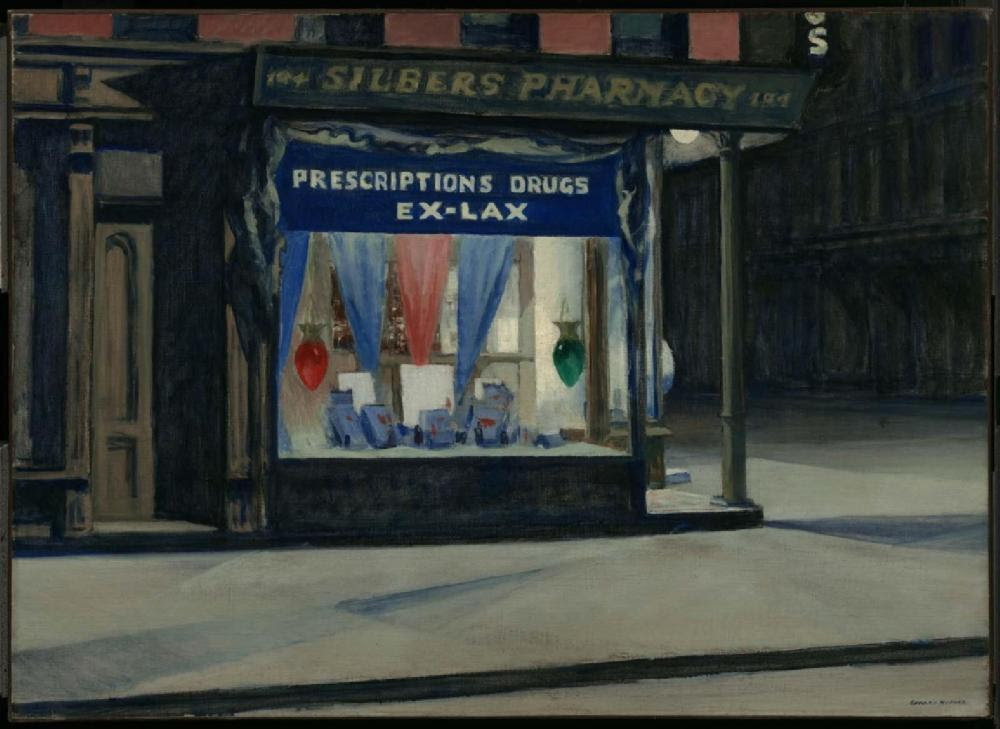 HOPPER'S NEW YORK, THEN & NOW
Take a stroll through the streets of Edward Hopper's New York past and present. See the city sites he painted as they look today with our interactive digital map.
~~~~~~~~~~~~~~~~~~~~~~~~~~~
CHAMPION ART AND ARTISTS IN 2023
GIVE A GIFT MEMBERSHIP
Start a new tradition by sharing a year of art and experiences with those you love and support the Museum at the same time with the gift of Whitney Membership.
SUPPORT THE ANNUAL FUND
Your donations to the Whitney's Annual Fund before December 31 help bring the exhibitions and programs you love to life. Make your contribution today.
~~~~~~~~~~~~~~~~~~~~~~~~~~~
Image Credits:
Installation view of Edward Hopper's New York (Whitney Museum of American Art, New York, October 19, 2022–March 5, 2023). Edward Hopper, Tables for Ladies, 1930. Photograph by Ryan Lowry
Edward Hopper, Early Sunday Morning, 1930. Oil on canvas, 35 3/16 × 60 1/4 in. (89.4 × 153 cm). Whitney Museum of American Art, New York; purchase with funds from Gertrude Vanderbilt Whitney 31.426. © Heirs of Josephine N. Hopper/Licensed by VAGA, New York, NY
Whitney Museum of American Art. Photograph by Nic Lehoux
The Standard Grill. Courtesy The Standard, High Line, New York
Edward Hopper, Drug Store, 1927. Oil on canvas, 29 × 40 1/8 in. (73.7 × 101.9 cm). Museum of Fine Arts, Boston; bequest of John T. Spaulding. © 2022 Heirs of Josephine N. Hopper/Licensed by Artists Rights Society (ARS), New York. Photograph courtesy Museum of Fine Arts, Boston
Installation view of the Whitney Museum of American Art, New York. Felix Gonzalez-Torres, Untitled (America), 1994. Light bulbs, waterproof rubber light sockets, and waterproof extension cords, twelve parts: dimensions variable. Purchased with funds from the Contemporary Painting and Sculpture Committee 96.74a-l. Photograph by Matthew Carasella 
© Whitney
———————-
Visit

AAQ

/ Museum Architecture:
—————–
==================================================
___________________________________________________________________