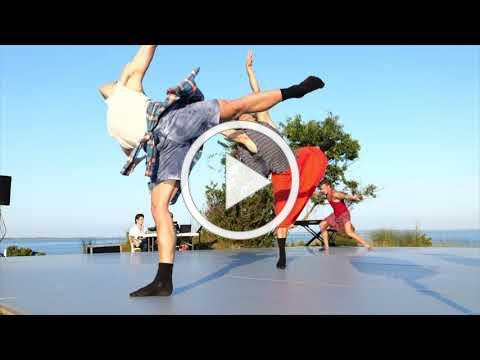 ~~~~~~~~~~~~~~~~~~~~~~~~~~
As this wrap-up video shows, there have been so many memorable moments to look back on this past year at Guild Hall. After a challenging 2020, it was such a pleasure to share a full season of incredible programming with you. We were thrilled to reopen our galleries with exhibitions highlighting the works of Robert Longo, Alexis Rockman, Enoc Perez, Karin Waisman, and Jeff Muhs, plus selections from our permanent collection and the always popular artist members show. The exhibitions were accompanied by thought-provoking talks with Laurie Anderson, Julian Schnabel, Renee Cox, Shirin Neshat, and more.
The John Drew Theater staged tour de force performances featuring Edie Falco,Blythe Danner, Harris Yulin, Mercedes Ruehl, Ben Shenkman, Terrence Mann,and Michael Urie, and generated much-needed laughs courtesy of Mike Birbiglia,Isaac Mizrahi, Sandra Bernhard, Susie Essman, Joy Behar, Steven Weber, Nathan Lane, Matthew Broderick, Brad Oscar, Mel Brooks, and Colin Quinn.New works by Michelle Kholos Brooks and the Exquisite Corpse Companyintroduced us to the next generation of talented actors and writers.
Dynamic dancers defied gravity, including Tiler Peck and Tony Yazbeck in Stroman Presents!, members of New York City Ballet, Hamptons Dance Project, and Andy de Groat with Catherine Galasso and company. We clapped along to musical performances by Kaki King, Teddy Thompson and Jenni Muldaur, Juliet Garrett, Evan Sherman, Cyrus Chestnut, Dezron Douglas, the Cornelius Eady Trio, Latin Moon & Soul, and G.E. Smith with Jim Weider. Everyone's favorite culinary treat, "Stirring the Pot" with Florence Fabricant, returned with guests Dan Barber, Mark Bittman, Pierre Thiam, and Dorie Greenspan.
We celebrated at joyous events, met incredible artists-in-residence, and learned more about our community with educational outreach programming like the impactful GATHER series with Ma's House and the Shinnecock Nation. Guild Hall's Teen Arts Council created exciting programs for a younger audience including "Burn the Stage" Open Mic Nights, workshops from candle making to upcycled fashion, songwriting/looping, the creation of a Teen Zine, and they even hit the road for an action-packed trip to New York. And we can't forget the opening of the new Coffee Bar! Did you have one of those giant pretzels?!
We can confidently say that our 90th year has been one we can look back on with great pride and a deep sense of satisfaction.
If you enjoyed 2021 at Guild Hall, you can help us build upon this solid foundation as we prepare for the next 90 years with a tax-deductible contribution to our Annual Fund. Your support will allow us to continue our work as a cherished center for the community and beyond.
LAST CHANCE TO DOUBLE YOUR DONATION
In case you missed it, an anonymous donor has agreed to match all combined contributions up to $25,000 through December 31. So make it count twice and donate today!
Thank you for being a part of our 90th season.
We look forward to announcing plans for 2022 in the very near future.
HAPPY NEW YEAR!
Guild Hall is a tax-exempt 501(c)(3) organization and your donation is deductible as defined by IRS regulations.
"We Do It For You" video by Joe Brondo for Guild Hall
——————–
======================================= 
AAQ / Resource
________________________________________