IT IS A CITY: ADOPT A BUILDING
Were you as excited as we were about spotting the Panorama of the City of New York in Pretend It's A City, Martin Scorsese and Fran Lebowitz's new Netflix series? If you've been dreaming about owning a piece of our massive miniature of NYC, now is your chance. Our Adopt-A-Building program allows you to "purchase" a building on the Panorama in exchange for a personalized title deed.  
¿Se emocionó tanto como nosotros al ver el Panorama de la Ciudad de Nueva York en Pretend It's A City, la nueva serie de Martin Scorsese y Fran Lebowitz en Netflix? Si sueña con ser dueñx de un pedazo de nuestra enorme miniatura de la ciudad de Nueva York, aquí tiene su oportunidad. Nuestro programa Adopte-un-edificio le permitirá "comprar" un edificio del Panorama a cambio de un título de propiedad personalizado.
ULRIKE MÜLLER AND AMY ZION IN CONVERSATION WITH LYNNE COOKE
Tuesday, January 26, 2021 – 7:00pm to 8:00pm – Online
Join us for a conversation with Ulrike Müller and independent curator Amy Zion on their collaborative project The Conference of the Animals. Müller and Zion will discuss the intersections of politics and play, and the under-recognized value of art by children and its relation to the power of scale to shift our understanding of ideas, spaces, and ourselves. They are joined by scholar and curator of self-taught and Avant-Garde art Lynne Cooke, Senior Curator for Special Projects at the National Gallery of Art, Washington, DC and moderator Larissa Harris, Queens Museum Curator 2009-2020.Únase a nuestra conversación con Ulrike Müller y la comisaria independiente Amy Zion acerca de su proyecto colaborativo The Conference of the Animals. Müller y Zion comentarán la intersección entre política y juego y la escasa valoración de la que goza el arte infantil y su relación con el poder de la escala para dar forma a nuestra comprensión de ideas, de espacios y de nosotrxs mismxs. Participarán también la especialista y comisaria de arte vanguardista y autodidacta Lynne Cooke, comisaria superior de proyectos especiales en la Galería Nacional de Arte de Washington, DC, y la moderadora Larissa Harris, comisaria del Queens Museum del 2009 al 2020.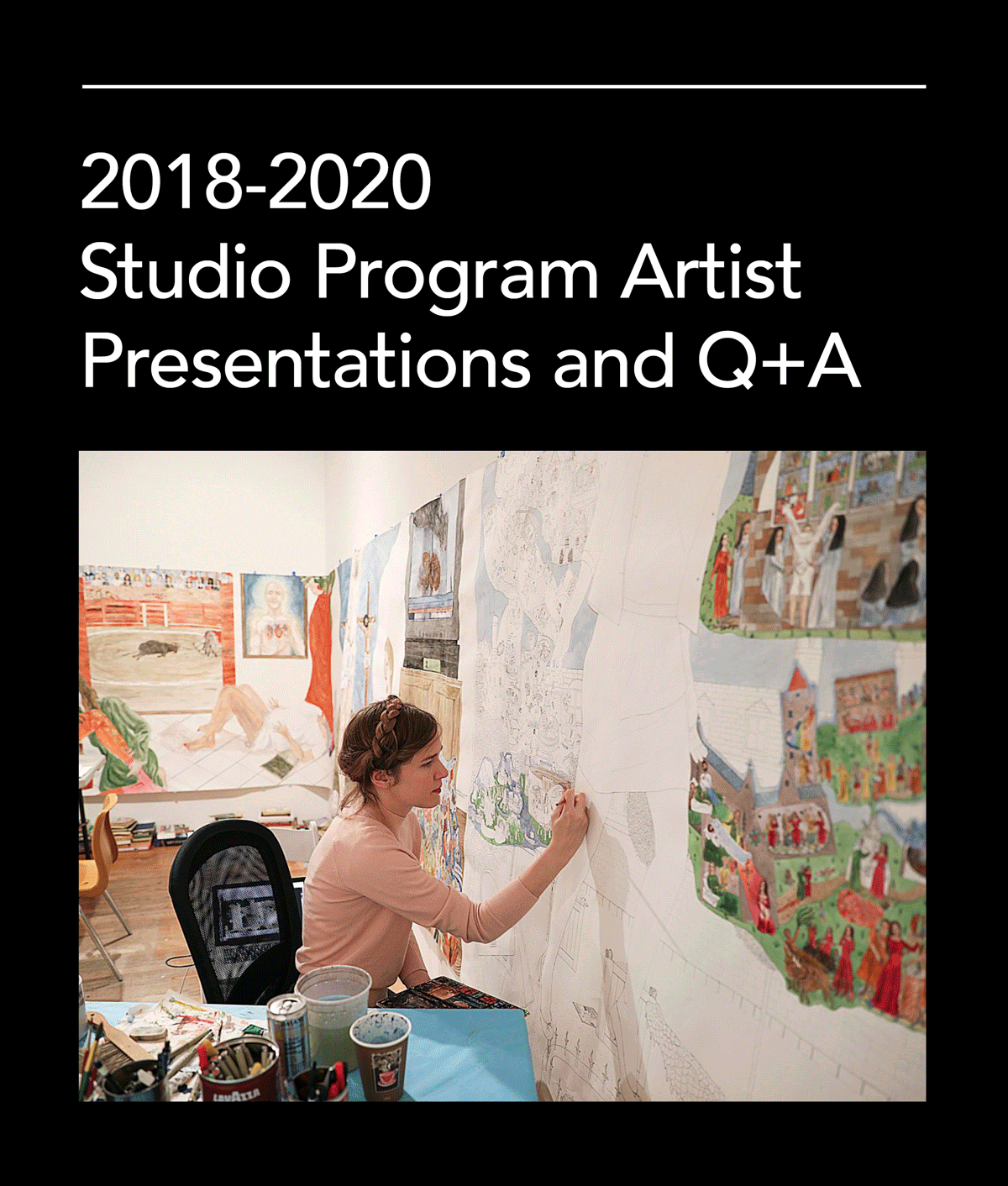 2018-2020 QUEENS MUSEUM STUDIO PROGRAM
ARTIST PRESENTATIONS AND Q+A
2018-2020 Studio Program: Woomin Kim, Iman Raad, The Room of Spirit and Time (Taro Masushio, Xiaofei Mo, Ali Van, Wang Xu and Cici Wu), and Brianna Harlan (SPQ)Join us as we celebrate the conclusion of the Queens Museum Studio Program's 2018-2020 cohort. The artists – working across a number of different mediums including drawing, painting, photography, sculpture, installation, technology, textile, performance, video, writing, and social practice – will share their current work and reflect back on their time at the Museum. Presentations will also include recent artists participating in Social Practice Queens (SPQ).Celebre con nosotrxs el cierre de la edición 2018-2020 del Queens Museum Studio Program. Lxs artistas, que trabajan con una gran variedad de medios diferentes como dibujo, pintura, fotografía, escultura, instalaciones, tecnología, textiles, actuaciones, vídeos, escritura y práctica social, compartirán sus obras actuales y reflexionarán sobre el tiempo que han pasado en el museo. Las presentaciones incluirán también a otrxs artistas que participaron de forma reciente en Social Practice Queens (SPQ).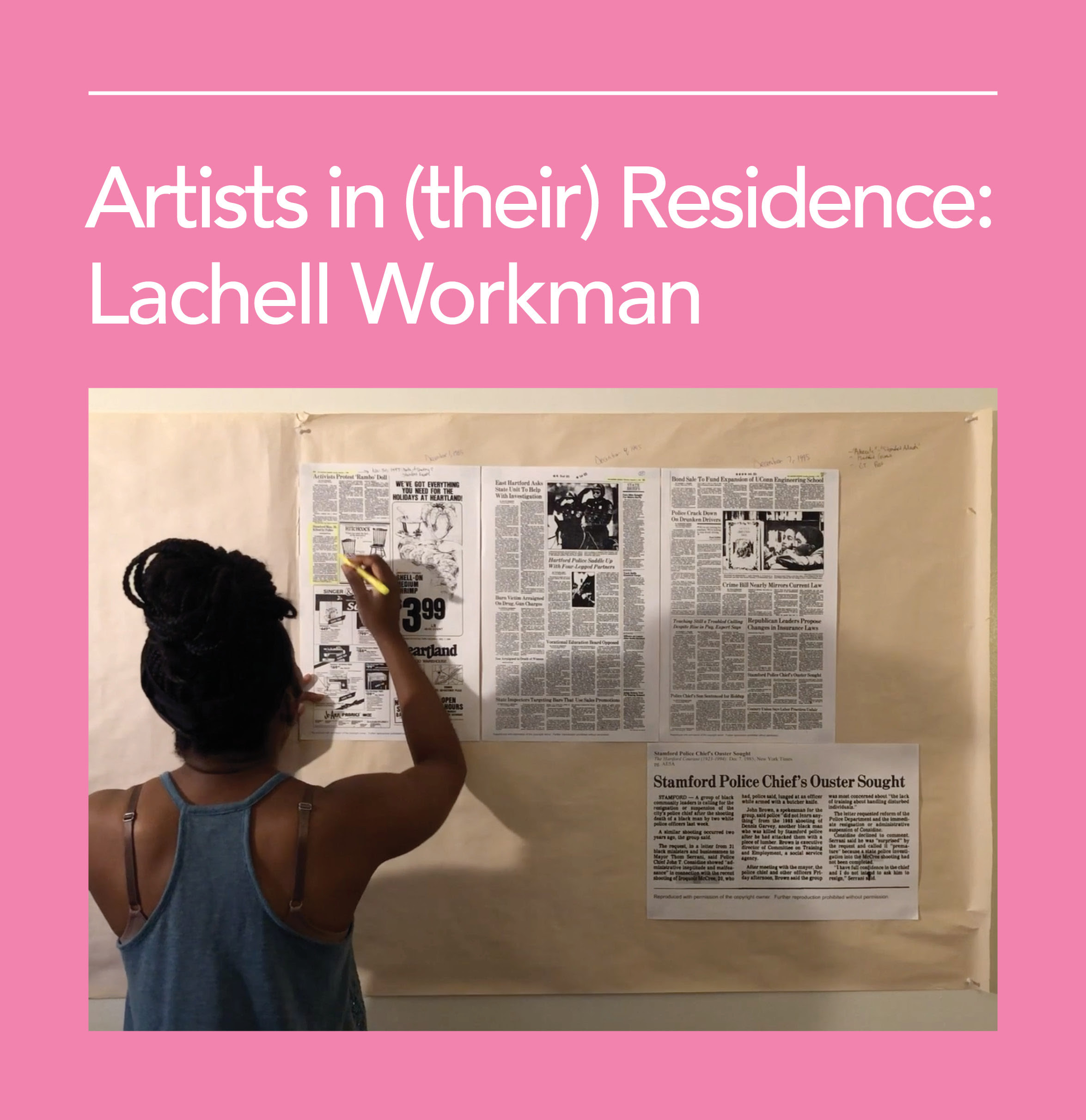 ARTISTS IN (THEIR) RESIDENCE: LACHELL WORKMAN 
————
Over the past year, we've been catching up with 2018-2020 Queens Museum Studio Program artists through our Artist in (their) Residence series. We are excited to present this new video by Lachell Workman, which includes a glimpse into both the artist's meditative and research-based practice at home and shifting back into her studio space at Queens Museum this Fall. Workman's practice explores the cultural iconography of memorial T-shirts, rituals of collective mourning and memorializing in Black and Brown communities, and the relationship between the body and the inner city landscape.
El año pasado les seguimos la pista a lxs artistas de la edición 2018-2020 del Queens Museum Studio Program con nuestra serie Artist in (their) Residence ("Artista en (su) casa"). Estamos encantadxs de presentar este nuevo vídeo de Lachell Workman, que incluye una visión del trabajo basado tanto en la reflexión como en la investigación de la artista, en su casa y en su estudio en el Queens Museum este otoño. El trabajo de Workman explora la iconografía cultural de las camisetas de memoriales, los rituales de duelo colectivo y conmemoración en las comunidades Negras y Morenas, así como la relación entre el cuerpo y el paisaje interior de las ciudades.
QUEENS MUSEUM VIRTUAL FAMILY WORKSHOPS
————
The Queens Museum offers weekly Virtual Family Art Workshops on Saturdays from 1:00 pm- 2:00 pm. These fun, educational workshops invite children ages 4+ and their adult companions to take part in a shared learning experience. Virtual Art Workshops will be based on seasonal Family Workshop Guides. For more information and to RSVP, contact us at fkhuda@queensmuseum.org. Please RSVP at least one day prior to the Virtual Family Workshop you would like to attend.
El Queens Museum organiza talleres de arte virtuales para familias los sábados de 1:00 pm a 2:00 pm. Estos divertidos y educativos talleres ofrecen una experiencia de aprendizaje compartido para lxs niñxs a partir de 4 años y sus acompañantes adultxs. Los talleres se organizarán conforme a las guías Family Workshop. Póngase en contacto con nosotrxs para obtener más información y para reservar con antelación en fkhuda@queensmuseum.org. Le rogamos que reserve el taller al que quiera asistir al menos con un día de antelación.
~~~~~~~~~~~~~~~~~~~~~~~~~~~~~~~~~~~~~~~
LIKE WHAT WE'RE DOING? 
————
If you are able, please consider making a tax-deductible donation to the Queens Museum. Every gift matters and allows us to continue to serve the communities that rely on us.Si le es posible, por favor, considere hacer una donación deducible de impuestos al Queens Museum. Cada donación es importante y nos permitirá continuar sirviendo a las comunidades que confían en nosotrxs.
~~~~~~~~~~~~~~~~~~~~~~~~~~~~~~~~~~~~~~~
After the Plaster Foundation, or, "Where can we live?" is made possible by lead support from the Andy Warhol Foundation for the Visual Arts. Generous support is also provided by the Graham Foundation for Advanced Studies in the Fine Arts. Special thanks to Powerhouse Arts.
The Conference of the Animals was produced in collaboration with Phileas and with the generous support of legero united | con-tempus.eu. Major support provided by Helen and Charles Schwab and the Austrian Cultural Forum New York. Additional support provided by Richard Gerrig and Timothy Peterson, Alexandra Bowes, JoAnn Gonzalez Hickey LLLP, and Putter Pence. Special thanks to Benjamin Moore, Callicoon Fine Arts, and Gensler. The organizers of The Conference of the Animals (An Exhibition of Children's Drawings) gratefully acknowledge our partner the Children's Museum of the Arts.
Major funding for the Queens Museum is generously provided by the New York City Department of Cultural Affairs, the New York State Council on the Arts with the support of Governor Andrew Cuomo and the New York State Legislature, the Lily Auchincloss Foundation, the Booth Ferris Foundation, the Lambent Foundation, the Andrew W. Mellon Foundation, the New York Community Trust, the Shelley & Donald Rubin Foundation, and the TD Charitable Foundation.
~~~~~~~~~~~~~~~~~~~~~~~~~~~~~~~~~~~~~~~
~~~~~~~~~~~~~~~~~~~~~~~~~~~~~~~~~~~~~~~
——————–
======================================== 
________________________________________________________________________