EMBRACING ART AT MOMENTS OF CHANGE
As we mark the Whitney's fifth anniversary downtown, editorial coordinator Jacob Horn reflects on the Museum's reopening five years ago as a symbol of hope in our disquieting times.
While the Whitney is closed, I'm remembering a previous closure five years ago, when the Museum moved to its current home in the Meatpacking District. The time between closing uptown and opening the new building was logistically necessary, but also generative. It capped off years of curatorial reassessing and reimagining that produced the exhibition America Is Hard to See, as well as our new Whitney Handbook of the Collection, both of which offered new perspectives on the history of art in the United States.
It's strange that we're commemorating our fifth anniversary downtown during a very different closure—one that's unplanned, uncontrollable, and marks a larger period of innumerable loss. Certainly, though, this is another moment that will change how we see the art, and the world, around us. What art will mean after this, and how artists will react to this moment, is yet to be seen. In our next five years, we're sure to find out.
~~~~~~~~~~~~~~~~~~~~~~~~~~~~~~~~~~~~~~~
WHITNEY WEDNESDAYS
Tonight, May 6, at 7 pm
Our new conversation series on Instagram Live continues with Lauri Freedman, the Whitney's head of product development, speaking with artist Elizabeth Jaeger about Jaeger's work, her role in the campaign to create posters for ICU break rooms around the world, and their collaborations for the Whitney Shop.
ART HISTORY FROM HOME
Thursday, May 7, at 12 pm
Tuesday, May 12, at 6 pm
These online talks by the Whitney's Joan Tisch Teaching Fellows highlight works in the Museum's collection to illuminate critical topics in American art. Join us for upcoming talks exploring domestic aesthetics and self-portraiture in the age of the selfie.
——————–
WHITNEY SCREENS
Friday, May 8, at 7 pm
As part of our new series of Friday screenings, tune in for Juan Antonio Olivares's Moléculas, a highly personal work for the artist that explores fundamental questions about family, loss, separation, and contemporary politics.
ARTMAKING FROM HOME
Saturday, May 9, at 3 pm
Experiment with ordinary materials in new and creative ways with these online artmaking events designed for all ages. In this workshop, we'll explore using knickknacks and common household supplies to create shrines or altars to the everyday beauty we find at home.
————————
~~~~~~~~~~~~~~~~~~~~~~~~~~~~~~~~~~~~~~~
MAKING THE NEW WHITNEY A REALITY: A LOOK BACK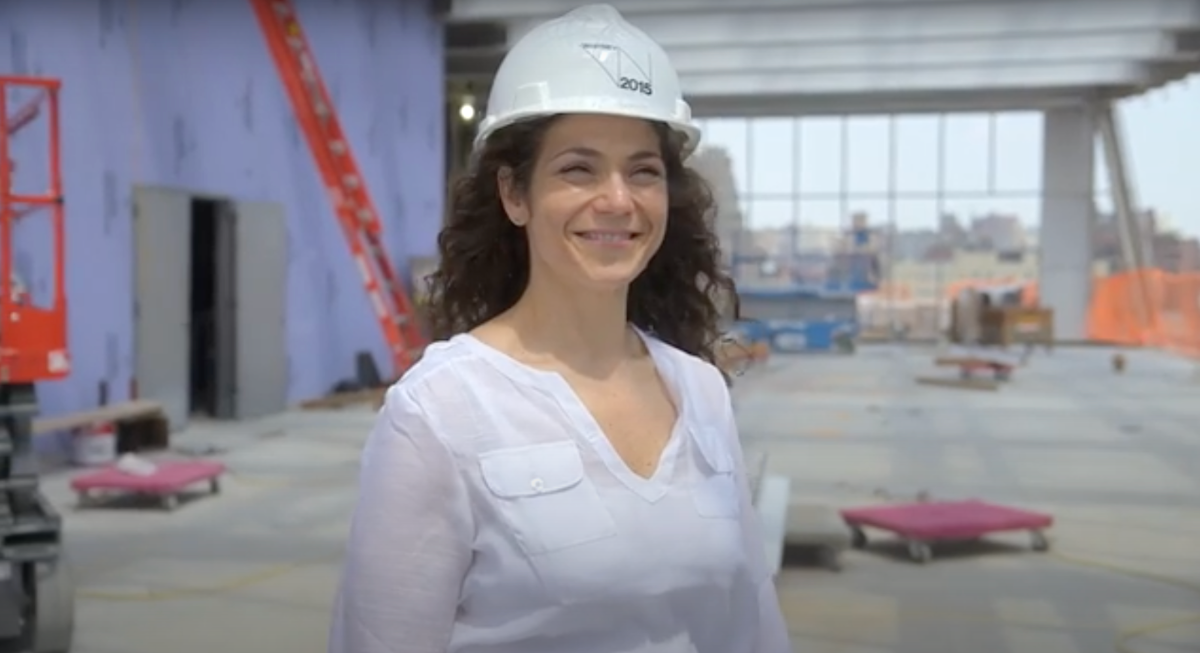 MANAGING THE EYE OF THE NEEDLE
Go behind the scenes with building project manager Larissa Gentile to hear her insights into the Whitney's Gansevoort Street building as construction progressed in summer 2014.
A NEW HOME FOR ARTISTS
"We are here for artists as they are here for us." Relive the Museum's 2015 dedication ceremony and ribbon-cutting, featuring remarks by First Lady Michelle Obama, Mayor Bill de Blasio, architect Renzo Piano, and Whitney leaders.
———————-
~~~~~~~~~~~~~~~~~~~~~~~~~~~~~~~~~~~~~~~
#WHITNEYFROMHOME ON INSTAGRAM
Not many face masks manage to be artful. Those sewn with love by Whitney conservation coordinator Heather Cox (@heather_cox_studio) put to good use some vibrant batik fabric, leftover from an artist's book project. Heather, who is also an artist, distributes her masks to friends, neighbors, and colleagues near her home on the Upper West Side.
~~~~~~~~~~~~~~~~~~~~~~~~~~~~~~~~~~~~~~~
SUPPORT THE WHITNEY
Consider making a gift or becoming a member during this unprecedented time to help the Museum continue all the work that we do to champion American art and artists of the twentieth and twenty-first centuries.
~~~~~~~~~~~~~~~~~~~~~~~~~~~~~~~~~~~~~~~
_____________________________________________________
—————-
Image Credits Below
========================================== 
================================================ 
Image credits:
Installation view of America Is Hard to See(Whitney Museum of American Art, New York, May 1–September 27, 2015) featuring Running People at 2,616,216 (1978–79) by Jonathan Borofsky. Photograph by © Nic Lehoux
Ceramic eyes by Elizabeth Jaeger sold by the Whitney Shop in conjunction with the 2016 exhibition Mirror Cells. Photograph courtesy Elizabeth Jaeger
Ruth Asawa, Untitled (S.270, Hanging Six-Lobed, Complex Interlocking Continuous Form within a Form with Two Interior Spheres), 1955, refabricated 1957–1958. Brass and steel wire, 63 7/8 × 14 15/16 × 14 15/16 in. (162.2 × 37.9 × 37.9 cm). Whitney Museum of American Art, New York; gift of Howard Lipman 63.38. © Estate of Ruth Asawa
Juan Antonio Olivares, still from Moléculas, 2017. High-definition video, color, sound; 10 min. Whitney Museum of American Art, New York; purchase with funds from the Film, Video, and New Media Committee 2017.185. © Juan Antonio Olivares, courtesy Off Vendome, New York. Image courtesy the artist
Thomas Lanigan-Schmidt, A Rite of Passage: The Velvet Cat Tail and the Silk Tiger Lily, 1987–88. Wood, metallic foil, 45 RPM vinyl record, artificial flowers, Saran wrap, metal staples, fabric, plastic beads, and fiber-tipped pen, 38 7/8 × 15 1/2 × 15 1/8 in. (98.7 × 39.4 × 38.4 cm). Whitney Museum of American Art, New York; gift of Robert Kushner 2001.291. © Thomas Lanigan-Schmidt
Still from "Whitney Stories: Larissa Gentile," 2014
First Lady Michelle Obama speaks at the dedication ceremony for the new Whitney Museum of American Art building, April 30, 2015
Whitney conservation coordinator Heather Cox makes face masks in her home studio. Photograph courtesy Heather Cox
______________________________________________________________________________