STRUGGLE AND PRIDE IN JAY DEFEO
Gallery assistant Armando Jaramillo Garcia reflects on a favorite work in the Whitney's collection.
I'm thinking a lot these days about Jay DeFeo's The Rose, a work she created over the course of eight years in her San Francisco apartment. To me, it expresses the essence of struggle, of trying to express your vision as it evolves without compromise. It also speaks to me about the close relationship between obsession and isolation for artists, as well as the calamities and circumstances that can present themselves and make the world feel like it's spiraling out of control.
DeFeo fought through poverty, neglect, and eventually illness to create this monumental work. She was sustained by a community of friends and artists, curators and museum directors—and without their support, The Rose wouldn't have made it to where it is now.
In conversation with Leah Levy near the end of her life, DeFeo expressed her faith in The Rose's ultimate fate: It was a work that began with visions and ended with her vision of it hanging in a museum, where she might, in another life, feel proud of it being admired.
~~~~~~~~~~~~~~~~~~~~~~~~~
WHITNEY WEDNESDAYS
Tonight, May 20, at 8 pm
Want to hear voices from our community talk art, life, and all things Whitney? Head to our Instagram channel tonight as Whitney curator Elisabeth Sherman chats with artist Jordan Nassar, whose intricately patterned works bring embroidery practice into a dialogue with painting.
———-
ART HISTORY FROM HOME
Thursday, May 21, at 12 pm
Tuesday, May 26, at 6 pm
These online talks by the Whitney's Joan Tisch Teaching Fellows highlight works in our collection to illuminate critical topics in American art. Join us in the coming week for talks exploring how ethnic and cultural identity frames our understanding of artistic expression, and the evolving role of media and technology in art.
———-
WHITNEY SCREENS TRIPLE FEATURE
Friday, May 22, at 7 pm
We're not featuring just one video work from our collection this week, we're screening three! Tune in on Friday for a trio of films by Rachel Rose—Lake Valley, Everything and More, and Palisades in Palisades—and see how the artist deftly merges moving images and sound with nuanced environments. For even more Rachel Rose, visit the Carnegie Museum's new online exhibition of her work, Lake Valley.
———-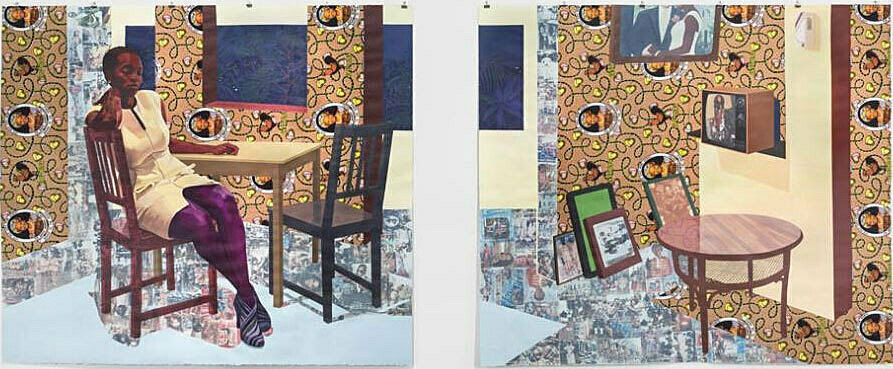 ARTMAKING FROM HOME
Saturday, May 23, at 3 pm
Experiment with ordinary materials in new and creative ways with these online artmaking events designed for all ages. This week, we're taking inspiration from Njideka Akunyili Crosby and demonstrating collage and photo transfer techniques you can use to create images that showcase your family's story.
———-
~~~~~~~~~~~~~~~~~~~~~~~~~
FROM THE ARCHIVES: THE WORLD OF JAY DEFEO AND THE ROSE
JAY DEFEO: A RETROSPECTIVE
Hear the stories behind DeFeo's most important works in this audio guide from the artist's 2013 Whitney retrospective, featuring insights from curators and writers as well as friends from DeFeo's San Francisco circle.
A SINGULAR JOURNEY
DeFeo's The Rose has a history like none other. Learn how this monumental painting was rescued from obscurity—hidden behind a false wall in a San Francisco conference room—and made its way to the Whitney's galleries.
~~~~~~~~~~~~~~~~~~~~~~~~~
#WHITNEYFROMHOME ON INSTAGRAM
"The objects were in my studio at the time I made the painting," said Jasper Johns, who turned 90 on May 15, describing his twelve-foot-long 1964 painting Studio, a canvas incorporating ready-made materials such as his studio door and a palm leaf from the yard. Doesn't get much timelier than that in our homebound moment.

Studio became the first Johns work to enter the Whitney's collection in 1966. As part of the acquisition process, Johns filled out the Whitney's usual artist questionnaire that asked about various aspects of the artwork. Swipe the postto see the rest of Johns's response.
~~~~~~~~~~~~~~~~~~~~~~~~~
SUPPORT THE WHITNEY
Now, more than ever, we need your help to advocate for American art and artists and to present the riches of our collective cultural heritage. Please consider making a donation or becoming a member today.
~~~~~~~~~~~~~~~~~~~~~~~~~
~~~~~~~~~~~~~~~~~~~~~~~~~
Image credits:Jay DeFeo working on The Rose, 1960. Photograph © Burt Glinn/Magnum Photos, 2003

Photos courtesy Elisabeth Sherman and Jordan Nassar

Ching Ho Cheng, Angelhead, 1968. Opaque watercolor, ink, and graphite pencil on paper mounted on pressboard, sheet: 29 1/2 × 38 3/4 in. (74.9 × 98.4 cm); mount (board): 29 1/2 × 38 3/4 × 1/8 in. (74.9 × 98.4 × 0.3 cm). Whitney Museum of American Art, New York; gift of the Ching Ho Cheng Estate 2010.48. © Ching Ho Cheng Estate

Rachel Rose, still from Everything and More, 2015. Video, color, sound, 11:39 min. Whitney Museum of American Art, New York; purchase, with funds from the Film, Video, and New Media Committee 2016.96. © Rachel Rose. Image courtesy the artist and Pilar Corrias, London
Njideka Akunyili Crosby, Portals, 2016. Acrylic, solvent transfer, collage of fabric and paper, and colored pencil on paper, 83 5/8 x 206 in. (212.4 x 523.2 cm). Whitney Museum of American Art, New York; purchase with funds from the Jacques and Natasha Gelman Foundation 2016.93a-b. © Njideka Akunyili Crosby

Installation view of Jay DeFeo: A Retrospective(Whitney Museum of American Art, New York, February 28–June 2, 2013). Artworks © The Jay DeFeo Foundation/Artists Rights Society (ARS), New York. Photograph by Sheldan C. Collins

Jay DeFeo in front of The Rose at the San Francisco Art Institute, c. 1973. © 2003 The Estate of Jay DeFeo

Jasper Johns, Studio, 1964. Oil and fabricated chalk on linen, two parts, with screw eye, wire, cans, and brush, 88 1/16 × 145 1/2 × 8 1/8 in. (223.7 × 369.6 × 20.6 cm). Whitney Museum of American Art, New York; purchase with partial funding from the Friends of the Whitney Museum of American Art 66.1a-c. ©️ Jasper Johns / Licensed by VAGA at Artists Rights Society (ARS), New York
————-
Visit: AAQ / Museum Architecture — Whitney Museum of American Art, NYC / 2015
========================================  
___________________________________________________________